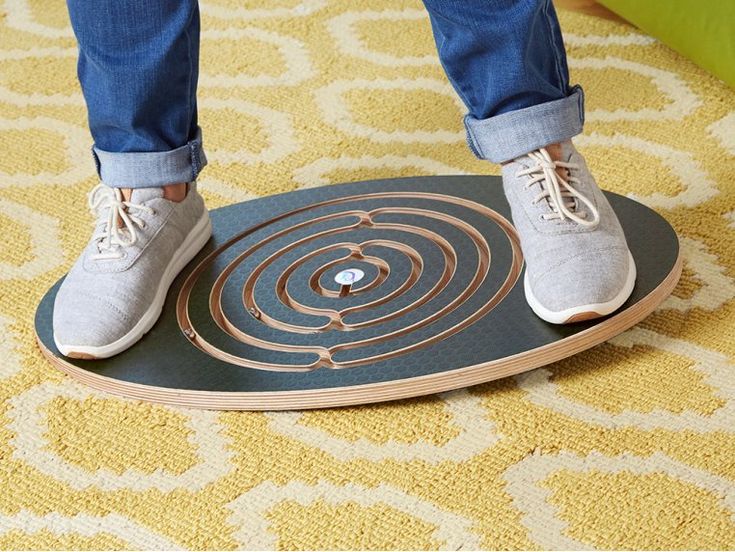 A balance board is something that no children's bedroom can do without! With the advent of a balancing board in the family, children begin to tolerate trips in a car more adequately, the vestibular apparatus develops. Abdominal and back muscles work all the time! The balancing boards are ideal for children with a weak shoulder girdle.
A balancing board and, at the same time — furniture for the game, where children have the opportunity to put it on its side and use it as a table for playing or turning it over — they get a slide. Babies can rock quietly and then turn the balancing board over to turn it into a tunnel and crawl under it. Younger children can swing while sitting, while larger children can swing while standing. The baby balancing board does not take up much space. It will become a bright interior detail.
What are the advantages of the Montessori balancing board?
Despite the simple design, the balancing board is highly effective in the process of cerebellar stimulation, which is used by speech therapists, educators, and psychologists to increase the productivity of the brain of children, their intellectual development, and improve school performance. Such a board will help the child to develop comprehensively. The child will be able to play on such a board and develop physically effectively.
Multifunctional developmental module 3 in 1 will be an addition to any children's room. The balancing board can serve as:
swing;
stand for the game;
slide ladder.
The child, playing, will get a lot of pleasure. Also, imagination, fantasy, fine and gross motor skills, vestibular apparatus, coordination, and muscles will be strengthened.
Across the Board Development
One of the main questions that parents have is what to do with the bit of fidget. With so many gadgets and different types of techniques, it is difficult not to succumb to the temptation and not give a phone to a child. But the solution to this problem is straightforward. What are the advantages of wooden play furniture for children? The first benefit is naturalness. During the production, only high-quality wood is used. It does not cause injuries, thanks to the high-quality polishing of the wood.
The second advantage is security. Since the balancing board has rounded sides, it is impossible to get injured by it. The board is also used not only as a rocking chair for babies.
How will the product help the baby's development? If you place the rocking chair like a slide, due to its low height, the baby will try to climb to the top; with your help, it will slide down. Also, the baby can develop physical skills, climb under a hill. The rocking board is the most favorite option for kids.