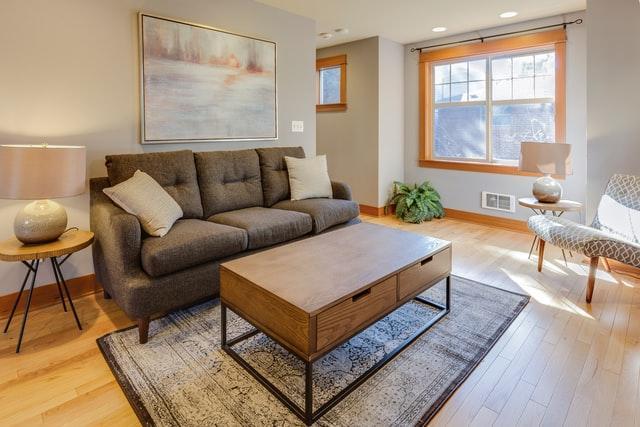 If you're selling your home, there are a few tasks to take care of before you put the for sale sign up. You need to find an agent with knowledge of the area, research the neighbourhood and get your home ready for viewing in hopes of getting a speedy sale and the best price.
This is where staging comes in. When a buyer wants to move to a new home, they want to picture the possibilities of their new life in it. Effective staging can enhance your home's attributes and show it off in the best possible light. When it comes to selling a home, appearance is everything. Home staging can make all the difference, and there are some easy and effective ways to get started.
Pack Away Personal Items and Neutralize Decor
Clutter takes up space, and space is what sells. Make your home look bigger and more desirable by editing down to just the basics. You don't have to get rid of things forever, but you should be packing them up and getting them out of the house.
One of the primary objectives of home staging is to help prospective buyers visualize the space as their own. They will not be able to picture themselves in the space if all they see are your things. Remove yourself from the picture.
Start by removing any personal photos, making sure to take down both framed pictures on walls and surfaces and anything hanging on your fridge. Buyers will be opening your closets to look at their storage potential, so take your time there removing as many non-crucial items as you can. The less clutter you've got in the space, the bigger it will look and the more appealing it will be to buyers.
Do a Deep Clean
When staging your home, it's essential to clean, clean, and then clean again. Spring cleaning should have nothing on the cleaning job you do before selling your home. You want every inch to shine, even if it's a place you think no one will notice.
Potential buyers will look inside closets and under sinks, so you must clean every nook and cranny. Make sure to clean windows, light fixtures, inside cabinets, light fixtures, and the walls along the staircase.
Give Your Home a Coat of Paint
A fresh coat of neutral paint, particularly in high traffic areas, goes a long way. This staging tip is a bit more time and cost-intensive, but it can make a significant difference when it comes to your sale price and time on the market.
Consider repainting bold or dark rooms with warm neutral shades like gray, white, and taupe, especially if the room is smaller. Bold colors can distract from a room's assets, and like photos and clothes, are bold signifiers not of the home's future but its past. Buyers might want bright colors themselves, but a neutral home gives them the option to imagine whatever they like.