How to store hangers? A ubiquitous question when you lots of hangers. Efficient use and handling of hangers will keep your space neat and tidy. While hangers are usually used to keep clothes wrinkle-free, they also make them look good. Usually, in the shape of the human shoulder, hangers can be worked out to store, handle, and organize clothes and especially coats, when used efficiently.
How to Store Hangers Effectively?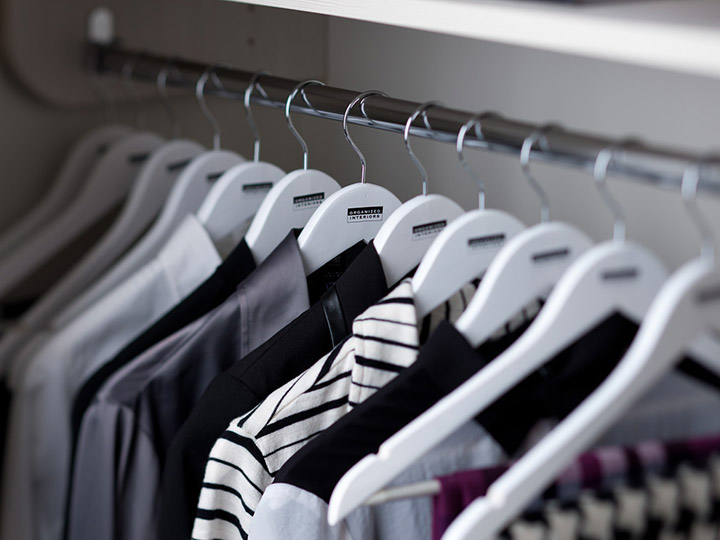 When in excess, hangers might occupy a lot of space and make any room look shabby. The best thing is to store hangers or even throw out some of them which are not in use or the ones which are broken.
The simplest way to decide on decluttering is by:
Step 1: Gather all the excess hangers. Gather only the ones which are not in use.
Think about it! Where do you think your hangers can end up? Usually, people keep their hangers around the bedrooms and living room wardrobes and closets. Some of them even keep their hangers around the laundry space. Look into your storage area/space, too, as unwanted hangers often end up their storage boxes journey.
Step 2: Differentiate the hangers according to your need (roughly) and factors like quality, color (if you are specific about it), and hanger material. Now arrange these hangers one above the other and make a small pile of them.
Do not waste your time by assessing the hangers (do not move to the third step). Firstly, differentiate hangers based on your gut or by looking at the hangers. Quickly arrange the hangers one above the other in small piles. You can differentiate this pile by selecting a particular criterion like color, shape, or hanger material. For example, make a small pile of orange, yellow, and red hangers, respectively. Now count the number in each pile or estimate a random guess.
Step 3: Assess each hanger and decide which ones to keep and which ones to throw away.
Understand your requirements and necessities. Assess each hanger. Firstly, keep the damaged ones aside. Do not throw all the excess hangers; you may never know when you may need extra ones for any new buys.
You may also need extra hangers to replace with the existing hanger if one of them is damaged or gets broken. So only declutter the ones which are damaged. However, if there are more hangers than you expected and required, it is better to throw them away. After all, you know better how many more clothes you are going to buy!
Tip:
If you are short on hangers and still want to declutter, then go for the clothes, not the hangers. When you want to organize the space, then you can declutter clothes too. But first, go with the hangers and declutter them only if required.
Types of Hangers to Declutter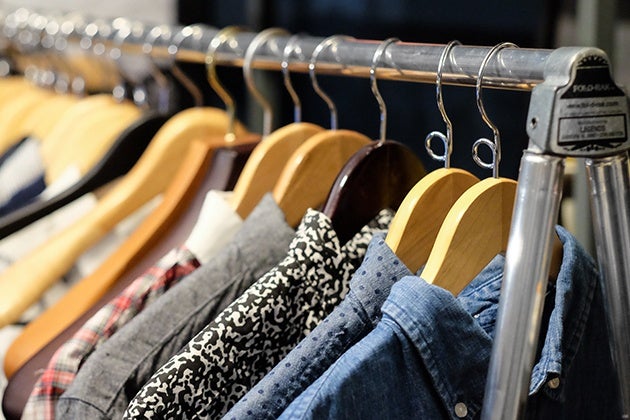 Pile 1: Make a pile of bent, broken, or damaged, and keep them aside.
Pile 2: Make another pile of hangers that you want to throw away. This will be the ones that you want to throw away. This is a personal choice to decide which ones you need and the ones you need to throw away. It is a common thing that when you see something you do not like, you tend to get mad at it. I am sure you would not like to get mad at your hangers!
Pile 3: Now make a pile of hangers that you think can quickly get damaged and broken. These will include the hangers that are on the verge of their end.
Pile 4: Now make a pile of too weak hangers and get damaged by either overloading or hanging too many clothes. You can mix both the piles, namely, pile three and pile four if the number is less.
Pile 5: This will be the pile with hangers of a specific type—the type of hanger that is larger in number. If you require, then keep them or go ahead and throw them away.
Tip: –
Except for pile two and pile 5, you can sure shot throw away the other piles. If not necessary, then you can throw away pile two and pile five too.
Still, Confused About Which Ones to Throw Away?
Here are some tips:
Throw away the wire hangers as they are usually the weakest and can damage your soft fabric or even injure you.
Store hangers! They are the ones you bring in along with clothes and usually with the coats. They are shabby and weak and hence the best to get rid of.
Have children at home? Are they grown-up now? If yes, then throw away the baby hangers. They are of no use!
Decluttering is usually done to organize the given space better. You would like to have the hangers of the same shape, size, color, and material. But even this is a personal choice to make. Go ahead and decide whether you want uniformity or can adjust without it.
Preferably keep a variety of hangers that are required for different types of clothes. Depending on the use, you can decide which type of hangers you require.
If the above method does not work for you, then read about these two hanger hacks:
Reverse Hanger Trick
This is reckoned as the best hack for the hangers. This hack is useful when you do not want to let go of your clothes. It is an efficient way where both clothes and hangers can be stored in an organized way. This is a time-consuming process, but you can effectively manage your hangers and clothes. This method is usually used for clothes, but you can apply it for hangers too.
Method:
Take off all your clothes on hangers and put them in such a way that the open end of the hanger faces you. Now decide a time limit, such as a month or two. Get back to your daily routine and every time you hang your clothes, make sure you keep the open face of the hanger away from you.
Now, after the time limit, you will exactly know which garments and hangers you use and which ones you do not. Get rid of the ones which you do not use.
Pillow Covers
Stuff all your unwanted hangers in the pillow covers and store them in the storage room. The best thing about this hack is you can retrieve back the hangers when you require it. Pillow covers do not take much space, and once you put them away in the storeroom, you do not have to worry about them. Alternatively, you can use bedsheets too.
You may be surprised how useful decluttering can be! Getting rid of extra hangers will make your space look more organized and freer up a lot of space, which you can use effectively. The best thing about decluttering is it keeps your mind energized and better than having a clear and refreshing mind.
According to some reports, organized space can boost your mental capabilities and health. Decluttering helps you to achieve organized space, which in turn will boost your mental capabilities and health. So, isn't it better to have an organized space?!
Meta Description
Winna knows how to store hangers effectively. Here we provide a thorough guide of how to declutter hangers.