You've come a long way from your college days of used mattresses and not worrying about whether you're sleeping on a bed or a futon. It's time to join the big leagues and get yourself the perfect and more importantly a new bed and mattress.
You might be wondering how to choose a bed especially when a quick search online gives you thousands of results. Don't worry, we got you covered with this in-depth guide of everything you need to consider!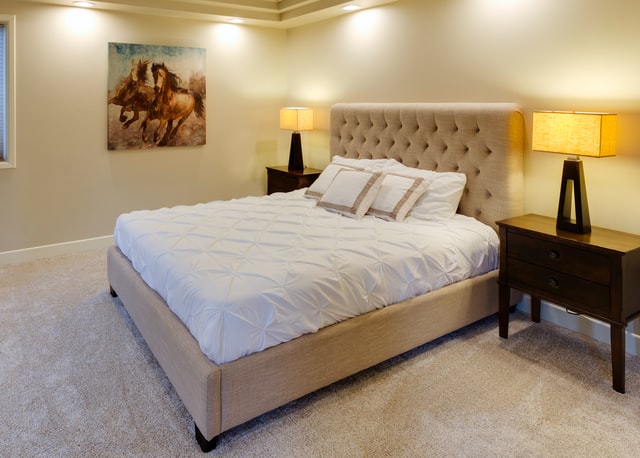 How to Choose a Bed: Things to Consider
Before you even get started selecting a bed, take a look at your bedroom and determine the adequate size of the bed you're looking for. Ask yourself where you'd like your bed to sit before you start taking measurements.
King and queen beds
are luxurious if you have enough space.
Once you've done that you'll want to see whether your room will fit a twin, double, queen, or king mattress and a bed frame. Check other furniture in your room to make sure you have enough space to move around.
When you've got your measurements down pat, you can start creating a budget.
Assessing Your Budget
Beds can be expensive. From buying a mattress, a box spring, a topper, a frame, and bedding you might end up spending a pretty penny on it all.
Don't let the monthly credit card statement surprise you at the end of the month and get prepared for how much you can afford on a new bed. Be sure to check the average prices of mattresses in your area, whether you want a fancy bed frame with it, so that you can set a limit on how much to spend in total.
This will help narrow down your options when you start hunting for the right bed for you and find a great budget mattress if you know where to look.
The Frame
Don't search bed frames until you've mentally prepared to see a whole lot of options! Sleigh, metal, wood, fourposter, headboard only, racecars the options are endless.
Once again, take a look at your room and theme to see which options will fit best. If you've already got furniture in there and don't plan on changing or upgrading it, then check if a brown wood sleigh bed frame will fit your boho eclectic furniture collection.
If you're doing a whole bedroom reno, the world is your oyster when it comes to choices so go wild! Just stay within your budget.
The Mattress
Make no mistake, the mattress is the most important part of the bed and is the one thing full of myths and something you shouldn't cheap out on when purchasing your bed. Figuring out your mattress preference is the first how to choose a bed step.
Do you enjoy the mattress being more on the firm side, or do you like it being plushy soft? Maybe you enjoy the feeling of memory foam mattresses or require something more ergonomic for any back issues.
If you're not sure the good news is there are some steps to take to figure it out.
Take advantage of 'test-driving' your mattress in-store with a little laydown. See how you feel and it's something you can comfortably envision sleeping on night after night.
If you've selected your choice, most mattress places give you a warranty to take it home and sleep on your decision. If you don't like it you can bring it back.
If you're not sure where to start, talk to your chiropractor, physiotherapist, or massage therapist for their recommendations of mattresses for your body.
To Box Spring or Not to Box Spring
So you picked out your mattress. What's next for how to choose a bed? Checking if you need a box spring.
A box spring is an additional wedge that goes under your mattress to raise it, reduce the pressure and impact on the mattress from laying on it, and to give it a flat even surface to sit on.
Not all mattresses will need a box spring, and it depends on the bed frame that you choose. Some bed frames come with slats that act the same way as the box spring does without the added bulk. The place you purchase your bed frame from will be able to tell you what you need or don't need in addition to a mattress to complete your bed.
The Extras
You've got the know-how for how to choose a bed. Now comes the fun part! Picking up all the extras!
Take your time in picking up a good duvet or comforter and pillows and deciding between down-filled or synthetic. There are pros and cons to both and for those of you who are on the allergic side, it may be best to go the route of synthetics.
Comforters and pillows come in a variety of thicknesses and will require some more trial and error if you're not sure which works best for you. For pillows, you can once again ask your chiropractor for suggestions if you're not sure. There are a ton of great supportive pillows out there on the market!
Do not skimp out on a little extra cash going towards your sheets. Seriously. You'll thank us for this.
There is a huge difference between 200 and 1000 thread count sheets and anyone that tells you otherwise is lying to you. The thread count is how many threads are woven together in one square inch which means better durability, longevity, quality, and feel of them.
Try to avoid synthetics and stick to good old fashioned cotton or try bamboo. Both of these materials allow for good breathability and ventilation without causing trapped heat and ultimately bad night sweats to happen!
The How to Choose a Bed Checklist
Armed with all the things you need to figure out how to choose a bed, you should be able to confidently and comfortably make your next bed purchase decision.
Don't hesitate to ask the experts in store for helpful suggestions and be sure to let them know your budget so they can help you out with options. Good luck on getting your sweet dreams!
Like what you've read? Be sure to check out the rest of our site for more great content!