There is a massive community of home gardeners in the world, and they all have the issue of weed growing in their gardens. We don't want those unwanted plants to grow with what we planted. They take all nutrients from the soil and affect the plants that you planted. They steal sunlight, water, and minerals. We need to stop this and kill the weeds before they affect our plants.
There is a possibility that using too much weed killer in your garden may end up killing the plants you wanted. So why should we spend those hard-earned bucks on some poison when some of best weed killer for lawns are already there in our homes. All we need to know is how to use them. In this article, we'll be providing you with some recipes that you can make with ingredients in your home to keep your garden free from weed.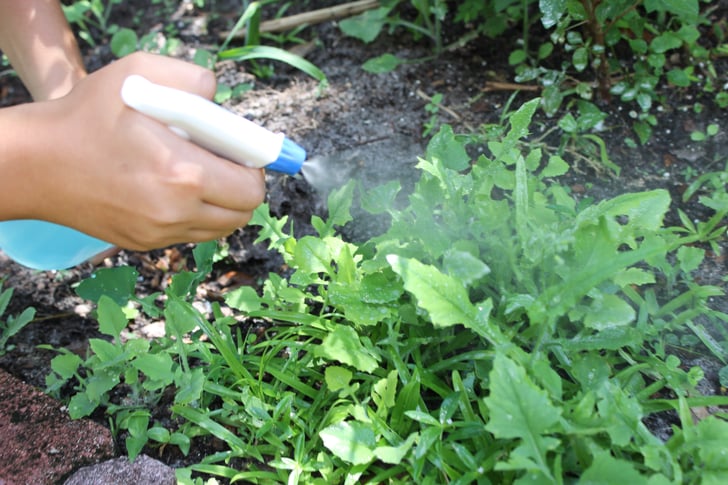 Home-made Weed Killing Techniques
Vinegar as Weed Killer
Recipe
1 Gallon White Vinegar.
1 Tablespoon Gel-based Soap.
1 Cup salt (if you don't want to grow the plant on that land).
This recipe is brought to you by 'Saving Cent by Cent'. This is a great and effective combination of home-based products. We did some study on it's working and composition. It is a chemical-free alternative for a weed killer, but there are a few cautions that must be taken while making this. Using vinegar along with soap is a granular weed killer on its own.
Adding salt to the mixture strengthens the power of the mixture exponentially; however, this ruins the soil. No new plant can grow on the land for some time. So, if you have a plan to grow plants on that land, then make sure you don't add salt to the mixture. This composition (with salt) is good for stone paths on lawns and cement structures where unwanted plants grow on their own due to rain.
Weed Killer Using Salt
Recipe
1 Gallon boiling water.
2 Tablespoon Salt.
The use of salt for clearing weeds from driveways and footpaths is known for a long time. To speed up the killing of weeds, boiling water is used instead of normal water. This method, however, has a drawback. The land on which you use this solution gets ruined, and no plant grows on that land. So, this method is not suitable for gardens.
There is another pro-tip for using this weed-killing method. As the boiling water can cause harm to the body if spilt on it. It is advised to use a kettle to apply the solution safely. This recipe is from 'The Creek line House'. This method is quick-acting and hassles free, so you don't have to worry about weeds for a long time. Do remember to apply the solution generously.
Borax Weed killer
Recipe
1 Cup Borax Powder
2 Gallons Water
Borax is a famous weed killer for home gardeners. It destroys mostly all types of weeds. But the user needs to keep a check on the amount applied. Overuse of this solution can cause damage to the plants that you planted too. This solution is most effective against Creeping Charlie and Ground Ivy.
Along with killing weed, this solution kills ants too so that it can be used in kitchen corners also. The US Department of Agriculture recommends this recipe to cover 1000 Square feet of land. To study more about this recipe, go for 'The Gardening Cook'.
Weed killer using Cornmeal
Recipe
Cornmeal is a pre-emergent herbicide. If you want to control weed growth before their real growth, then Cornmeal is the thing for you. It is the most natural weed killer and has the most natural application.
All you have to do is sprinkle it on the land you wish to stop weed growth from. That's it. All you need to do is spread it and forget about any weed growing in your land.
There is one thing you need to keep in mind. This method only works before weed grow in your land. It is ineffective once weed grows in your land.
Rubbing Alcohol Weed killer
Recipe
2 Tablespoon Rubbing Alcohol
1 Gallon Water
Apply directly on leaves of the weed. This method instantly kills the plant. User needs to take care not to spray it on desired plants as it may damage them too.
Other than this highly effective method, there are some other methods too which are used by many gardeners over the world.
Some Other Effective Methods
Newspaper
This simple method is used by professionals too. It is entirely natural, chemical-free. If your garden is weed-infested and you don't know how to deal with it then don't worry, all you need is your previous newspapers which you were going to throw in the bin.
Apply newspaper on top of weed and apply wet mulch on it to block air and sunlight from weeds. This eventually kills weed and prevents it from growing back again as it kills the weeds as well as their seeds, although it takes weeks to clear the land altogether.
Lemon Juice
Lemon is used for thousands of home remedies. Now we'll tell you it's garden remedies too. This fruit is filled with natural citric acid, which can serve to kill weed that grows in your garden. The acidic juice saturates any kind of perpetrators and dries out the leaves of the plant.
It takes action in about two to three days. All you need to care about is not to spray it on your plant leaves. You can strengthen the composition by adding some acidic vinegar to it. This solution is a highly potent weed killer and is more robust than many of the branded weed killers who are sold in your nearby nursery.
Other than home-made weed killers, many methods do not need any chemical or equipment from the store. You can perform these methods on your own in the home.
Torching
Burning unwanted plants is a technique adopted by many farmers along with the world, shifting cultivators and nomads. This not only clears the land and gets rid of the weeds for you but also the plant ashes provide necessary nutrients for the plants that you plant.
The problem with this method is that it causes some of the major forest fires and pollution. But in a controlled way with caution, it is the best technique to clear the land from weed.
Pulling
This traditional way of getting weeds out of your lawn is one of the most boring techniques. In this method, you have to pull the weeds out with their roots. Any robot cannot do this. You'll have to get your hands in the soil for this job. To speed up the job, you can get more people with you to do this job.
Mulching
It is a process that uses plants that you don't need to ensure the healthy growth of plants that you need. Although you'll need a leaf mulcher for this process; you'll have to mow the weeds down as short as possible, and then you can cover the land with the mulched weed to offer nutrients to your plants.
Using Ground Covers
Covering the ground blocks the weeds from sunlight. This kills them and also prevents them from growing back again as their seeds also get destroyed. So, if you don't want to pull the weeds with your hands, just cover the land with a dark-coloured sheet. Although this method is pretty slow. It takes months to clear the land completely, but it takes zero efforts from your side.
You can also use landscape fabrics to supply sunlight to your plants selectively. These fabrics are easy to make and works well for short sized weeds.
Controlling reproduction
To at least slow down the process to weed growth in your garden, you can handpick the flowers from the weeds to stop them from pollinating and increasing their numbers. Plants reproduce fast, and there are many carriers present in the environment, so make sure you do pluck the flowers while they are still a bud.
Bleaching
Bleach is very harmful to plants. It quickly oxidizes the plant and spoils it. Therefore, it is not recommended to use bleach for killing weeds. Studies have found it to be very harmful to the soil too. You can use it in a spray bottle to spray over the plants however check your local regulations before using it.
There are some health regulations for using these home-made weed killers. As most of the weed killers contain acetic or citric acid, some health warnings are associated with them.
Irritation or burning in the eye.
Irritation or allergic reaction on the skin.
Respiratory or digestive tract reaction or irritation.
The more the concentration of acid, the more chances of these effects will be. 0.5% of acids concentration is an ample amount for weed killing.
Conclusion
The market is flooded with options for weed killing that is organic if chemicals bother you from using them. We have mentioned several preparations for you to do at home. In case you run in some trouble preparing a weed killer for your garden, consult some experts who can suggest you with the perfect mix for your land.