Moving can be a difficult task. Whether you are moving your household or your office, it's important to find a solution that serves your needs.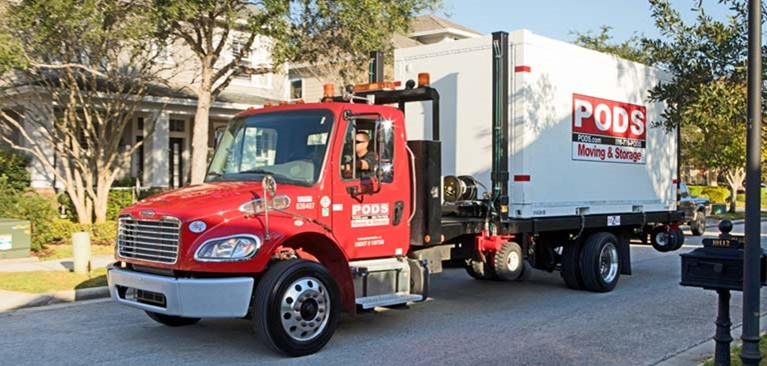 Full-service moving companies and PODS are both popular solutions, each with their advantages and disadvantages. If you're preparing for a move, and you're currently considering your options, these are a few things you should know.
Full-Service Moving Companies: An Overview
Working with a full-service moving company can reduce the hassle associated with moving from one household to another. Professional movers can handle a wide range of moving tasks, include:
Providing supplies
Packing
Furniture disassembly
Loading and unloading
Transportation
Storage services
When you work with full-service movers, you can count on them to handle all the details of your move. Your belongings will be packed safely and securely. Bubble wrap will be used to protect fragile items. Because the movers transporting your items are professionals, you can trust that your things won't be damaged in transit.
There are clear benefits to working with full-service movers. A moving company like this will take care of everything, which means you can focus on other aspects of your move. Working with a full-service company is an especially good idea if you're planning a cross-country move, as these moves can be very challenging.
With that said, there are also clear drawbacks to hiring full-service movers. Because these moving companies do so much work, they can be costly to hire. While costs vary from one company to another, you can expect to pay upwards of $2,000.
Because these moving companies handle every aspect of your move, they can provide flexible and personalized service. If you require storage or need assistance transporting antiques or other valuable items, working with professionals like this can be a great idea. These companies typically offer a guarantee, which means you'll be compensated if items are lost or damaged during your move.
Full-service companies are usually hired for office relocations and households planning long-distance moves. If you are planning a move of a smaller scale, you may find that hiring professionals like these aren't worth the high cost.
PODS: An Overview
PODS, which stand for "Portable on Demand Storage," is a type of container designed explicitly for moves. These crates, which can be 7, 12, or 16-feet in size, are shipping containers that you can load yourself.
When you rent PODS, those containers will be delivered to your home. After you've filled the container with your belongings, it will be delivered to your new home. From there, you can unload the rented container before it is picked up and taken away.
PODS are one of the most affordable options for people moving, and they offer a number of other benefits as well, such as:
Secure transportation: PODS are specifically designed to keep your belongings safe
Flexibility: You can load and unload your rented container on your timetable, and PODS can be used for storage as well
No driving required: PODS are shipped to your destination for you, which means you won't have to drive a rental truck
Numerous options: You can rent a container in a size that works for you
The cost of renting PODS can vary greatly based on the size of the container you rent, the distance you are traveling, and whether you require storage. Renting PODS for a long-distance move can cost as little as $300, which is substantially cheaper than working with a full-service moving company. With that said, you'll be the one responsible for loading and unloading your container.
People often assume that PODS are only suitable for moving smaller households. However, the largest PODS container measures 16'x8'x8. It is capable of moving homes with up to four bedrooms. It is also suitable for office relocations and remodeling projects.
Which Service Is Right For Me?
Full-service moving companies are an ideal solution for households that don't want to do any heavy lifting. If you're worried about straining or injuring yourself while lifting heavy furniture, leaving these tasks to movers is your best option.
Working with a company like this is also a great option if you're able to spend more on your move. Hiring a full-service company can be expensive, but many people find that it's more than worth the price. Working with full-service moves can save you time and reduce your stress levels, allowing you to move with minimal hassles.
PODS are a terrific choice for households on a more limited budget. Although costs can vary based on your needs, renting a storage container will cost far less than hiring movers. You'll be able to get detailed information about costs ahead of time, which means you can see if these containers make financial sense.
Renting PODS is also a good option for people that don't mind handling tasks like packing, unpacking, and heavy lifting. If you have friends or family members willing to help you with your move, but you'd prefer to avoid driving a moving truck, you'll want to learn more about both of these options.
In addition to full-service moving companies and PODS, there are several other options available to moving households. If you want the benefits of working with movers but want to spend less, you may want to look at companies that offer more limited services. If you're moving locally, you may be able to rent a vehicle and move everything on your own.
You'll have a smoother moving experience if you take the time to find a solution that works well. Take the time to weigh the pros and cons of both options so that you can find the best way to move.
Because moving can be strenuous, you'll want to examine your choices before making a decision carefully. Whether you choose to hire a full-service moving company, rent PODS, or explore other options, you should make sure you're prepared for your move. Even if you're not moving for a while, it's smart to looking at your options now. The sooner you start preparing for your upcoming move, the better.