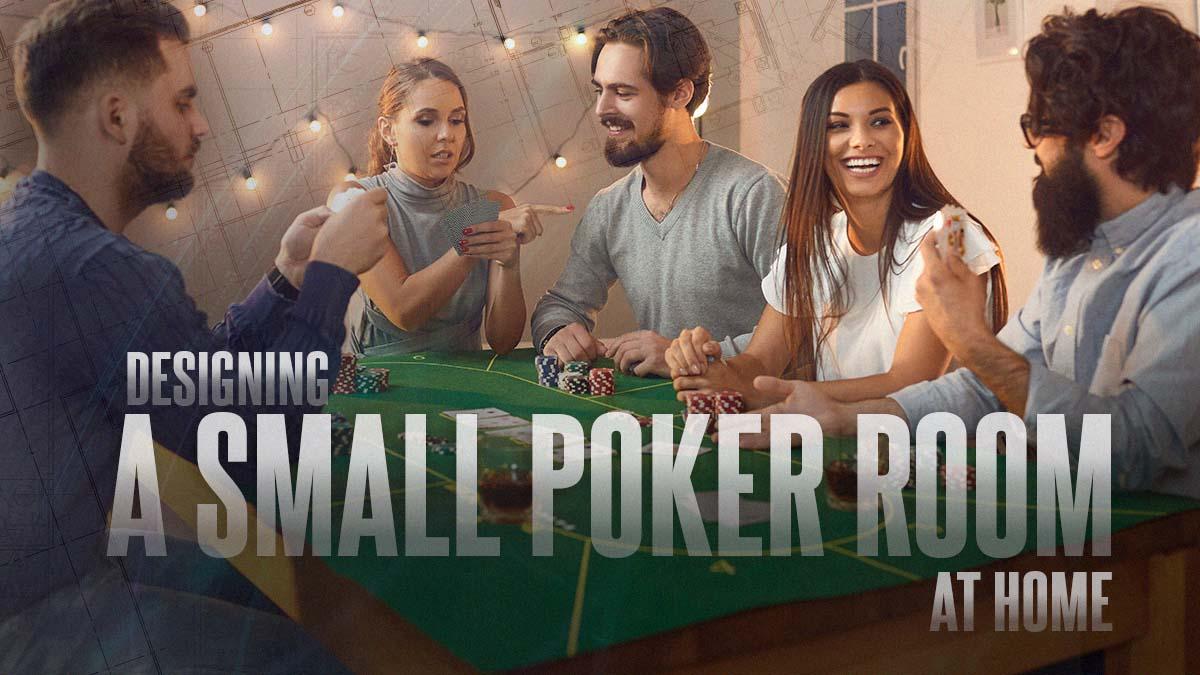 Poker is one of the most popular casino games of all time both at land-based casinos and virtual ones. If this is the casino game that excites you the most, keep reading to learn how to design your very own poker room at home!
Consider your Space
If you have several rooms available to use for your poker room, you have to consider how many guests you expect to have over regularly and everything you would like to include.
A typical home poker room can have not just a poker table for up to ten people but also a bar and other areas so it would be wise to think about enough space for 20 people or more.
The Importance of the Table
Of the various things that you will need to do, your poker table should be at the top of that list.
The table is where you and your guests will spend most of your time so do not settle for just any table that you have tucked away somewhere; it has to be special so go for a professional poker table!
You will find three basic types of poker tables. Poker tables are usually around 84″ x 42″ (7ft x 3 1/2ft), making them perfectly suitable for eight to ten players.
Take a look at these three options:
Oval Poker Tables: This is a good option for up to ten players. The quality can vary drastically here, with some low-end options having foldable and fragile legs, so you should consider a high-end one to get the most out of it. These are the type of tables you will find in the fanciest of home poker rooms, no matter how big or small, and can cost well over $1,000.
Round Poker Tables: This type of poker table can usually accommodate up to 8 players. Although these tables are not as luxurious as oval poker tables, they are easier to handle and move around. Another advantage here is that the dealer can reach all players easily.
Table Tops: Tabletops allow you to use just about any table as a poker table since, as the name implies, you simply place them on top and can start playing. I have to mention this option since it is one of the most popular due to its low cost and ease of storage. However, a tabletop will make your poker room look less professional, so the last two options are preferable.
Comfortable Seating Matters
A professional poker table is not hard to find, but seating is not standard for poker. This means that you have an infinite amount of options, but comfort should be the deciding factor.
Just think about the last time you sat in an uncomfortable chair and how badly you wanted to get away from it! Sitting in comfortable chairs will make your guests' experience more delightful, and they are sure to appreciate it.
Lighting and Energy Sockets
Your poker room's lighting has to be just right so that everyone feels at ease. If the lights are too dim or too bright, they can considerably disrupt the game and people's mood.
Try different lights at different intensities to figure out what works best for your particular poker room.
The room can also be used for online poker tournaments with your friends.
You can invite a small group over with their laptops, and all can play together
online against other players. So make sure the table has energy sockets
installed at easy reach under the base and that there is a good Wi-Fi connection
in the house.
Other Considerations
Of course, a poker room's main function is to play poker, so once you have everything I just outlined above ready, you are good to go! However, there are still other things that you could consider to make your home poker room stand out even more:
Add a Bar: If you expect to have plenty of poker-loving company over, having a bar for both drinks and food can make a huge difference between just a good time and one that you and your friends/family will remember for a long time to come!
Décor: Adding the right décor can make your home poker room stand out. Putting up art and/or photos that center around poker and its long history can add a classy feel that all of your guests are sure to love and comment on.
TV: Including a TV in your poker room is a great idea since you might want to watch a sports game or a poker tournament from time to time instead of playing.
In Conclusion
Having a poker room at home will allow you to host friends and family to enjoy this fantastic game together!
Just be sure to make the right choices when it comes to choosing a table, seating, and everything else that you will include in your home poker room to enjoy it as much as possible!
About the Author
Erwin Orellano has been working in the gambling industry since 2018, mainly focusing on online casino reviews but other aspects as well. Along the way, Erwin has provided content for many top interactive gaming websites like OUSC, helping readers to choose where they play wisely. He has in-depth knowledge of the most popular table games, slots, and other top casino games. He spends his free time with his rescued dogs, exercising, playing video games, and enjoying online casino games.