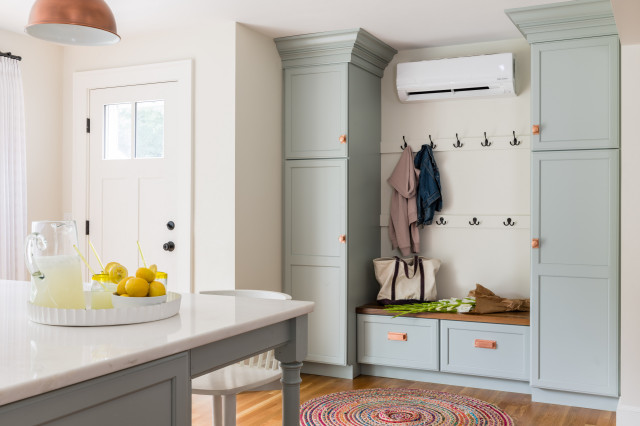 Though homeowners often shrug off decorative wall hangings, accent throws, and shelf-bound trinkets as background noise in chaotic day-to-day lives, our home is an extension of self and a reflection of life's inner workings. That said, consider a cluttered home to be a surefire sign of a stressed-out homeowner. While toppled storage bins and carelessly stored running shoes may serve as a burned-out professional's makeshift SOS message, these out-of-place items can also add fuel to the already raging fire of burnout.
Between constantly misplacing items and the sheer mental stress of a disorganized home, clutter can send any homeowner into a frantic frenzy. Bring some calm and serenity back into your life by eliminating unnecessary mess. With the help of color-schemed storage bins and new and improved organization habits, you'll find yourself clear-headed and clutter-free.
Switch to an upright freezer
Swapping out your old chest freezer for an upright freezer is a slight change with a significant impact. Compared to a chest freezer, an upright freezer like these boasts more built-in storage, allowing homeowners to keep their freezers neat and tidy.
Find attractive storage
Cutting the clutter doesn't mean relying on unattractive plastic totes that will deteriorate the aesthetic value of your living spaces. Instead, invest in storage pieces that complement your home's color schemes and design elements. Woven storage baskets, opening ottomans, and decorative boxes act as places to hide your unwanted clutter while keeping your home beautiful.
Eliminate extras
Part of your clutter quandary may be that there are too many items in too small a space. If that's the case, then get rid of your duplicate items. Why keep two hand mirrors when you only need one? Why are you holding on to that sweater you have never worn? After you pare down your current clutter, make sure to keep a "one in, one out" mentality and get rid of old objects before bringing home new ones.
Build new habits
Cleaning clutter isn't a one-time thing. As we go about our daily lives, clutter accumulates in highly frequented areas such as kitchen counters and coffee tables. Make it a habit to take ten minutes each day to tidy up. It'll make a world of difference.
Analyze before beginning
Take a look at your home before you begin to de-clutter. What are the areas that need the most help? Once you've pinpointed these problem areas, it's time for some interior introspection.
Why do your utensils always set up camp near your stovetop? Does clutter take form because you need to unload the dishwasher more? Or is it because your utensil drawer has reached an unruly level, making it difficult to close? Once you discover the root of the problem, you can make lasting change rather than settling for short-term fixes.
Create designated spaces
Cut the clutter by assigning specific locations to your items. Your clutter may be due to housing an item far from where you use it. If you notice your belongings are constantly popping up in the same place, that's a good sign that that item should live there. Move your remotes from the drawer to a basket on the coffee table, or change your coaster storage from a kitchen cabinet to a side-table drawer.
Purge unneeded items
If you can't seem to get the upper hand on your battle against clutter, consider your space. Is there simply too much stuff in it to keep organized? If so, then consider donating or gifting unneeded items. You will free up space for your essentials, cutting down on clutter.
Wrap up
Clearing your home of clutter will relieve you of stress you didn't even realize you had. Though the first steps to a clutter-free lifestyle may be daunting, remember that it's the little steps that will make the most significant impact.