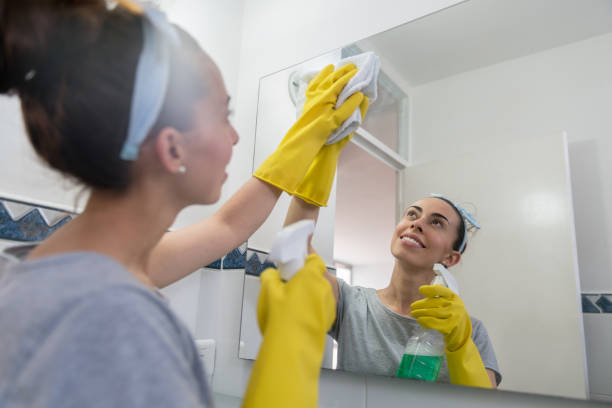 There's no room in your home that needs to have regular deep cleaning more than your bathroom. While weekly cleanups are essential, a once-a-month deep clean in your bathroom can help you keep it shining and healthy. Your bathroom is one place in your home that can breed bacteria that can be harmful to your family, so it needs some special attention.
While cleaning your counters and floors are helpful weekly chores, you will need to dig a bit deeper in your bathroom to get a quality clean. With the high levels of humidity in your bathroom, you are essentially creating a breeding ground for mold and bacteria without the right deep cleaning routine.
You can take care of your weekly cleanings without too much fuss, but your monthly cleanings will require a bit more time. You can bring in a professional from Maid2Match, or follow these tips to help you get a great deep cleaning in your bathroom.
Declutter
Your bathroom is a high traffic zone which means that it can be a collection place for a lot of clutter. Cosmetics, shaving tools, and wet towels can quickly clutter up your space. You can't get a deep clean if you have to navigate around a lot of stuff. Your first step is to clean up the surface of your bathroom. Clear off the counters, pick up all the towels and your bathroom shower mat and throw them in the dirty laundry.
Vacuum
Your bathroom is a prime collection area for hair. It doesn't matter if you have long or short hair, your bathroom floor may look a bit like a barbershop after weeks of hair grooming and showering. To clean your floors thoroughly, it's a good idea to get out the vacuum. You can get into tight spaces with your vacuum hose and pick up small pieces of debris and sloughed off hair.
Wipe Down
It's time to get out your disinfecting cleaner. Once your surfaces are all clear, you can attack them with a good scrub. Your counters, faucets, sink, tub, shower doors, mirrors, and even the walls should get wiped down. A good rule of thumb is to wipe down every surface in your bathroom that gets regularly touched. This includes your vanity door, drawer handles, light switches, and door handles.
Shower
You may get clean in the shower, but your bathing routine may leave a lot of residue behind after you are done. Soap residue is tough to clean off your shower. Using a mildly abrasive cleanser you should focus on your tub and shower stall walls. Don't forget to clean your faucet head and handles. If you have a shower curtain, spray the inside with a bleach cleaner, wipe and rinse for a deep clean.
Toilet
The focus of your bathroom should be left until the end of your cleaning session. Using a toilet brush with a flexible head, use a cleaner that will help you to remove hard stains. Give your toilet a thorough scrubbing. Don't forget to do the underside of the seat, the lid, and the area around the bottom of the toilet where there could be accidental spills.
You and your family spend a lot of time in your bathroom and it's essential for your health that it is a clean space. Once-a-week cleanups and monthly deep cleaning are the perfect ways to keep your bathroom clean and sanitized.