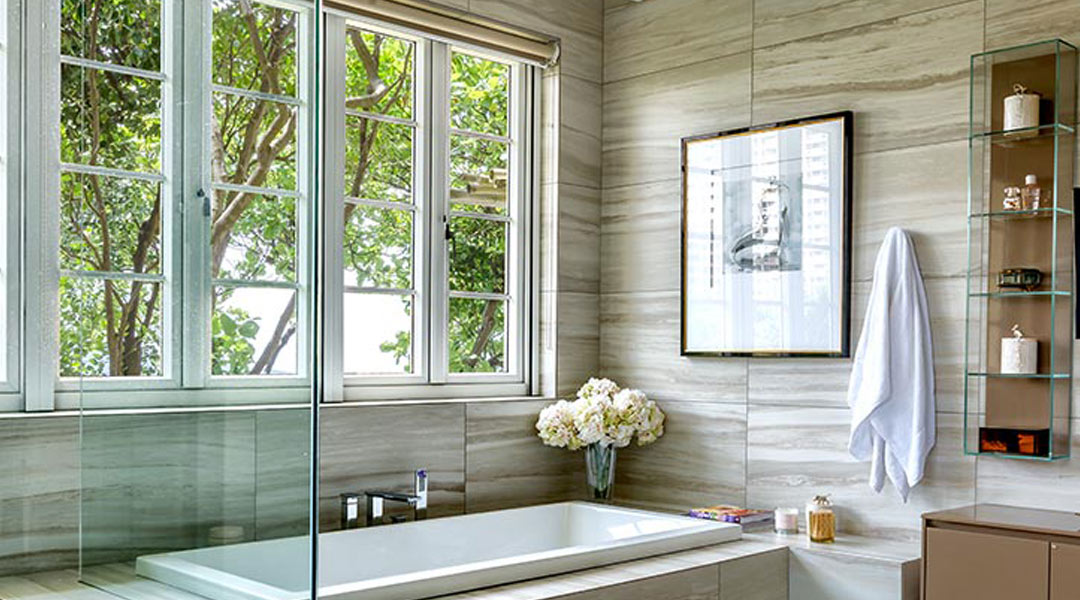 From a small, closet-sized half-bath to an impressive master bath retreat, it is possible to bring unique style and details to any bathroom. There is such an abundance of cabinet styles, fixtures, furnishings, and accessories available, that the days of a standard toilet, vanity, and bathtub design are over. While a major remodel of the bathroom may cost more than other larger rooms in your home, the return on investment for a well-designed bathroom is substantial. Here are some ideas to consider when you want more personality and adorable design in your bathroom.
Think Outside the Bath
Yes, you want your bathroom to be functional, but you can't spell functional without "fun". Begin by considering how to make a visit to the bathroom an interesting experience for your family and your guests. Bright colors, natural light (or lighting that simulates it), and unexpected materials can provide some surprises in your bathroom design. Using custom cabinetry will allow you to make creative and maximum space out of any niche that is sufficient for a bath. Consider cabinets that leave the boxy shape behind, and choose sink installations that are elegant, quirky, or sleek and stylish. Look at wall-mounted cabinets. With proper, expert installation, this option can open up tight spaces and push your design out of the realm of standard bathroom style without sacrificing storage.
If a significant remodel of your bathroom isn't possible, take a long, critical look at the space and location of your fixtures. Work with an expert bathroom designer to see what can be done with minimal changes to the layout. For example, you may have a tub and shower enclosure that makes the useable space in your bathroom too narrow. See if changing the orientation of the enclosure is possible without needing to relocate plumbing lines. There may be some elements of your bathroom that can't be updated without major demolition. If you're stuck with a boxy shower enclosure, consider adding an archway to the openings to soften the box shape before a complete overhaul. However, if there are more than three major issues with the functionality of your bathroom as-is, then starting fresh may be your best bet.
Color Me Cute
While you are moving beyond the ordinary, expressing your style with color is one of the easiest ways to make your bathroom special. If you are okay with making a unique look more permanent, use eye-catching colors other than standard neutrals on your floor, wall, or backsplash tiles. If you fear that bright colors may overwhelm the look of your bathroom, work with tiling designers to use out-of-the-ordinary colors or shapes to create tile mosaics or designs as just a portion of your overall tile work. And when you want to get a cuter design on a limited budget, bringing in colorful accessories like bathmats, area rugs, fixture hardware, artwork, window treatments, or other easy-to-change items can allow you to transform your space without making a long-term commitment.
Share Your Soul
Let's face it, time in the bathroom may not be very active. It can involve a fair amount of sitting. Why not let visitors have something interesting to see? One friend of mine used their half-bath walls to display interesting photos and postcards from their extensive world travels. When their children outgrew some of their souvenir t-shirts, they had them framed and hung on the wall. As they traveled more, the display grew into a busy, wall-to-wall cacophony of places and memories that always sparked conversations after guests left the bathroom. Quirky collections and unique items that tell a story work surprisingly well as bathroom decor. Remember to consider how items are displayed so that they can be easily cleaned.
The Kids are Alright
It's inevitable that when thinking about cuteness in a bathroom, we might be designing specifically for a children's bathroom. Depending on the age of the children and the length of time they'll be using a specially designed room, tailoring fixtures to their needs can be a great investment. Pull-out step stools for sinks and appropriately sized bathtubs increase safety and encourage the development of good hygiene habits. Surfaces that are more scratch-resistant and easy to clean will wear better over time. Working with a professional bathroom designer will help you define elements of your room that will be timeless while adding features that make the room kid-friendly and appealing to even the most discerning tot.
Whimsy Please
Defined as being "playfully quaint or fanciful", whimsy can amp up the cuteness of any style bath. Look for lighting fixtures that resemble works of art (while still offering good functionality). Wall treatments, whether a stylish and cute tile design or fabulous wallpaper can instantly define the playfulness of your bathroom. There are two ways to approach a whimsical design: use your whimsy as highlights or just go all-in. Keep in mind that the more items you add that are quirky and interesting, the more likely it may be that your entire design sense gets lost or becomes over-the-top tacky. Careful deployment is key when taking the whimsical path.
Taking the Design Less Traveled
In today's world of nearly endless choices when it comes to bathroom design, there is almost no excuse for cookie-cutter bathrooms. While some changes can be done over a weekend with a trip to your local Target, other more substantial changes require planning. This can be made easier with the help of expert designers, fabricators, and installers like the professionals at Authentic Custom Cabinetry.