In recent years, society as a whole has begun shifting toward organic, nature-based solutions. This is evidenced in the rising popularity of organic foods, as well as natural medicines like cannabinoids and terpenes. One of the most popular natural curatives is essential oils, which can be applied topically or even inhaled in a holistic healing treatment known as aromatherapy.
According to Johns Hopkins Medicine, when you inhale the essential oil molecules released into the air, they "travel from the olfactory nerves directly to the brain and especially impact the amygdala, the emotional center of the brain." This is the system that communicates with the rest of the brain, including the brain stem which controls vital bodily functions.
Is there a difference between essential oils and terpenes?
One side effect of the rapid emergence of the natural health and wellness industry is a significant amount of confusion among consumers between terpenes and essential oils (EOs). The former are a primary component of EOs. In plants, the purpose of terpenes is either to attract animals and insects to aid in proliferation or to keep dangerous predators away. Terpenes are the compounds responsible for the aroma and many of the health benefits attributed to essential oils. Limonene terpenes, for example, are responsible for much of the antibacterial properties of citrus. More recently terpene products – like those for sale on this site – have gained mainstream attention due to increasing awareness of the taste, smell, and medical effects they provide as part of the marijuana plant.
Conversely, EOs are a much broader spectrum plant extract. Along with the terpenes mentioned earlier, they also contain various alcohols and oxides. These additional components make EOs unsafe for direct consumption. In most cases, undiluted essential oils can be harmful when used directly on skin, but are the best form of EO to use with diffusers.
Home use of essential oil diffusers (also known as aromatherapy diffusers) is one of the easiest and most common ways to put the beneficial properties of EOs to work for you. In this post, we go over four of the best diffusers available on the market in 2021, as well as their respective advantages and disadvantages.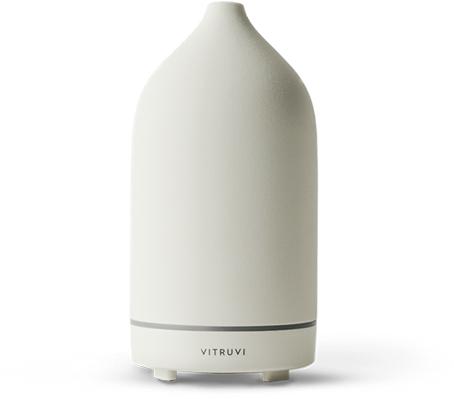 Stone Essential Oil Diffuser by Vitruvi
The Vitruvi Stone Diffuser comes in 8 different colors. The cover is made of a matte ceramic, specifically porcelain. Because of its chic form-factor, it can double as a small decorative piece to complete a room ensemble.
The Stone is an ultrasonic diffuser; which is the most common type you'll see on the market. This type relies on droplets created by rapid vibrations to disperse essential oil molecules. Unfortunately, because the essential oils are first diluted in the water reservoir, it can sometimes result in weakened aroma and potency.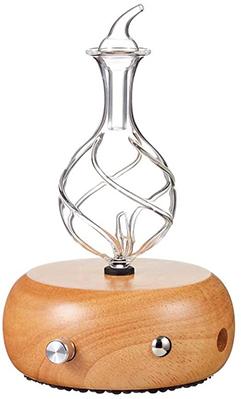 Radiance Nebulizing Diffuser by Organic Aromas
The Radiance Nebulizing Diffuser is made of an imported hardwood base and a delicately crafted glass reservoir. There are no plastic components which keeps it very quiet. The knob design simplifies the process of customizing the diffusion setting and timer. The Radiance is incredibly easy to use, and a very stylish addition to any home.
Nebulizing diffusers are considered the best at diffusing essential oils because they directly atomize the particles and release these unaltered essential oil particles into the air. This results in superior coverage and potency with no heat or water involved. The only downside to nebulizing diffusers is their reputation for consuming oil faster than other diffuser types.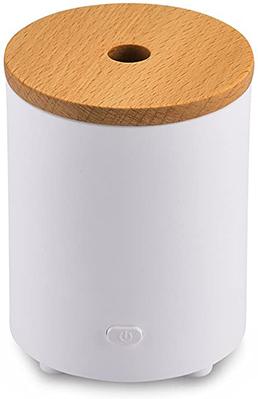 Waterless Portable Essential Oil Diffuser by AromaAllure
AromaAllure's Essential Oil Diffuser is light, portable and powerful despite using only two AAA batteries. This diffuser only takes up the same amount of space as the average drink cup, and runs more quietly than most other evaporative diffusers.
With no possibility of spillage or any water to refill, the Waterless Portable EO Diffuser is perfect for on-the-go users. It relies on air being forced through a filter or pad that is saturated in essential oil. Though evaporative diffusers are less quiet than other types, their fans allow oil to circulate through larger spaces very well.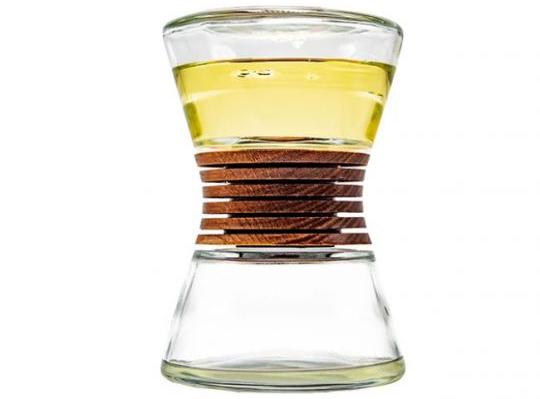 Hip to That Oil Diffuser by Hyascent
The Hip to That Oil Diffuser is simple and elegant, composed of nothing but wood and glass. This diffuser has an hourglass shape with a slatted wooden midsection. Simply turn it over and let the wood absorb the essential oil.
The Hip to That works similarly to most diffuser sticks: essential oils gradually soak into the wood, which releases their aroma into the room over time. No water, electricity or heat is required. The EO's scent and potency is noticeably stronger the closer you are to the diffuser, creating a less uniform coverage area when compared to other diffuser types with forced dispersion.