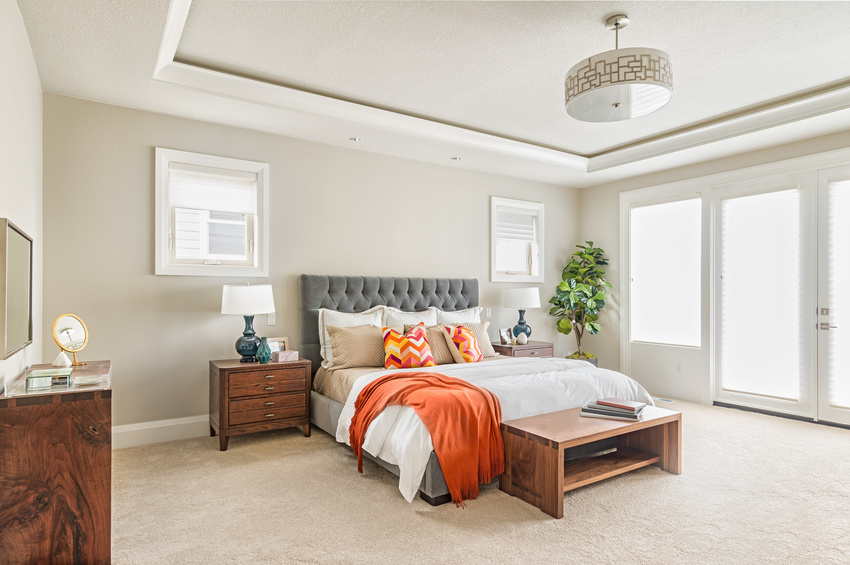 Selecting bedroom furniture that you'll love for years sounds like an enormous task, but if you know your specific needs before you start shopping, it can be a fun and exciting experience.
If you're unsure about where to start, envision the layout of your new space and draw a floor plan. Your bed is the room's centerpiece, so it's the perfect place to start. It's important to move around the room freely, and a bed that takes up too much space won't allow it. Figure out if the best fit will be a king, queen, full, or twin bed, and then find the best spot for its placement.
Next, ask yourself who will use the room? When furnishing a guest room, think about the lifestyle most of your guests lead. If you entertain mostly couples, then you only need one queen or king-sized bed. If your friends are single, two twins or a full-sized bed would be a better option.
The average length of their stays will determine what kind of storage is needed. Overnight guests will likely use the closet space, while those visiting for the holidays may need a dresser or trunk.
When caring for an elderly family member, think of all the ways they use their room. They may enjoy reading, so an accent chair near a window would be ideal. A low bed frame or adjustable bed base can ease the process if they have trouble getting in and out of bed.
For children, there are many furniture options available to accommodate their busy and creative lives. If the kids are sharing a room, bunk beds are a great space saver. If they have a friend who spends the night regularly, then bed with a trundle for an extra mattress is the answer.
A little artist needs room to create, and an arts and crafts table can be the right fit. Storage for toys, games, and uniforms for various extracurricular activities can come with the bed or a storage bench.
When designing your bedroom, be honest about how you use the space. Remember, you will have this furniture for the next several years, so it should make life simpler. If you are a lover of clothing, shoes, and accessories, you need plenty of space to store your belongings. Armoires offer compartments to tuck away your casual wear and hang those clothes that you shouldn't fold. Shoe closets keep your footwear organized, and ottomans with storage can double as extra seating.
So, which furniture style is your favorite? Do you like a strong industrial design or a rural farmhouse look? Maybe clean contemporary furniture appeals to you more than the decorative details of a French design. Or all of these terms can sound foreign, and you're not sure what your style is.
Not to worry, 1Stop Bedrooms has expert designers on staff to answer questions and help you choose furniture sets from the bedroom category and buy online. Give them a call and receive deep discounts and free shipping on your order.