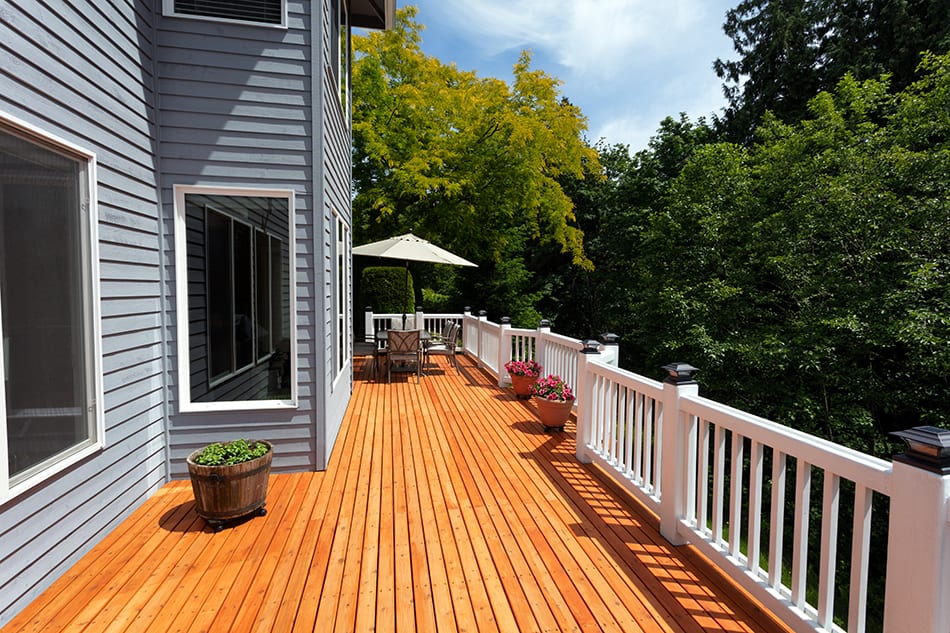 If you own a property, chances are you'll want to customize it and enjoy it for years to come. And one of the best ways to do this is to add a bit of flair to your landscape design.
One of the most efficient ways to add space and tie it into your overall landscape is to build a deck for your backyard. And it also offers a means for you to get outside and enjoy the outdoors.
Recent studies by the Environmental Protection Agency (EPA) have shown that an average American spends an astonishing 93 percent of his or her life indoors. And this is not only unhealthy, it creates a disconnect from the natural world.
Building a deck can offer an incentive to go outdoors for entertainment or relaxation. And there are many types of decks to choose from. So, what is the right deck for your property?
Here, we'll explore a few popular decking materials.
Composite Decks
A composite deck is basically a combination of plastics, cement, and wood fibers that mitigates splintering over time. But it should be noted that composite decking materials vary widely in composition depending on the manufacturer.
The great thing about composite decks is that they are made to look like natural wood. And these are available in many different textures, grain styles, and colors, so they never have to be stained or painted.
Composite deck material is a bit more expensive than natural wood and needs to be cleaned frequently to prevent mildew. In addition, composite materials are a bit more ductile than wood, so temperature and local climate should be taken into consideration.
For example, when looking for decking material in Kansas City, you should consult Kansas City deck builders for a professional opinion about what decking works best for your property and for the local climate.
Wood Decks
Of all decking materials, natural wood is the most common. However, the overall price of your decking project will depend on what type of wood you use.
For example, if you want an exotic wood such as Mahogany, this is going to be extremely costly. Additionally, you'll also have to treat the wood and make sure it's sealed properly in order to stand up to the elements.
The placement of wood decking is also something that needs to be considered as well. And this is because frequent exposure to water can deteriorate the wood. You'll also need to strategize your sprinkler placement as well to avoid repeated exposure to moisture
Wood decks are thought to be the most beautiful with their natural attributes and offer a more natural feel as you tie the deck in with your surrounding landscape.
Plastic Decking
Perhaps the most durable of all decking materials are plastic or vinyl. These products contain no wood at all, which means that the material will likely last for the entire life of the home.
The only drawback to plastic or vinyl decking is that it doesn't have that natural feel, so unless you have a home with matching vinyl siding, a plastic deck might have a cold feel to it or might look a bit out of place.
It's also good to note that the maintenance on a plastic deck is one of the best features, as you'll spend very little time maintaining this type of material. Though you may need to scrub on occasion to get rid of mildew buildup, you won't have to stain or paint it, and you need not worry about warping or splintering.
Choosing decking material that's right for you is largely about personal style and preference. But you also need to take into consideration the overall design of your home and landscape as well. And don't forget to think of the cost, as the cost of installation and overall maintenance will also be a factor in determining which deck is right for you.