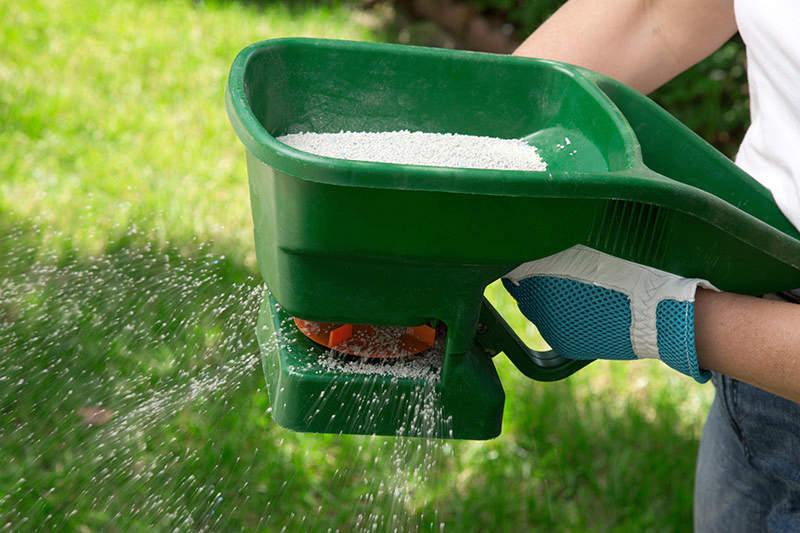 When it comes to maintaining a yard in top condition, there is nothing more pleasing than having a thriving lawn that is thick, lush, and vibrant.
Did you know that an average of 64% of people say that their neighbors have the best lawn in the area? So, how does one family's property thrive while the other withers away under the sun? Besides maintaining the lawn meticulously, using the best lawn fertilizer also plays a role in helping sods thrive.
If you are looking for ways to liven up your lawn, then you are at the right place.
Best Fertilizer for a New Sod- The Basics
Plants need different types of nutrients to thrive, especially some nutrients in additional quantities. Specific nutrients that may not be available in your soil in the right amounts are the primary nutrients you will find in a fertilizer.
Fertilizing is an effective lawn care practice, as it influences the grass color, prevents diseases and weed invasion, and influences the ability to recover from stress.
Fertilizer is a mixture of nutrients that often lack in the lawn. They are available in granular and liquid forms and can either be made of organic or natural materials or synthetic nutrients manufactured in labs.
All brands of fertilizers are labeled with the macronutrients;
Potassium (K) – This boosts plant growth and keeps them balanced and healthy.
Nitrogen (N) – This influences the grass color and helps produce leafy growth in plants.
Phosphorous (K) – This helps strengthen the plant roots.
Organic or natural fertilizers usually have a lower N, P, K compared to synthetic fertilizers. However, synthetic fertilizers work faster than natural ones.
Finding out what nutrients your lawn soil is lacking will help you select the best lawn fertilizer. Given here are some of the critical considerations for choosing lawn fertilizers for the new sod.
Things to Consider When Choosing Fertilizers
All types of grass need nutrients to improve health and growth. However, the nutrient requirements of established grass and new sods can vary slightly.
Read the Numbers
The NPK ratio in fertilizer is a significant number that you should look out for. These numbers stand for the percentage of essential nutrients (Nitrogen, Potassium, and Phosphorous) present in the fertilizer.
For instance, if the NPK ratio of a fertilizer is 12-0-10, it means it contains 12 % nitrogen, 10% potassium, and no phosphorus.
Usually, phosphorus promotes root growth; nitrogen keeps the plant green, and potassium guards the plants against disease and drought. For new sods, fertilizers with high levels of phosphorus are the best choice.
Choose the Type of Fertilizer
Once you decide on the best NPK ratio, it is time to choose between synthetic and organic fertilizers.
Synthetic fertilizers are made from grasses, minerals, and waste with the intent of delivering accelerated growth. However, if used in a heavy-handed way, synthetic ones can even kill the grass over time.
Organic fertilizers are made from peat moss, cottonseed, bat guano, bone meal, and other living organisms. Even though they may take quite some time to work their magic, they pose fewer environmental and health risks.
Find the Right Formula
Granular and liquid are the two types of fertilizer formulas available in the markets. Liquid fertilizers come either in liquid or powder forms. If you choose the liquid fertilizer, you may have to dilute water or add water to the product based on its form.
Liquid fertilizers tend to require frequent application compared to the granular form. It also poses environmental risks if it by chance contaminates the local water supply in large amounts. However, if used in the right way and sparingly, it can offer rapid results.
On the other hand, granular fertilizer operates in a slow-release fashion. It can take up to a month or longer to show results. However, compared to liquid fertilizers, the granular form requires less frequent check-ups.
For new sods, granular-based fertilizers will be the best choice as they usually have high iron content. As small amounts of iron can help keep your lawn healthy and green, you can opt to experience better results.
Determine Your Lawn Needs
Firstly, understand the types of sods and grass that you have on your lawn. By knowing this, you can easily determine what feeds they will need for healthy growth. Check the soil in the yard and check any nutrient deficiencies or concerns with the nutrient building.
By analyzing the sod and lawn needs and requirements, you will be able to make a better decision while choosing the best lawn fertilizer.
Finally, make sure that you check the N, P, K ratio in the fertilizers. Buy suitable fertilizers, develop a fertilization schedule, and help the sods grow and look healthy. Let the grass on your side thrive better than those on the other side.