If you are looking for a kitchen island to grace your backyard, here is an expert guide to help you out.
Having outdoor kitchen islands add flexibility and extra storage when you get them custom made. Your first step to an outdoor kitchen would be to determine the purpose—how would you like to utilize it.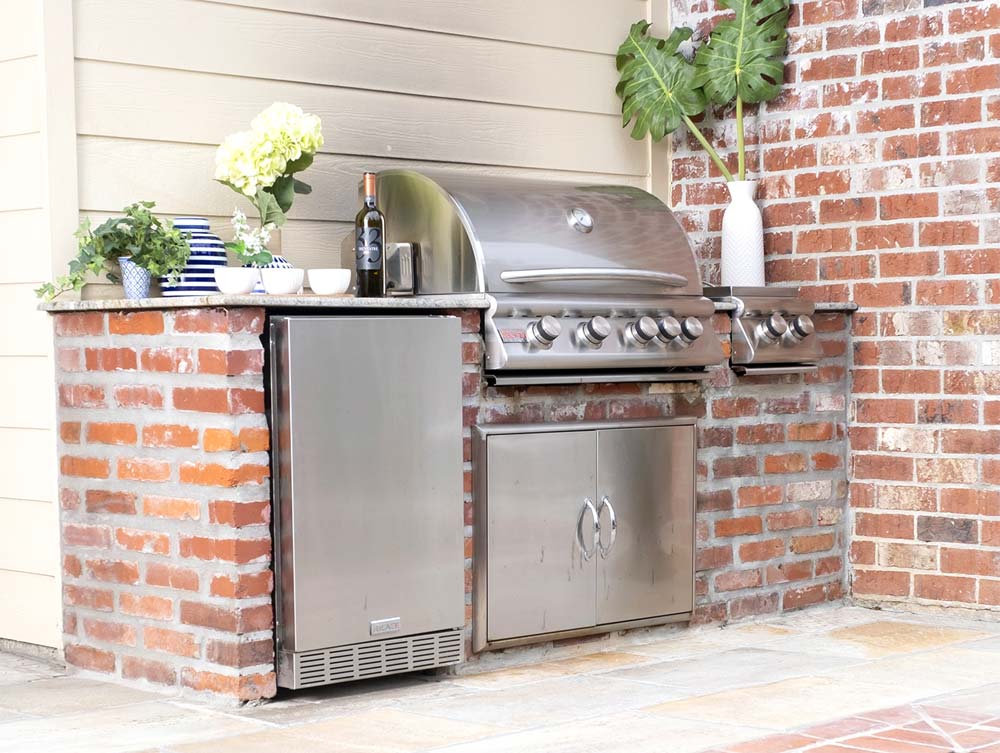 For example, people who have limited backyard space use these islands as a stand-alone kitchen. On the other hand, some like to add extra features to offer a grand cookhouse-like feel. You may opt for doing it your way, sticking to the fundamentals.
Consider the Exterior
As a matter of fact, your outdoor kitchen is an extension of your indoor space. So, when it comes to choosing a design, you must take into account your house architecture, color tone, and, most importantly, the backyard area diameter.
While brainstorming about the look, you have to apply the color theory basics a little bit and know this; warmer hues are the ones you must always pick when related to food. It is known to improve appetite.
If the area is pretty tight, go for yellow or light orange. Pick vibrant orange if the space is airy. You can also go for faux brick walls—they complement the outdoor kitchen islands well and serve as nice partitions, reflecting the vintage style.
Pen Down the Layout
Get ready with a pen and paper because articulating the kitchen layout is crucial. Now, you have to be familiar with a few basics that involve different zones of a kitchen. While your interior decorator might have told you that the inside kitchen has three workspaces, the outdoor kitchen would have 4—Prep Zone, Cooking Zone, Serving Zone, and Entertainment Zone.
As the name suggests, the Prep Zone is where you prepare the food items for cooking.  This space would have a sink to wash the veggies, cutting tools, paper towels, and trash bins with storage facilities.
Adjacent to this space, you must set up your Cooking Zone to make it more convenient for you. Equip this place with built-in grills, side burners, smokers, griddles, pizza ovens, etc. But remember, the ventilation and the gas line access doors must be accurately built to ensure uninterrupted and safe cooking.
Also, make room for grilling utensils, preferably drawers.
When you are expecting too many guests, only a buffet-like serving system will help. Right next to your cooking area, have a countertop table where you can put down the stakes and the burgers when done grilling. Fix some plate racks and shelves in your Serving Zone so that catering to your guests' demands gets done faster and easier; they can also help themselves.
The outdoor kitchen islands are immensely versatile. The Entertainment Zone is where your guests would relax and have a gala time. Hence, it is this place where you would place your refrigeration appliances, like ice makers, mini-fridges, or the full-size beverage fridges, kegerators, wine coolers, etc. It lets your friends and family take out beer cans or enjoy a scoop of the mint chip ice cream whenever they want.
Just make sure this zone is not around the heated cooking space or grill corner.
Pick Sturdy Materials
Unlike your indoor kitchen, the outdoor island is not stationed in an enclosed space, so chances are they might get damaged by the seasonal storms, rain, snowfall, or even the occasional blows unless you make a wise choice of the raw materials.
To sustain amid the whims of nature, you can choose stainless steel as your option, for they are extremely tough and last long. Add the glossy tiles if you would like to infuse youthfulness and vividness to the island.  They are also easy to clean. Consider an intense fiber shade upon the Prepping, Cooking, and Serving Zone.
Style It with the Right Decor
The outdoor kitchen islands must spread a fresh vibe around. Consider decorating the space with lush green creepers. Get some hanging planters, flowering plants, and grow some herbs if you are nurturing a kitchen garden.
Light It Up
Installing a shade can help you mount the LED lights or install a pole yard light to illuminate your cooking corner. Set the mood with the string of lights or solar-powered accent lighting with some candle to cast that romantic aura.
Hopefully, this guide will help you build a lovely and cozy outdoor kitchen island for your home. And the only thing that remains is sending out the invites for your inaugural outdoor bash!