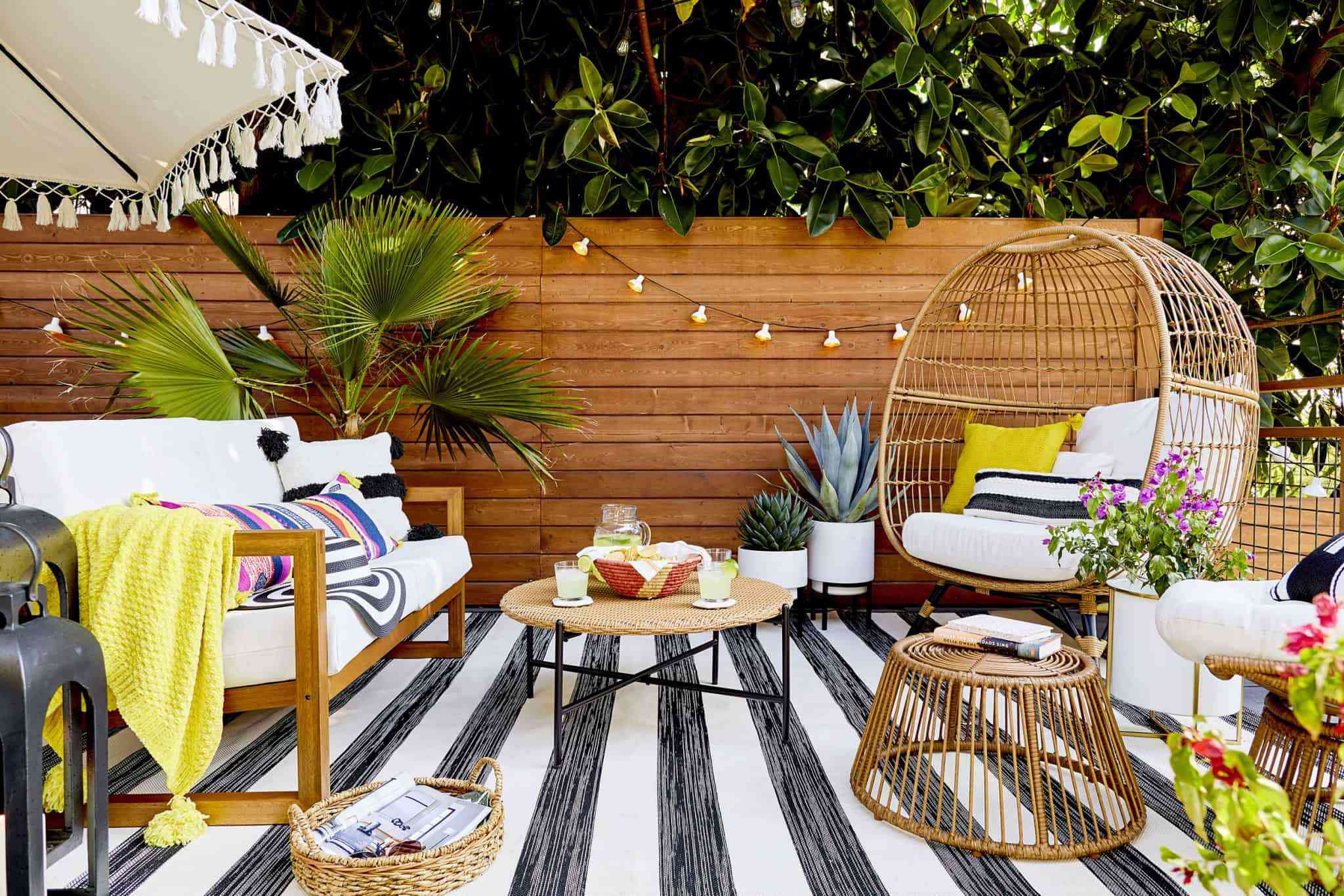 With summer right around the corner, now is the time to begin brainstorming ideas for how you are going to use your outdoor patio. The truth is that you have a wealth of options at your disposal! Here are 9 ways in which you can use your outdoor living space.
1 – Creating Comfortable Hangout Zones
You have this beautiful patio in your backyard, why not consider installing furniture and other fixtures that allow you to make the most of the space? You should take the opportunity to create different hangout zones that will make it more appealing to be outside on your patio. This includes installing a pergola and dining areas, which will give people a reason to go outside.
2 – Install a Weather-Resistant Carpet
Having a rug outside will bring more definition and character to the space. We recommend that you purchase a carpet made of polypropylene materials, which will provide better resistance against inclement weather. Outdoor carpets also provide you a space in which you can be barefoot, and they help accentuate any outdoor furniture that you have.
3 – Install a Fire Pit
Fire pits are often the focal point of your outdoor patio because they allow you to gather around with close family members and spend quality time together. You can also cook marshmallows and make delicious smores with your fire pit, and you can also use it as a space to be intimate with your significant other.
4 – Install Customizable Fixtures
Too much simplicity in appearance can make your outdoor patio appear ordinary and dull. However, you can add more color and vibrancy through potted plants, holiday lighting and other customizable fixtures. This includes pillows, sectionals and loveseats. This way your outdoor patio is a lot more viable when it comes to relaxing and spending time outside.
5 – Add More Greenery To Your Patio
In addition to potted plants, you should also consider installing planters that are overflowing with foliage. This will add a lot more style and visual elegance to your outdoor patio. Greenery gives your home a more natural and organic appearance, which will go a long way in elevating your experience while relaxing outdoors.
6 – Invest In a Quality Dining Table
Dining tables are a great investment because they are a perfect centerpiece for your outdoor patio. We always recommend that you find something made of solid wood that offers simple maintenance and optimal weather resistance. Most premium dining tables will last for years while retaining their original beauty. Custom tables also give you the option to personalize the appearance so that it better accentuates the decor of your patio.
7 – Install a Grilling Station
Cookouts are always fun and enjoyable for the entire family! A grilling station also makes it much easier to host parties and celebrations for special events. The entire grilling station usually includes spatulas, plates, charcoal, and lighter fluid all within arm's reach.
8 – Add Special Lighting
You can install bistro lighting to add a special ambiance to your outdoor patio during those cozy summer nights. You can also install larger light bulbs and even multi-colored lighting for extra style and elegance. We also recommend that you set a timer for your lights to promote better energy efficiency.
9 – Provide Covered Seating
Inclement weather is bound to occur, which is why you need a special covering for your outdoor patio. Whether it's scorching hot outside or there's a downpour, your patio covers will provide you with ample protection. Your family will certainly appreciate the gesture!
Have any questions about building and installing outdoor patios? We've got answers! Give us a call today and one of our representatives can explain everything you need to know.