Artificial grass is the ever-green turf that's been sweeping suburbs for decades. Homeowners across the nation use this synthetic lawn to beautify their homes every day.
So, why is artificial grass that popular anyway? The short answer is the vast amount of benefits that it provides. The long answer is what you'll find below.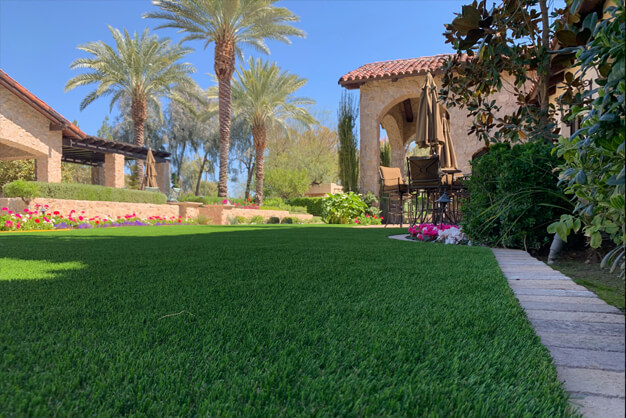 Continue reading as we cover some of the fantastic benefits of artificial grass!
1. Never Mow Again
The first place most people's minds go when they think of artificial turf is usually the lawnmower. This tiresome, time-consuming chore has to be completed at least weekly and sometimes more than that if it's been a wet week.
With an artificial yard, you can forget the mower and focus on relaxing and enjoying your weekend. Not to mention the money you'll save on gas, oil, and other maintenance items for your mower. By not needing to mow any longer, you'll be cutting down on air pollution caused by these yard trimming machines.
2. Reduce Water Waste
Typically, natural grass lawns need routine watering in the morning and evening to keep them looking fresh and green. However, synthetic turf requires no water to maintain its appearance. An artificial yard will need some water occasionally, though.
From time to time, your artificial turf will get dirty and, if you have pets, accidents can happen. You'll only need to spray it off enough to clean the dirt and debris, which is significantly less water than what a natural yard requires. When you make the switch, you can see the reduction in your water bill almost immediately.
3. Low Maintenance Care
Despite not needing to mow, you'll still need to maintain your artificial grass. The good news is that it's quite easy to keep up with. You can remove large debris, such as leaves and twigs, with a leaf blower. Any areas that experience a lot of foot traffic can be fluffed back up with a standard bristle broom.
As we've discussed, when your synthetic lawn gets dirty, you can rinse it off with a water hose. If you have pets, you might need to do this slightly more often than others. This low maintenance will help you save time and money to focus on doing more of what you want to do in your spare time!
4. Safe for the Kids
Many homeowners need to use weed killers, pesticides, fertilizers, and other chemicals to maintain the look of a natural grass yard. These chemicals can be dangerous for children to play around.
Thankfully, artificial turf doesn't require any of these chemicals to keep its beautiful looks, making it entirely safe for children of all ages to play on. For this reason, many cities around the country are switching over to artificial grass for public spaces.
5. Pet-friendly
We all know that our pets love to be outside and play on the grass. However, pets can sometimes be known to tear up and eat the grass in a natural lawn. Pets typically leave artificial grass alone, and when a mess happens, it can be easily cleaned with a water hose and a mild detergent. Not to mention, you'll never have to worry about your pets digging holes or tracking mud and dirt into your house!
6. Unmatched Durability
The materials that artificial grass is made with are designed to handle traffic, any type of climate, and harsh weather. It's also resistant to UV rays, meaning that it won't lose its color from the day-to-day sun exposure. After you make the change to synthetic grass, you'll enjoy it for years to come thanks to this enhanced durability.
7. Never Pull Another Weed
Aside from mowing, pulling weeds in your lawn is another time-consuming maintenance task that you'll need to do continuously with a natural yard. Many different weeds can be found sneaking into natural yards, and keeping them out requires a lot of time and money.
Weeds will never be a problem with an artificial yard. You may have to pull a weed here or there, but they are rarer in an artificial lawn.
8. Year-round Beauty
No matter what time of year it is or where you're located, an artificial lawn will still look beautiful. This tough grass can withstand practically any weather conditions and the parts of the yard that experience the most traffic only needs minimal work to keep looking new. Unlike natural grass, your artificial lawn will never have brown or yellow spots, and, most importantly, it will never die!
Final Thoughts
Artificial grass has a lot of advantages over natural grass. The benefits of never mowing, reducing water waste, low maintenance, kid and pet-friendliness, durability, scarce weeds, and looking beautiful year-round make this the perfect grass for any lawn! If you're thinking about artificial turf, consider all of these benefits first!