Angle grinder one of the tools that you would like to purchase when going for power tools. But before to the topic I wold like to explain what exactly an angle grinder is?
So, here is the answer. An angle grinder is also known as side or disc grinder. This tool is very versatile and can be used in many different works like construction sites, auto repairing and workshops. Therefore, this tool is available in different sizes and with even motor powers.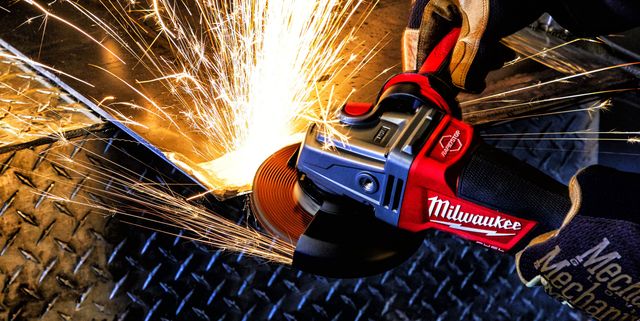 When I researched on its invention, I came to several stories around it. At one place I found that it was invented in 1954 by Ackermann + whereas on the other place it was stated that it was invented in 1973 by Thomas Joseph. But whoever invented this tool maybe, it is of great use.
It can be used for many different works like grinding, cutting, polishing, cleaning, sharpening and other different works. And therefore, the cutting discs are made up of different material depending on its use. It is also used for smoothing up the rough edges to prevent any accident due to sharp edges of a metal cut.
Therefore, there are certain factors that you need to understand before buying an angle grinder for you. In this article, I will be pointing out the 8 factors that you need to check before getting one for your work.
They are as follows.
8 Factors To Consider When Buying An Angle Grinder
Power of the Angle grinder
Power of an angle grinder is very important and you need to check the wattage of the grinder. The more wattage it would have; the higher power it would generate to cut or grind a material.
If you have an angle grinder with bigger cutting disc then you would require wattage. You also need to check the Amp of the grinder as higher amp grinder can do heavy duty works easily.
Size of the cutting disc
The second thing that need to consider is the size of the wheel or cutting disc also known as head. The bigger is the cutting disc size the heavier motor it requires. But you always don't need a bigger disc.
For example, if you need to smoother the cutting edges or a material you require a great precision and therefore an angle grinder with small disc size would be optimum for your work. So, always choose the size according to your work preference.
The disc size varies and you can get a disc size ranging from 4 inches to 9 inches.
Mode of power
An angle grinder comes in three different power modes. You can get an electrical, petrol or compressed air grinder but each one of them have their own pros and cons.
The electrical grinder generally works on battery or through direct current. They can stop working whenever its battery drains out or power goes off at the same time the petrol one need fuel to be filled to carry out the work easily.
The battery power grinders are easy to handle and can be taken anywhere you want for your work.
So, always check out the pros and cons of all the three types and then take your decision of buying one for your work.
Speed of the grinder
The speed of the grinder makes it more suitable of carrying out the different projects and therefore the higher the no. of revolution per minute of the disc the more effective it will be. These grinders speed can vary from 5000 -10000 revolutions per minute.
So, whenever you require cutting and grinding of strong metals you need to check the speed, must be higher for metal grinding and cutting.
There are grinders that are typical and just have 700 – 1200 revolutions per minute. On the other hand, there are grinders too which have more than 1200 revolutions per minute having no load speed.
Interchangeability
Most of the angle grinders have an option to use different discs with different sizes. This makes the device more suitable to carry out different works. So, whenever you go to buy an angle grinder make sure that they have such abilities. But when you find this feature is not available with the grinder you are buying they it is wise to look for one with this ability.
Soft start feature
The soft start feature is really awesome and it prevents the angle grinder from wrenching while starting up. But this doesn't mean that you should start using it once it starts, you must make sure that the grinder disc is at full speed before you use it for carrying out your work.
Most of the big grinders come with this feature whereas for small grinders you will have to lookout for this feature as all of them don't feature this option.
Handle
Adjustable side handle are very necessary in a grinder as it provides flexibility to handle the machine with both the hands. It is possible that your grinder is small and therefore you require only one handle to operate it but still you must look for the flexible and adjustable side handle so that you don't regret in future.
Also, check the device if it has anti-vibration feature on not. The anti-vibration feature doesn't make your hand stressed out when you use it for long hours. You can also have a better control on the machine if it doesn't vibrate.
Adjustable Guard
An adjustable guard is an important thing that you require while working with grinders. While cutting there are multiple debris and sparks which can cause harm to your hand. The guard would protect your hand from those debris and small metal parts that comes out while cutting.
Wrapping it up
So, make a wise and clever decision like playing bobcasino to make extra cash rather than watching netflix all day and choose one final product for yourself!
You must be thinking that all of the abilities and features can be found in all the new angle grinders but it is not true. When I bought my first grinder I was not knowing about all these features and therefore I bought one which was really not useful for me in long run and later I has to get another one. This costed my much higher as I had to but two grinders for the same work.