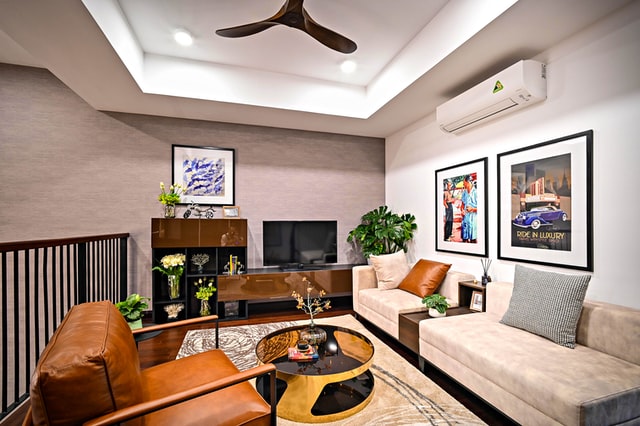 You're hoping to create a family room that feels just right. Now, you have to figure out how to do this. It might feel like your family room ideas have run dry, but that's not the case. All you need is a little push in the right direction. The following are five ways you can decorate this room.
1. The Playful Pattern Option
The playful pattern is another interesting idea that might work for you. You're going to be focusing on patterns. Folks may think patterns can be hard to get right, but if you want to go with something a little more funky and unexpected, then this might be the best way to go.
Don't feel intimidated by the idea of using patterns. It's not hard to match patterns. For example, you can stick to one geometric shape. Then, you can match it with a general color or shades of a particular color. You want to focus on everything, from your drapes to the throw pillows.
If you can, you might want to reupholster your couch or couches so that many items in your room have this pattern. You can leave some items plainer if you want. All those patterns and colors make this one of the most fun family room ideas out there. Ask for your family's input because this should be a group effort. Plus, they might give you some ideas you haven't considered before.
2. The Minimalist and Green
It may be a good idea to consider the minimalist approach to your family room, especially if you want to add some plants to your home, seen here. The minimalist approach allows you to highlight your beautiful plants, which can be great if you're thinking of using really large and eye-catching plants.
For this approach, you want to focus on white and maybe some off-white colors for everything. This includes your couches, sofas, and some of your furniture. The only color you want around the room are your green plants. Granted, you can't make everything white because that won't look great, but there's one thing you can do. Every so often, for some of the items in the room, you could use a soft brown or tan color for your coffee table and maybe one or two furniture pieces.
The soft brown or tan color shouldn't take away from the overall look. Now, white means cleanliness is going to be more important, so this is ideal when kids are already a little more responsible.
3. Sweet And Familiar
There are many ways you can decorate a family room. One way is by simply doing something that feels sweet and familiar. The thing that makes this type of family room decor so special is the focus on your family.
You probably have many family-made things like sculptures or portraits that your kids made at school or home. Now, it would be great if you could just put these things in the family room and not think about it, but it's a good idea to keep the decor in mind.
For example, if you want to display portraits of your family, why not invest in custom throw pillows. These are exactly what you imagine: high-quality family pictures printed on exceptionally comfortable throw pillows.
4. The Vintage Look Works Wonders
Those who get pretty lucky at flea markets, vintage stores, thrift stores, and Etsy might want to consider using that talent to decorate their family room. Many folks have used vintage pieces to decorate a family room. Part of what makes this fun is that you have to go on the hunt to find pieces that'll match.
It may take a while, but when you do find those special pieces, you'll feel accomplished knowing that you worked hard to find something. This is something you and your family can do together, which should be kind of fun, especially if you are not spending a lot of time together.
Make sure the vintage pieces you repurpose are in good condition. You don't want to use something that might break. This is your family room after all, and that means your family could hurt themselves if you don't check on the integrity of a piece.
5. Let Loose the Artistic Spirit
You might want to consider the artistic approach if you've always had an eye for art. A family room could be anything you want it to be as long as it feels inviting. Any of the aforementioned ideas allow you to do that, but this one adds a splash of something different: a chance to bond with the soul.
Art allows folks to express themselves and to connect with that part inside that normally doesn't come out. Your family room decor can bring that part out every so often.
You could add one accent wall, but don't go for the typical one color. Consider a shape or maybe a strange pattern with colors that would complement the room. Purchase art pieces, or maybe you could commission someone in your family to help you create something special.
You've got several interesting ways to decorate your family's room now. If you aren't feeling any of these ideas, then consider talking to an interior decorator for some tips.