Hot tubs are a popular form of home entertainment, with approximately 7.3 million hot tubs currently operating in the US, and 16.7% of owners using their hot tub four or more times per week. (1) (2)
Most hot tubs require 240v power, which means you need to hire an electrician to complete the wiring installation before use. This can be costly, and depending on your electricians' schedule, can delay your opportunity to enjoy your hot tub.
Fortunately, the plug and play hot tub provides another option for aspiring hot tub owners. They are very popular in the two-person capacity range, but also capable of accommodating up to six revelers at a time.
Plug and play hot tubs only require standard 120v power, meaning you can plug it into any standard power outlet in your home, and start enjoying your tub sooner.
Let's explore some reasons you should consider installing a two-person hot tub in your home.
1. Convenience
When it comes to convenience, plug and play hot tubs are hard to beat.
By eschewing the need to hire an electrician, you can save time and money, or increase your hot tub budget.
Plug and play hot tubs are generally smaller and lighter than their 240v counterparts, particularly in the 2 person hot tub versions, meaning set up is a breeze from start to finish thanks to their added portability.
Their portable nature means you can even move them around your home on a whim, without worrying about having to get electrical work done in each new destination.
Plug and play hot tubs also tend to be less expensive than their traditional 240v counterparts, making them a great choice for the budget conscious consumer.
2. Level up your outdoor entertaining
If you enjoy entertaining, a relaxing backyard oasis is a must-have.
A two-person hot tub could be an exciting new addition to your ultimate entertaining backyard, and it's small enough to place on a patio without encroaching onto the deck space.
Pull up a bar cart for a novel new cocktail hour location, or simply chat the night away while enjoying the jets, however you use it, your two-person hot tub is sure to be a hit.
3. Improve your sleep quality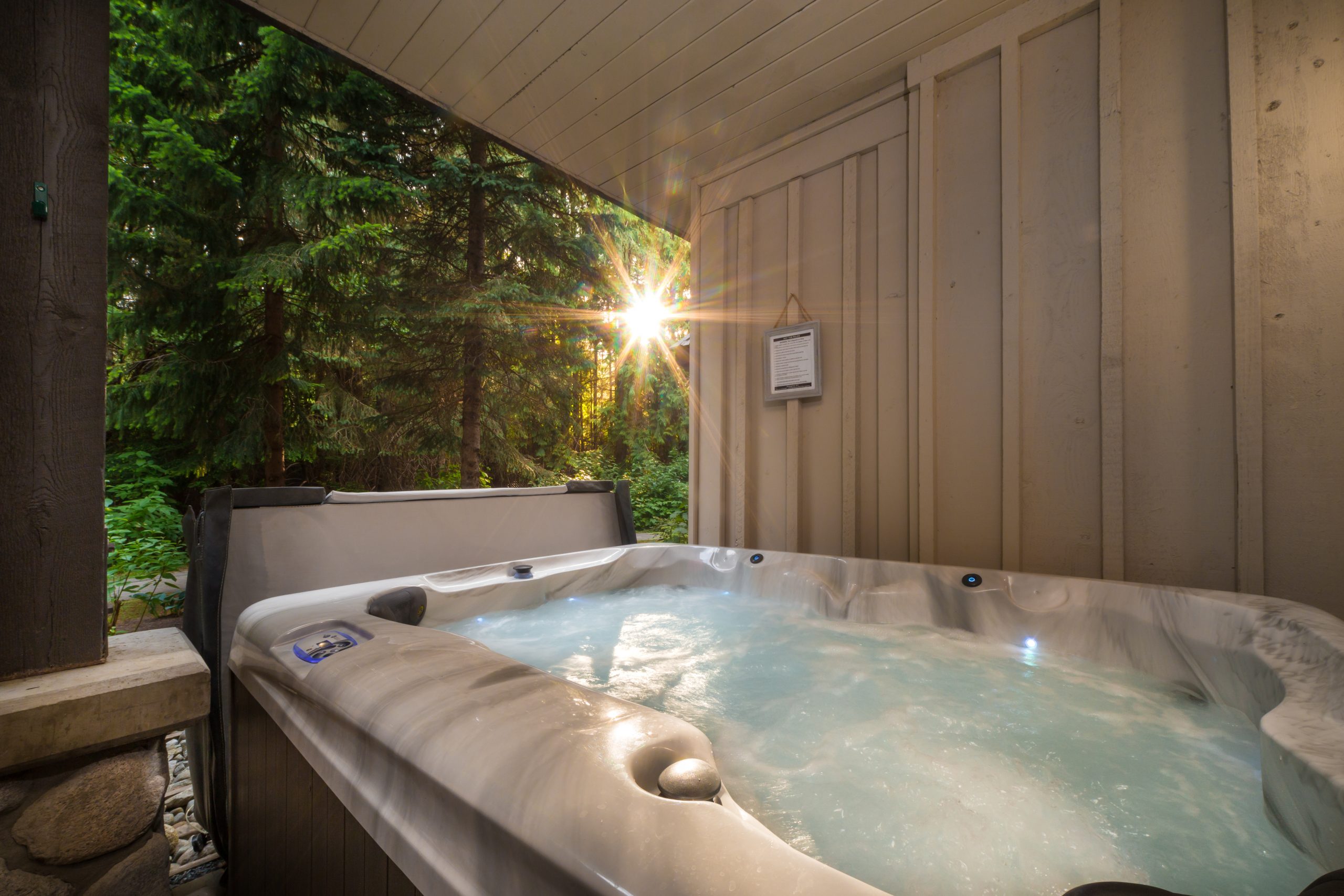 If you have trouble getting good quality shut eye at night, a plug and play hot tub could help you out. Multiple studies have linked hot tub use to better sleep patterns, and a two-person hot tub is the perfect size to test this theory for yourself.
A recent study of people with fibromyalgia found that hydrotherapy helped to improve sleep quality, results from which some believe hot tub users may also benefit. In a recent survey of hot tub owners, 33.3% of owners advised that they experienced better quality sleep quality with regular hot tub use. (2) (3)
4. Relieve your muscle pain
Muscle pain is extremely common, and can be caused by work, sports, or even just sleeping in a strange position.
Applied heat is a common home remedy for sore muscles, and the combination of hot water and massaging hot tub jets could be an effective way to soothe sore or tight muscles, and may help relieve aches and pains. (4)
In a recent survey of hot tub owners, 49% said they had experienced improved recovery from exercise with regular hot tub use. (2)
5. Maximize your relaxation
Soaking in a hot tub may have a reputation as a social or shared activity, however 14.8% of surveyed hot tub owners indicated that they enjoy hot tubbing alone as a form of relaxation. (2)
A two-person plug and play hot tub is the perfect size to luxuriate in alone, and you can even add some additional relaxational elements like aromatherapy, to truly enjoy your "me" time.
Aromatherapy has been linked to improvements in mood and sleep, as well as anxiety and headache relief, making it a great option to help you unwind in your hot tub at the end of a busy day. (5)
While it's not recommended to use regular aromatherapy oil in a hot tub, several retailers offer aromatherapy products which are safe to use in your tub.
Hot tub safety tips
Particularly in a two-person plug and play hot tub, where you're likely to be enjoying your tub alone, it's important to stay safe.
When using your plug and play hot tub, ensure you keep these hot tub safety tips in mind, to maximize your relaxation experience.
Use a hot tub cover when your tub is not in use, to avoid foreign elements getting into the water.
Limit alcohol use when using your hot tub to avoid slipping outside the tub, and accidental water ingestion when in the tub.
Consult your doctor if you suffer from cardiovascular health issues or conditions such as diabetes, to understand any precautions you should take with your tub.
Ensure your plug and play hot tub is in a well-ventilated area, to avoid causing yourself any irritation or overheating. (6)
Conclusion
Hot tubs are a versatile tool for deep solo relaxation or fun with friends, and plug and play hot tubs make it easy to install and enjoy your new toy.
If you're in the market for a hot tub, and you value convenience, affordability, and the relaxation benefits that may come with regular hot tub use, consider whether a two-person plug and play hot tub is right for you.