Thunderstorms can cause havoc in your home and can even harm your family, especially if lightning strikes start fires within the building. You might believe that thunderstorms are simply freak weather events that are impossible to predict or to prepare your home for. However, there are many solutions that you can use to protect your property if you live in a storm-prone area. This article will cover some of the essentials.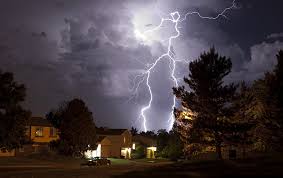 Install a Yard Drainage System
One of the main issues of thunderstorms is that they often lead to flooding within your garden. This water can easily enter your home if your garden is not properly landscaped, which can cause damage to your possessions and furniture, as well as eventual structural and foundation issues to your home. In order to prevent you from having to pay out on expensive repairs every rainy season, you should consider installing a yard drainage system. At Helitech Waterproofing, their yard drainage system can catch water before it enters your home and redirect it away from your property.
Invest in Lightning Protection Systems
If you live in an area that is particularly lightning-prone, you should consider installing a lightning protection system onto the most vulnerable area of your property: the roof. In the event that lightning does strike your house, a home lightning rod can disperse its energy into ground rods, which redirect it away from your property and ensure that it does not cause fire or structural damage. Not only can you have this fitted when you install a new roof onto your home, but you should also consider installing one onto particularly dangerous or tall trees in your yard that are positioned close to your home.
Buy Fire-Extinguishing Equipment
However, even if you take a variety of precautions, this is not to say that your home is 100% protected from the ill-effects of lightning and thunderstorms. To make sure that you are able to limit the damage to your home if disaster does strike, you should consider investing in the proper fire-extinguishing equipment. While a fire alarm can alert your family to flames and smoke early, you should also consider buying a fire extinguisher and fire blanket in order to dampen small blazes and help you to act quickly in the event of a fire.
Use Surge Protectors and Suppressors
You may often hear the advice to unplug all the electronics in your home during a thunderstorm in order to prevent surges that could leave your electrical system beyond repair. Although this can be effective, the best way to protect your home against power surges is to install a surge protector, a lightning arrestor, or a suppressor. By plugging your gadgets and appliances into these items, your electrical system will be able to handle the excess electricity that occurs during a lightning strike on a local power line. In order to protect your family during a storm, you might consider calling out a professional electrician, as they will be able to install one of these in a professional and completely safe manner.