When you need to haul heavy equipment, like a bulldozer, then you need a special trailer to get it from point A to point B. In this case, the only trailer right for the job would be a lowboy trailer. This will discuss why a lowboy trailer is uniquely suited for jobs like this and if there are any alternatives you can use.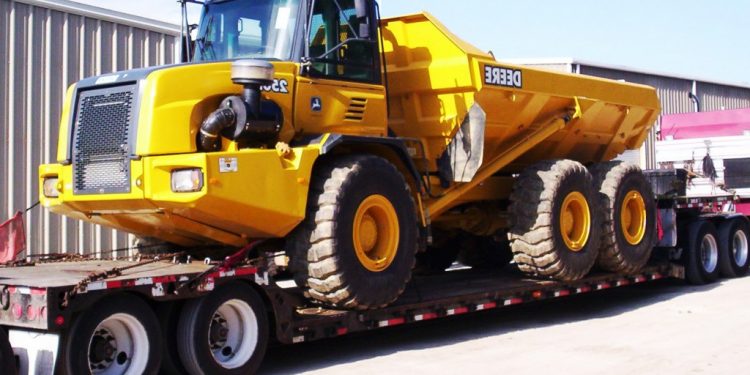 Things to Know About Lowboy Trailers
A lowboy trailer has a special design that makes it much easier to load large items like heavy equipment. Not only that, but they legally carry taller loads than most other trailers. There are several different types of lowboys like fixed gooseneck and removable gooseneck. Each type affects the weight, ease of loading cargo and ease of removing the trailer.
That is precisely when you need the services of a heavy haul trucking company. A clear understanding of what a heavy load is, what its transportation entails, and all necessary requirements will guarantee you a safe, easy, trouble-free, and successful shipping process.
What is a Lowboy Trailer?
A lowboy trailer has a double-dropped deck that is very close to the ground. The trailer itself is completely open as well. This lower deck makes it relatively easy to load and remove large pieces of equipment. You don't need any large ramps. Most lowboy decks allow you to just drive the equipment right onto the ramp. According to Hale Trailer, "The advantages of using lowboy trailers lie in their ability to transport large loads without additional permits. They can have axles added for increased weight capacity, and the dropdown feature allows for taller equipment to be moved without height permits."
Since these trailers are open, you must be very careful about securing the load. You don't want a bulldozer to accidentally fall off the edge.
Lowboy Alternatives
There are some alternatives to lowboys that look very similar but serve different purposes. Compare these when looking for lowboy trailer rentals. One of the most common alternatives is a Removable Gooseneck, or RGN, trailer. These are nearly identical to lowboys, but the front can be removed to create a ramp. This makes it even easier to drive equipment onto the deck.
Another alternative is the drop deck or single-drop deck. Unlike a lowboy, which drops in two spots and is very close to the ground, the single-drop deck only has one drop and isn't quite as close to the ground. These are good for tall, flat loads, but they aren't ideal for heavy equipment.
Then there is the standard flatbed trailer. These have no drops, so the decks are much higher than with any drop decks or lowboys. These prevent the load from getting too close to the ground and they are typically long so that you can haul a heavy load. At the same time, their height makes it very difficult to make heavy equipment. This would be best for flat items.
What Else can Lowboys Haul?
While they are used most commonly for hauling heavy equipment due to the ease of loading the pieces, lowboys can technically haul just about anything. Their other advantage is that they can haul loads up to 12 feet high, which is higher than most other trailers. If you have a tall, flat load, then you may also want to consider a lowboy trailer.
Conclusion
Lowboy trailers are uniquely suited for carrying heavy equipment and very tall loads due to their special design. Be sure to consider these trailers if you are helping with a construction project.