Thinking of adding a new deck to your home? In our opinion, there's one decking option that rules supreme over the others – composite decking. It's a wood-plastic hybrid that has some really great advantages over timber and plastic decking. If you want to find out why you should invest in composite decking for your garden, just keep reading.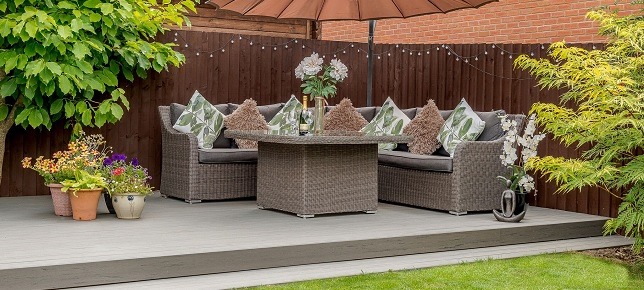 Maintenance
One of the main reasons that composite decking is so great is because it's incredibly easy to maintain. If you've ever had timber decking in your garden before, you'll know that it's a very high-maintenance material.
Over time, any stains or seals that were applied to preserve the deck boards becomes worn and will need to be reapplied. If the boards are left exposed to the elements, algae or mould can start to form. This is much harder to remove and can be slippery too.
Generally, deck boards will need sanding, staining and sealing at least once a year. This may not sound like much, but you don't want to spend the spring/summer months maintaining your deck when you should be relaxing on it!
Thankfully, composite deck boards don't require too much hard work, in fact, to keep them clean all you need to do is give them a wipe over with warm soapy water. The polymer sleeve that coats decking is easy to clean, preserves the colour and prevents algae from developing.
Sustainable
Another reason why you should consider composite decking for your garden is because it's more eco-friendly than other decking options.
When plastic decking is made, it releases hazardous chemicals into the atmosphere. Meanwhile hardwood and tropical decking can only be produced if trees are felled and if the raw materials are shipped around the globe, contributing to a rise in greenhouse gases.
Composite decking, on the other hand, can be made using reclaimed materials. Some companies, like TimberTech, use reclaimed wood that would've ended up in landfill as well as post-production plastics. By using recycled materials, TimberTech is able to offer composite decking that's good for the planet and good for your garden too.
Investment
Some people might argue that composite decking is 'too expensive' but when you look at the bigger picture, it's actually a very worthwhile investment.
Cheaper plastic boards with a shorter lifespan are far more likely to break and need replacing multiple times over the years. If you choose wood, you'll have to buy supplies of stains and sealants to maintain your wooden deck boards every year, which is a task that can become expensive in its own right.
Composite decking might be a little pricier initially, but we can assure you that investing in a longer-lasting, low-maintenance product will be worth it in the long run. Still not convinced? Perhaps this will change your mind. Houses with composite decking in the garden tend to have a higher value! This means, if you ever decide to sell your home, you'll be able to increase your asking price because you have a valuable asset in your garden.