You are planning to buy a leather sofa to bring a unique touch to your living room. Since you are not an expert in this field, this can be a challenging task. The price of leather sofas is not small, so preparing some knowledge of leather sofas will make your purchase much easier. Check https://noithatkenli.vn/sofa for real leather sofa models on the market, outstanding advantages of leather sofa, as well as how to identify genuine leather or fake leather that can be applied when buying at the store.
What is leather?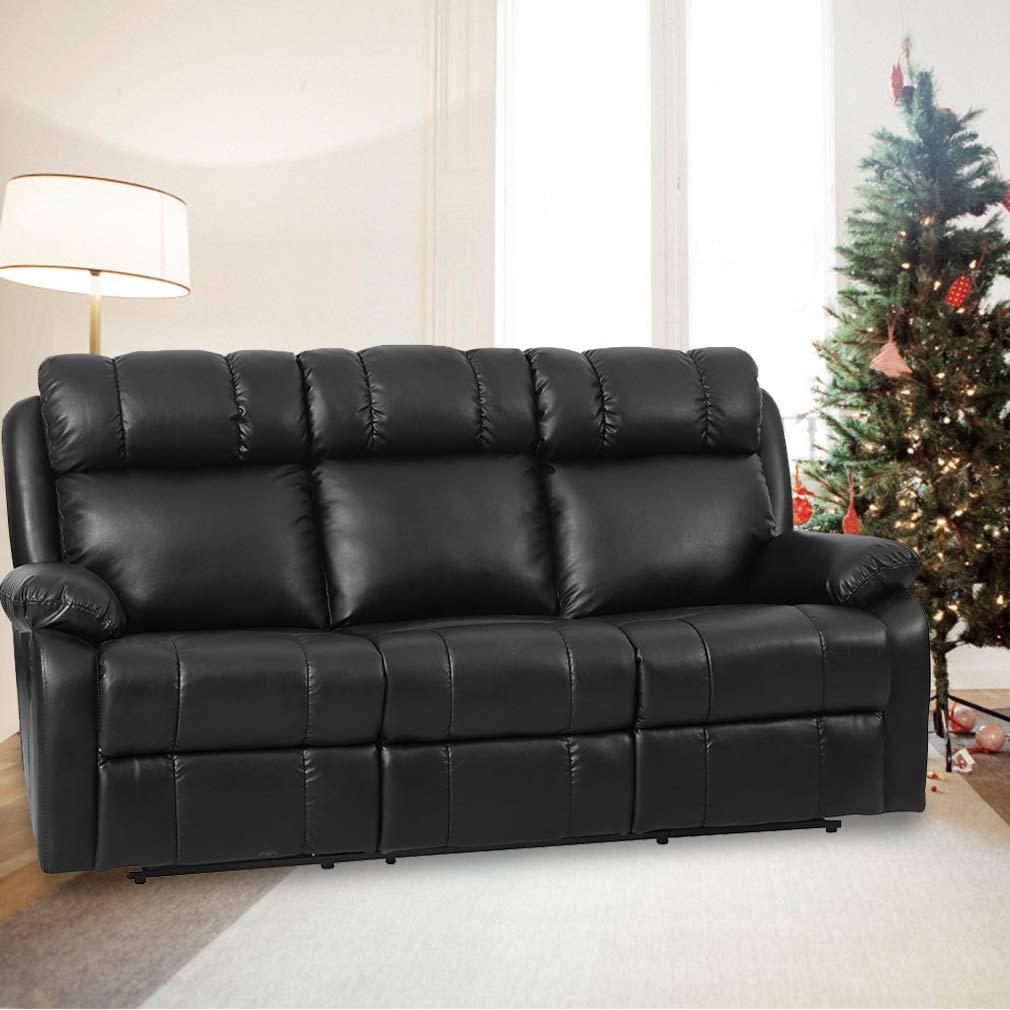 Leather sofas are preferred these days. Source: Fado
The leather often used in the furniture is not real leather. The real one is a natural product from animals. Leather, in general, is warm and durable but depending on the animals, leathers can have different characteristics related to scratches, growth marks, hair pole structure, and areas of differing fiber density. Passing the tanning process – the curing of the skins – the raw skins will be changed into the leather which is often used in furniture.
This is how the upholstery leather is made
Before being sent to the tannery, the cattle skin will be salted to preserve better. Then, manufacturers soak the skin into chemicals, aiming to dissolve the hair follicles. This process makes the animal hide to swell to 8mm in thickness. The upper layer, with the hardwearing grain surface, they will be separated off to use in upholstery leather. Coming next is the tanning process in which the hide will undergo chromium-based chemicals.
After being tanned and dried, the animal skin will be graded by the size of scarring and blemish. They often use hides that have less scar for full-grain leather. The hides with lightly buffed scarring on the top will be used for corrected grains.
How many types of leather sofa are there?
The types of leather sofas are based mainly on the leather used to make the leather sofa. Before buying a suitable leather sofa, you should consider your demand carefully to choose a perfect one: appearance, durability, or resistance. Generally, people divide leather sofa into three types based on the leather used to make it: pigmented leather sofa, aniline leather sofa, and semi-aniline leather sofa. Each type has its own pros and cons.
Pigmented leather sofa
Pigment leather sofa is what you should go for if you value durability the most. Pigmented leather is used mainly in furniture upholstery. The high durability of such a sofa is provided thanks to a polymer coating containing pigments. With the advances in technology, the coating can be finished so to appear embossed, printed, or plain. Greater resistance to soiling, scuffing and fading is achieved with the surface coating.
Aniline leather sofa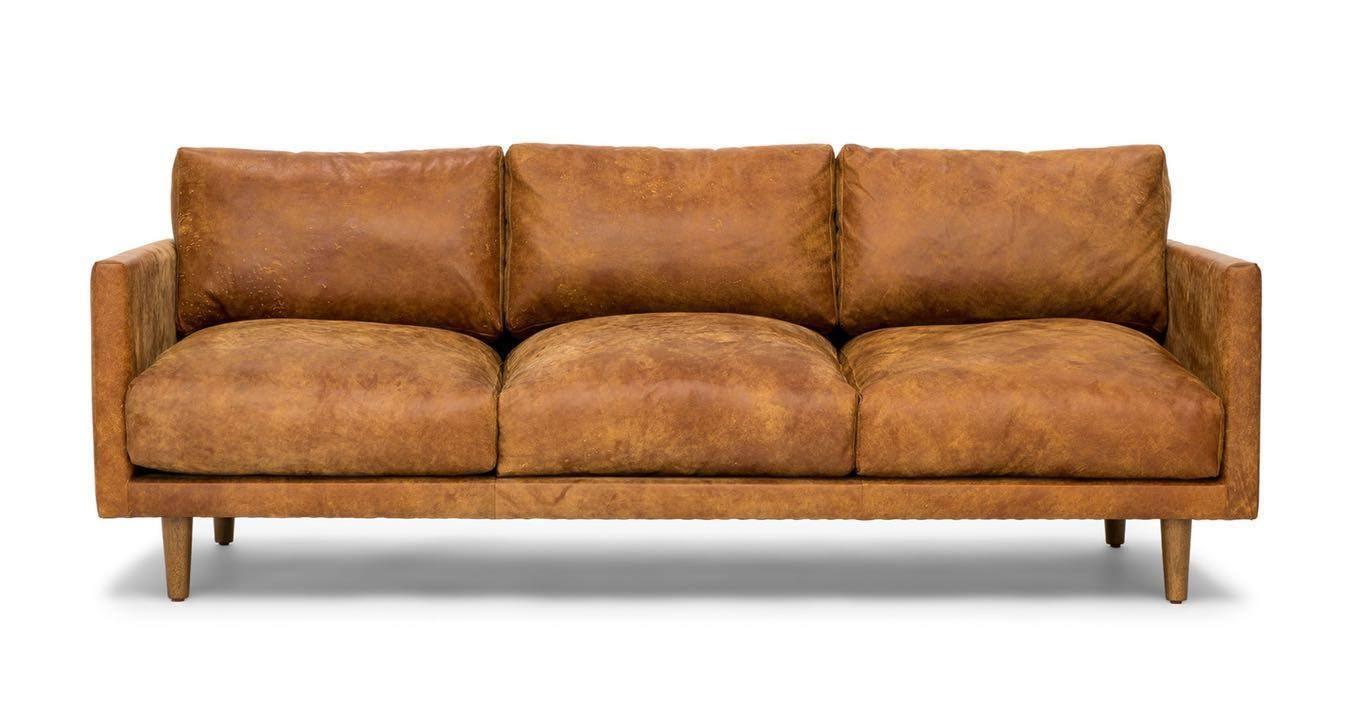 There are 3 types of leather sofa. Source: MIN DECOR
If you are seeking a leather sofa that brings a natural touch to your house, an aniline leather sofa is what you should head for. It is the most natural-looking leather because it still keeps the unique characteristics of the animal skin, not too obvious but visible enough to grab your attention. In order to enhance the leather sofa appearance and protect it against soiling and spillages, the manufacturers often add a light non-pigment surface coating.
Because this leather sofa type is vulnerable to sunlight and it absorbs liquids easily, if you want to keep it for long, special maintenance is necessary.
Semi-aniline leather sofa
A semi-aniline leather sofa is a kind of combining the features of pigmented leather and aniline leather. Therefore, it can retain a natural appearance while is less vulnerable than aniline. A significant increase in durability is reached because they apply a light surface coating containing a small amount of pigment. The color of such a leather sofa is consistent.
Leather sofas are pretty, but are they comfortable?
The answer is "yes" if your leather sofa is of high quality. The leather sofa can add extra comfort to your home, especially when it is combined with frames or soft cushioning. You can spend time relaxing, watching movies, or doing anything on your leather sofa.
Actually, leather material has been used for many years when people need to make something valuing comfortable factor. If you consider comfort at the highest priority, a leather sofa is nothing but a necessary piece of your house. If you notice, most therapists and psychologists use leather sofas in their clinics, aiming at providing their patients' safety and comfort.
What about durability?
Real leather sofas are quite durable. People often say that the durability of goods is depended on the users. With the right care and maintenance, you can expect your leather sofa to last for a long time. As leather is water-resistant, it is much easier to clean if you spill off something on it. Besides, the leather sofa is known for its resistance against wear and water. This material is able to hold up well to everyday use.
When it comes to the durability of a leather sofa, there is something that you should aware of. Dye from non colorfast clothing and garments can transfer onto the leather sofa. And they will become more noticeable if your leather sofa is white, cream or ivory. So, before buying, you need to check your clothing labels for additional information.
Have you decided to own a lovely leather sofa yet?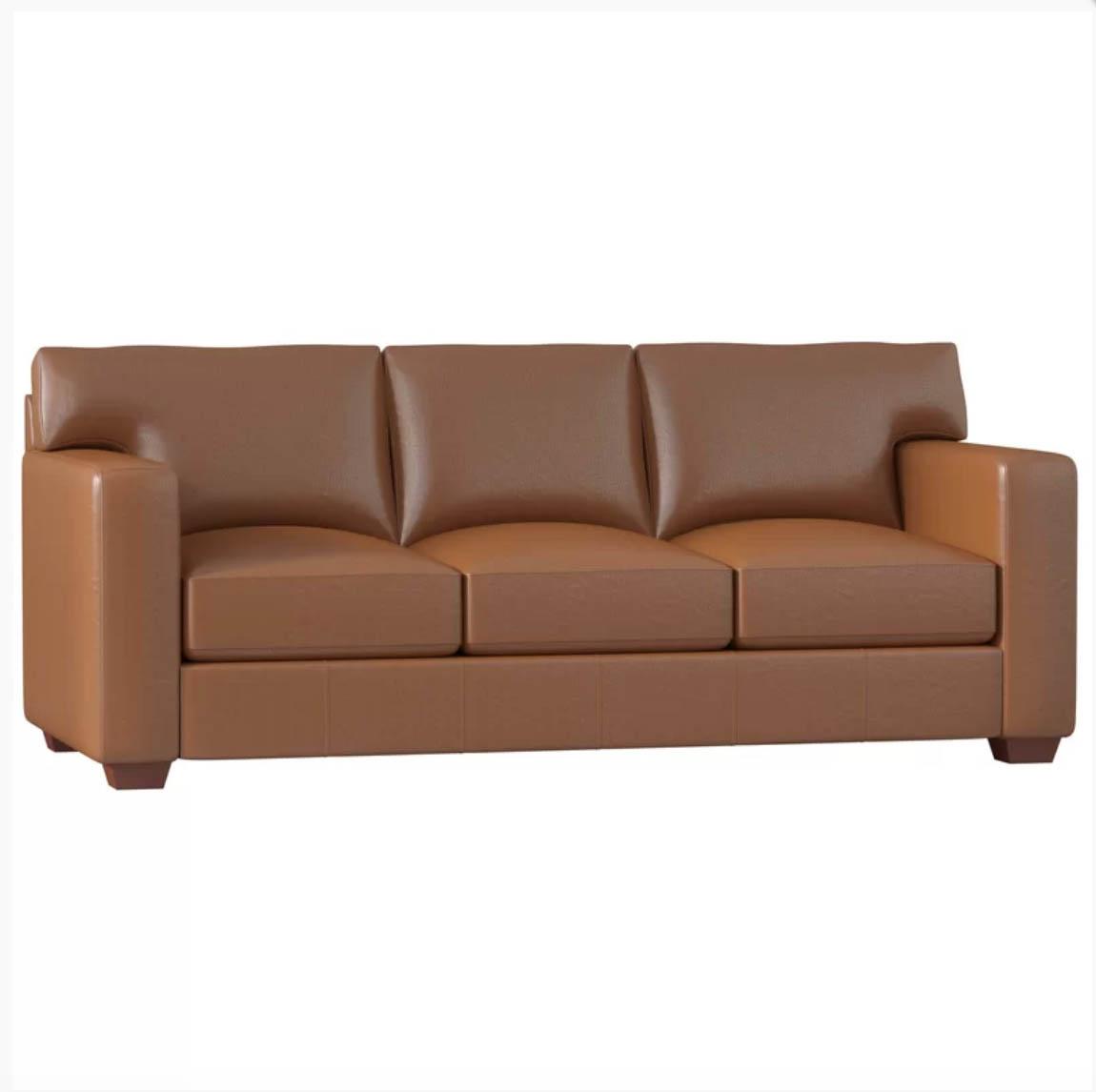 Leather sofas are durable, elegant and beautiful. Source: CAMA HomeDesign
Several benefits will make you love leather sofas immediately. First of all, the leather sofa is long-lasting and durable. This is due to the characteristic of leather material, making furniture made from it less vulnerable than other types of leather. Besides, leather sofas are easy to clean. You can do it yourself; however, if you are not sure about your ability, you can get a leather furniture cleaner to do such a task.
Add to that, a leather sofa is just an ideal part for your house if you have a pet or if there are smokers in your house. The reason is that it does not absorb smells the same way that a fabric sofa does. You do not worry about the awful smell emanating from your lovely sofa. On top of this, a leather sofa's beauty and elegance are timeless (of course, with sufficient care and maintenance) and you can expect it to be a beautiful part of your house.
A leather sofa is so comfortable, durable, and just a perfect piece of your house. For a newbie, it is suggested to have some general knowledge about this furniture before coming with a purchasing decision. If you are looking for an elegant leather sofa, visit the website http://noithatkenli.vn/ to get more choices.