What specifically is weather stripping and why should I care? In simple terms, it is a way to seal a door to prevent energy draining air leaks, and to also prevent the outside elements from creeping in. This is a must have for anyone renting or owning a living space.The surprisingly simple installation and environmentally conscious benefits of doing this can save you large sums of money if done properly, or before anything unfavorable happens.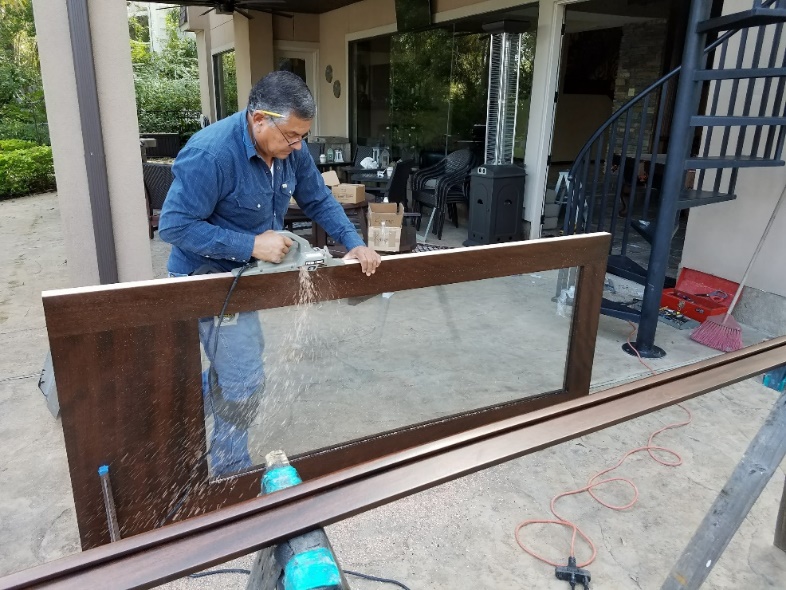 Weather stripping has been made easy and accessible in a wide variety of forms. The process of sealing a gap on that big wooden door is not as confusing or intimidating as it may sound. Controlling what comes into your home is a very straightforward approach when choosing the right product for your needs. It is important to consider some of the following when deciding what type of weather proofing is best for your place. The durability of your weather strip needs to be something that lasts over a long period of time, we are talking about a few years here. The more expensive option may be in your best interest considering what this will be doing for your home. Go with something that is guaranteed to protect your space under most circumstances, whether it be leaky air condition or flood waters. This can be the most economical choice. In addition to the door itself, the weather strip will be exposed to weather day in and day out. Its resistance to wear is crucial when its up against the elements. Remember to keep in mind the size and evenness of the gaps as well. Any incongruencies here and your entire weather strip is useless. After going over all these things, the next step would be deciding which weather strip suits your home best. The experts at ETO Doors, a door manufacturer and distributor, shared these helpful insights about the types of weather stripping and how to use install it.
One of the most common strips is the "V Strip." This material uses strong, malleable plastic to apply tension in the shape of a V. When doing this, it creates tension in the gap and creates an incredibly strong seal. This has a built-in hinge that compresses when the door is shut, keeping out drafts, dust, and water.
Another go to for any door is the Felt Strip. This application is sold in rolls and can come with a reinforced model or a pliable metal strip. This would be the cheapest option, although it only lasts a year or to. The instillation is incredibly easy, and the cost can be appealing if you are simply renting a home.
Foam Tape is another idea for your weather strip. It comes in an open or closed cellform or is made of a very strong rubber with an adhesive back. Sold in varying lengths, widths, and strengths, this option would be best suited for a door set on irregular sized gaps.
Door Sweeps are a flat piece of stainless steel, aluminum, or plastic that is then fitted to a piece of plastic. This piece of plastic goes against the door, and is easily anchored in by jest a few screws. All someone needs to do is simply cut it to the desired length, and voila, you have a new weather strip on your door.
Tubular rubber, Vinyl, or Silicone is also an effective barrier against the air and elements. This version comes from a slim and formable tubing that easily attaches to wood or metal with the simple installation of a mounting strip. Peeling and sticking is about all you would have to do in order to install this onto your home's doors.
After considering all your options and selecting the type of weather strip you want for your door. The last step in this is installation. Fear not, it is a lot easier than you would think. Keep in mind that this is the most important part. If your weather strip is not installed properly then the type of weather strip you chose will be useless. The proper installation of a weather strip can save you upwards of twenty percent on heating and cooling costs, and a whole lot more when it comes to flood damage. There are only three steps to making sure your weather strip is going to do its job.
Prepare the area by taking measurements of your door. Be sure to remove as much debris as possible so your weather strip will fit comfortably in the gap. Make sure to understand how wide the gap between the wood and the door jamb is, and how wide the jamb is altogether. Plan on buying enough weather strip to run across the height and width of your home door, plus a few more inches in case mistakes are made.
After making your precise measurements, cut the weather strip into three pieces. One for the top, one or the bottom, and two for the sides. If your product has a sticky backside to it, make sure to peel it away before applying it to the door. Despite the weather strip potentially having adhesive, it is good to reinforce it even more with some small nails or construction staples.
Once this is done, you will then have to finish the job with a door sweep. This is done so the rubber along the door sweep provides you with a barrier, creating an even stronger seal than before.
From deciding you need a weather strip, to having one installed on your home's doors, it can be a lot simpler than one would assume. This is a small investment of your time in comparison to the discomfort you would feel of having to pay expensive energy bills or dealing with flood damage. Weather stripping really can be one of the most effective ways to protect your home.