It is 2020. And I am sure you all are aware of the environmental hazards. Many of you must be aware of the 3R rule! Reduce, Reuse, and RECYCLE! If you are from the middle class, then Reduce and Reuse is like a life policy for you. But Recycle?
It is not something which we are much aware of? Maybe we are, but do you know the steps? If not, then worry not; this write-up is for you. Here are some easy and straightforward recycling bins ideas for you! Also, we suggest the places where you can keep them.
You can also plan some DIY projects from this recyclable. Include children in it, and they will learn something useful. It is an innovative way to teach children about environmental responsibility.
Overall, Recycling is best for Earth. From paper to plastic and everything in between, you can implement different tricks and DIY ideas to make our planet a better place to live. Go through these ideas and implement them!
Talking about the recycling bins ideas, you can place these bins or containers in your kitchen, behind doors, or even in garages. So, without any further ado, let us begin with recycling bins ideas and the place to store them.
Okay! Recycling's first and foremost step is to decide about the space and the place where you will keep the recycling bins and containers. If you do not have space, you can either accommodate them by creating space or smart utilization.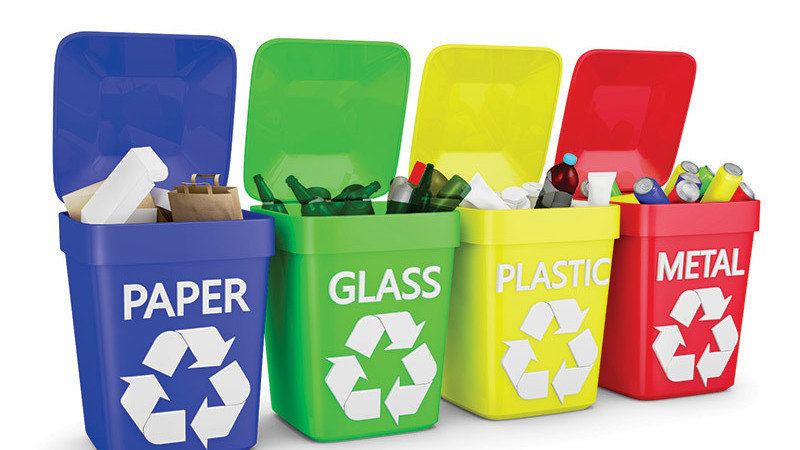 Recycling Bins Ideas and Their Accommodation
Labeled Garbage Bins
One of the easiest and simple techniques. There are two bins for dry and wet waste; you can add another one with the recycle bin (or even stick the symbol of Recycling). If you have enough space, you can have separate bins for paper, glass, plastic, and other materials.
Labeled garbage cans/bags/bins/containers can be used according to your personal preference or space availability. Well, the only disadvantage is it can accommodate a lot of space.
Keep the Garbage Bins Side by Side
Well, you can say this is an extension of the previous technique. But the issue of space can be resolved by this method. Yet it depends upon the individual whether there is enough space for bins to be placed or not.
Home Recycling Bins in Kitchen Sink
Recycling Bins can be bought from Amazon. If you are not interested in buying one, you can use existing tote bags or milk/grocery bins. The best alternative for the kitchen is garbage cans. They are the usual ones we use for the garage. You can label this garbage bin if you want and place it in the kitchen sink. Then just put the recyclables into the bin. The primary advantage of this technique is it occupies less space.
Recycling Stations Behind the Doors
If you cannot place the recycling bin in the kitchen sink, maybe due to lack of space or any other reason, then another best option is to place your recycling station behind your doors. As you do not require quite a lot of space for this, it is the best solution if you live in a small apartment.
Preferably these recycle stations can be placed behind the kitchen. You can hang the recycling bins/bags and then empty them down when you want to do it. The best options for recycling bags are reusable plastic bags (of any size) to small plastic crates that can be hanged to hold your recyclables. However, you can choose any other alternative too.
Pantry Recycling Stations
This recycling bin idea is for the ones who have a Pantry room. Do not mix up the recycling bins/bags/crates with food items. Instead, keep it along with other items that are not edible.
This recycling station is perfect for pantry rooms as it effectively uses the space and helps keep the pantry room better organized. It is the best place for plastic and paper disposal.
They can be either bought from stores or Amazon. If you are interested, then make a DIY recycling station. You can use cardboard or plastic for it.
Metal Bucket Recycling Stations
One of the best methods if you have a metal bucket at home. Owing to their size, they are usually stored in the garage or deck. If smaller in size, they can be hanged on a wall in the kitchen. An inexpensive option, the capacity is usually entirely satisfactory though it depends on the size of metal buckets. Just remember to label these metal buckets, so you know where to put the recyclables.
Double Bin Recycling Station
Aesthetically this is the best option. It looks quite good as one side can be used for plastic, and another can be used for paper. This is useful for people who have only specific recyclables. E.g., The people who usually have soft drinks frequently have plastic bottles and aluminum cans.
You can either buy it or DIY. Well, it is not very difficult to build it, so go ahead and build one. Space can be an issue for this technique, but smart management can help you implement this aesthetic technique.
Remodeling of Filing Cabinet
For the ones who have an old filing cabinet! This will be a useful technique as there will smart utilization of your old filing cabinet into a recycling station. You can DIY or take some professional help. If you are interested in having one, then you can buy them from stores or even Amazon.
Talking about the DIY process, remove the top drawer, and then keep recycling bins/bags labeled for Recycling. You can then paint or do other aesthetics on it, but that would be your personal choice. The best thing is when you pull out the bottom drawer, revealing recycling bins/bags. Usually, the bins are hidden from view when the bottom drawer is closed.
Milk Bins Recycling Station
Plastic milk bins can be used as recycling stations. Either keep them in the entryway or the storehouse. Labeling these milk bins can help you to recognize them. Smaller milk bins can even be hung on the wall.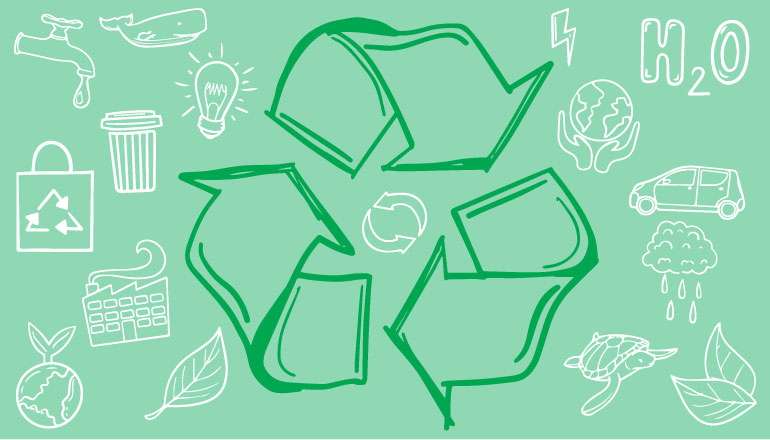 Kid-Friendly Recycling Station
The future must be taught about Recycling! DIY of kid-friendly Recycling Station is a great idea to teach children to preserve the environment. The best way is to involve them in the process of a DIY recycling station. The usage of empty cardboard boxes is recommended.
While children can help label, they can also be involved in cardboard gluing, drawing, or painting pictures, logos, or designs.
This process will make them understand the recycling process as well as make them aware of environmental responsibilities. Do note that the kid-friendly recycling station aims to make the recycling process fun so that children could understand its importance and continue to practice it.
Shopping Bags as Recycling Bags
Plastic/Jute shopping bags can be used for Recycling. Preferably use only the flat bottom ones. A significant advantage is that they have handles. You can pick these bags up and carry them to the recycling center. So, you do not even have to tie them in a separate bag. You can either hang them on a wall or at the back of your door if you are low on space.
Laundry Basket Recycling Station
Usually, they are used for laundry management. But we could use that same technique as a recycling bin idea. Just label your laundry baskets for the items that you want to recycle. This technique is relatively inexpensive. Another significant advantage is that it is quite useful when there is a lack of space.
Garage Recycling Station
Just store your recycling bins/bags/containers etc. in your garage. You can also hang these recycling stations on the walls of the garage. This can be an efficient way to manage space in your garage. The major disadvantage is that you must maintain a satellite recycling station at your home anyway.
This is done to reduce the inconvenience of reaching out to the garage when they want to store any recyclable. You can include children in this task. They can help you take the recyclables from the satellite recycling station to the garage recycling station.
Conclusion
These 13 methods can be beneficial for recycling bins ideas. You can try to implement one of them at your home. Go for the one which you feel is the most feasible one. Try your best to include kids in this task as they will learn environmental responsibility. Mother Earth is suffering! Recycling is the cure!