The flooring of your house is one of the most significant design statements. A lot of pressure comes with the fact that there are so many options to choose from today. The one thing that should inform your decision is your lifestyle, budget, and the occupants of your household. A common trend we have seen over the years is medium brown tones with finishes ranging from driftwood to ebony. Another trend that is picking is the use of tiles that look like wood. Let's look at the various options you can have to enhance the aesthetic appeal of your house.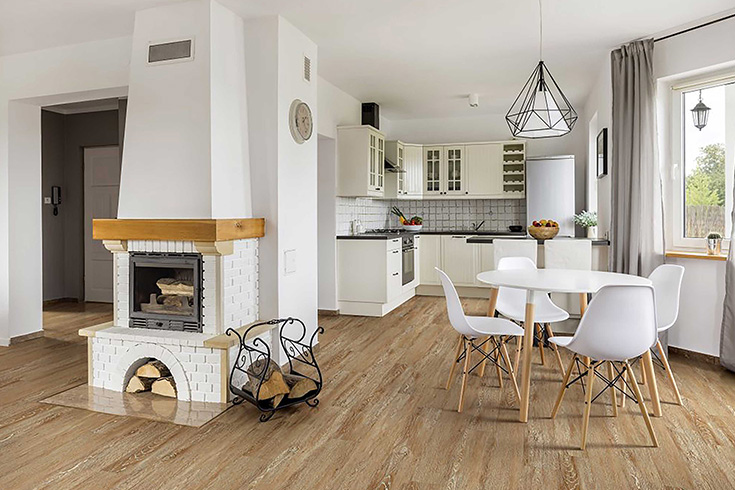 North American hardwood is a major choice for many individuals with an increase in demand for more sustainable products. Cork and bamboo often require overseas shipment, which makes them drastically expensive, especially considering environmental factors. The physical properties of hardwoods such as oaks, walnut, hickory, and ash make them ideal for any space in your house, especially the low moisture places such as bedrooms, living rooms, and dining rooms.
If you are looking for a comfortable feel, clean finish, and ease of maintenance, then cork floors are worth trying out. They provide heat-insulating attributes that make it ideal in unusually cold regions or areas of the house. Another plus is that they repel dust, dander, hair, or other particles that annoyingly get stuck on carpets. If anyone is prone to allergies in your household, then the cork flooring is a great choice. For the environmentally-conscious individuals, cork trees are not cut down, but the bark is harvested under strict regulations making it eco-friendly in every way possible.
Wood-look laminate flooring is one of the most popular options because it is quite budget-friendly. Furthermore, it looks like real hardwood floors, and someone cannot tell the difference unless they are told. They are a perfect option for busy households, pets, or any other area with a lot of traffic. It is also resistant to moisture, making it excellent for kitchens, bathrooms, and laundry rooms.
They are made from plywood or hardwood and constructed of a core layer with a top layer made of real wood veneers. It has the same look as a hardwood floor, and it can be quite challenging to tell the difference from a solid hardwood floor. A big plus is that they are not affected by humidity and can tolerate moisture without cupping or wrapping.
No, it's not the old school vinyl you're probably thinking about. According to your liking, modern luxury vinyl floors are realistic, looking, and mimic the feel of natural surfaces like wood or stone. They are also a highly preferred choice because they are immune to spills and water friendly.
Bonus tip: Before you settle on wood flooring options, contact professionals to advise you on the best choice based on your lifestyle and area of residence. Brucke Wood Flooring in Tulsa, Oklahoma, will ensure you get the professional installation and maintenance services you require.