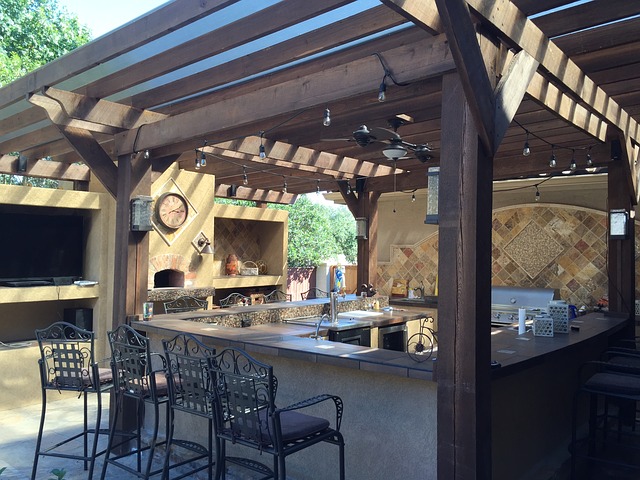 Besides increasing your home's value, an outdoor kitchen also creates a great outdoor living space for entertaining family and friends, saving money that you would otherwise spend eating out. It also helps save on utility bills, especially during summer, as you don't have to keep the air conditioner running. Strong food odors don't have to linger around the house with an outdoor kitchen, keeping the indoor air fresh. Below are tips for designing the perfect outdoor kitchen.
Determine the kitchen appliances you need
Depending on the kinds of food you intend to cook in your outdoor kitchen, there are various cooking appliance options to choose from. Whether you need a gas grill or pellet grill, wood-burning smoker or a charcoal cooker, a pizza oven, or any other choice, be sure to buy appliances that suit your needs. When buying your preferred appliance, don't forget how much space you'll need for meal prepping and other kitchen activities. Go for an appliance suitable for your kitchen space.
Consider whether you want a portable or a permanent outdoor kitchen
If you're renting or plan to sell your current home, a portable outdoor kitchen is an ideal option for you. However, if you don't intend on moving, a permanent kitchen would be perfect. Consider using materials such as bricks, stucco, concrete, metal, or tiles. Although it may cost you more in the beginning, its long-term benefits will be worth it.
Choose low-maintenance equipment and materials
Be sure to go for materials that are easy to clean and maintain, as this allows you to enjoy and use your outdoor kitchen more often. Materials such as high-quality stainless steel have easy-to-clean and corrosion-resistant surfaces. Ensure that countertops, decking, or patio material is highly resistant to grease and oils and can withstand high temperatures. If you live in considerably cold areas, don't choose tile countertops. For the flooring, consider sealed pavers or concrete as they are easier to clean and are highly resistant to the effects of extreme weather conditions. You can also use natural stone blocks of lower porosity like granite.
Apply good kitchen design principles
Sound kitchen design principles ensure proper coordination between your kitchen zones. Cold areas for refrigeration, hot spots for grills and cooktops, wet areas for the sink, and dry areas for storage and prepping counters must effectively work together in proper proximity and with enough space allocated for each.
Ensure adequate plumbing and plan for electrical lines
Since your outdoor kitchen will need running water and electricity, plan for plumbing and electricity. If you plan on having a sink, have a plumber install a water supply and a waste pipe in the right place in your kitchen's design. If you plan on having an outdoor fridge, electric BBQ, wired-in lighting, or have any electricity use, arrange with an electrician to have a power supply brought into your outdoor kitchen.
Choose a style
Seeing your outdoor kitchen as an extension of your interior will help you develop patterns, themes, and styles that compliment your interior. Alternatively, go for décor that harmoniously complements your landscape.
Endnote
An outdoor kitchen not only improves aesthetics but also boosts your home's resale value. Consider using the above tips for your next outdoor kitchen project.