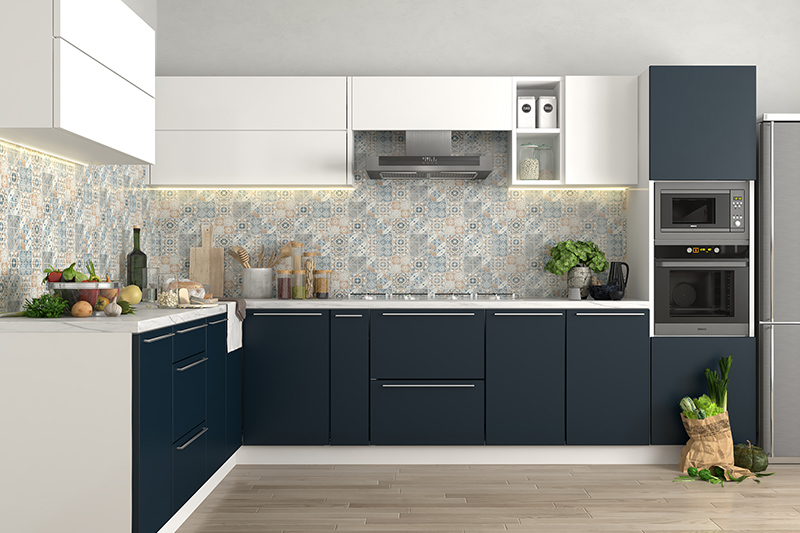 Whether you're planning on renovating your old kitchen or you're working on a completely new interior design from scratch, you need to remember that creating a modern kitchen is about much more than just adding stylish decorations. Before searching for the most beautiful cabinet doors, drawer fronts or countertops, it's important to think about your expectations and things that have to be included in the project in order to find the right balance between style and functionality.
Find the best layout
The very first thing on your to-do list should be planning the optimal layout of the available space. In enclosed kitchens, cabinets are typically placed along the walls to provide as many work surfaces and storage options as possible, but in modern homes, you are more likely to come across an open floor plan that requires a different approach. That's why kitchen islands and peninsulas are often integrated into such projects to add more workspace and cabinets, but also to separate the kitchen space from the living room. Plan your space with functionality and safety in mind to make sure that everything you need is within your reach and you don't have to move things around the room unnecessarily when preparing meals.
Think about your workflow
Even if you love cooking, you're not going to enjoy working in a poorly planned space. You need to remember that there are many steps involved in food preparation, including storing ingredients, preparing them, cooking, and finally, cleaning. Creating separate areas for each of these tasks can significantly improve your workflow, as long as you make sure that it's easy and natural to move from one area to the next along with the progress of your work. And when it comes to storing cookware and finding the right placement for your appliances, always put the things you use most often in the easiest to reach places.
Add layered lighting
Good lighting is an essential part of every single room, but in the kitchen, making sure it's not only aesthetically pleasing but also practical is especially important. Apart from the main ceiling lamp that provides ambient lighting, you can use accent lighting to highlight certain areas or decorations and task lighting to make cooking easier. Adding more layers to your lighting scheme doesn't have to be difficult. From choosing interesting wall fixtures to using under cabinet lighting or installing LED lights inside the cabinets to illuminate their content, there are many ideas you can use to introduce more variety to the interior design.
Bring a touch of style to your kitchen
And now when your kitchen is already functional and well-organised, it's time to add the finishing touches with accessories and decorations. You can decorate with plants or practical items by displaying beautiful wooden cutting boards, stylish food containers or tea towels with interesting patterns. But be careful not to place too many things on the countertops to keep your workspace free of clutter. And don't forget to decorate the walls, leaving them empty can ruin the final effect, so add shelves for additional storage or art pieces to add unique character to the design – if you're looking for art with culinary motifs and themes, you can find great art prints at https://www.bimago.co.uk/canvas-prints.html.
Use the tips mentioned above and give your kitchen the appearance it deserves! While it may be a challenging task, by planning all the details in advance and focusing on your personal needs, you should be able to tackle it on your own without any problems.