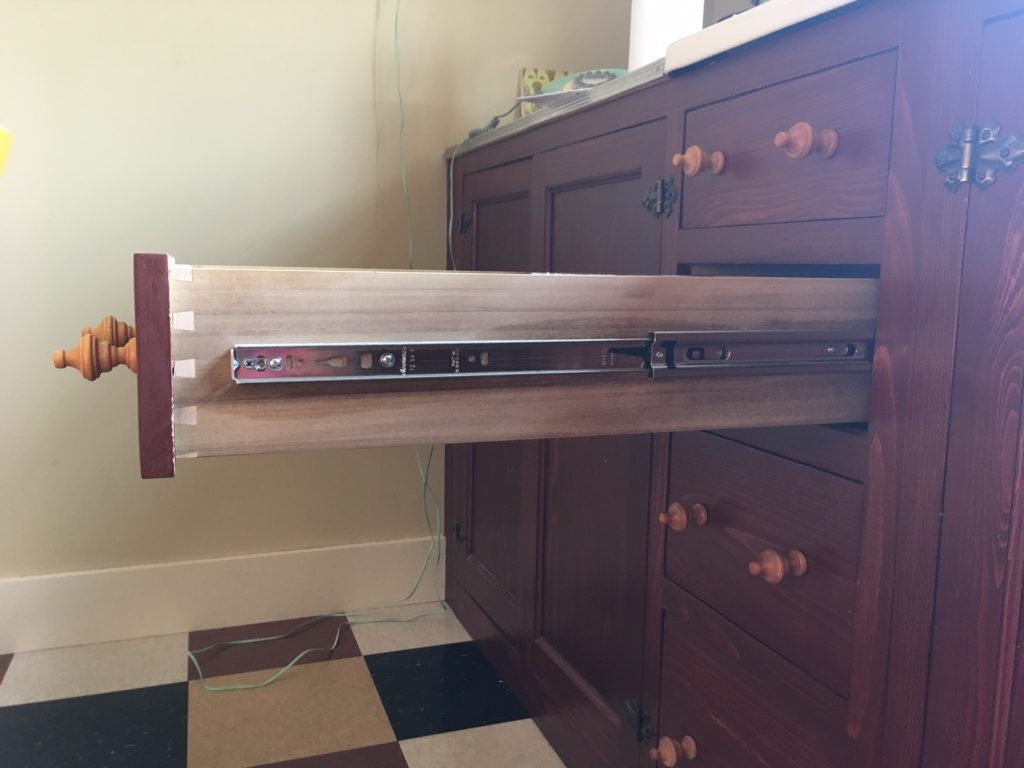 Drawer slides are ideal for use in home offices and simple kitchen and bathroom drawer installations. Complete extension slides are popular, allowing you to easily access the contents of your drawer without having to rummage blindly.
Two items go together to make a drawer slides. The drawer profile is attached to the drawer, and it slips into or rests on the cabinet profile. The pieces will travel easily past each other thanks to ball bearings or nylon rollers.
There are five different mounting options, and the type of option chosen is usually determined by factors such as cabinet space, slide visibility, and cost.
Instead of ball bearings, bottom-mounted slides are typically driven by rollers. For fast and easy installation, the mount has an angled flange that holds the drawer box and indexes the slide. These are most often used on frameless cabinets, but they can also be used on face-frame cabinets.
Side-mounted slides are fixed to the cabinet body and the drawer horizontally. Because of their longevity and high weight restrictions, these slides can be used in a variety of applications. Roller or ball bearing mechanisms are available for side-mounted slides, but the latter is more stable over time.
Under the drawer's center, center-mounted slides are installed. They restrict drawer height, weight limit, and cabinet size a little, but they're easier to set up.
Slides that are placed under the cabinet's sides are known as under-mounted slides. Since they are not noticeable, they are perfect for highlighting the cabinetry's consistency. In areas with limited horizontal space, these slides are ideal.
Crafted furniture imported from Europe features groove-mounted slides. This access hardware is designed for partial extension variations and has a lower load rating.
Vertically Mounting Drawer Slides: Dos and Don'ts
A slide that is mounted vertically should not be able to support any weight.
When you put weight on a drawer slide, it has a chance of cracking.
Vertically installed devices only have up-and-down driven movement; the weight of an application is handled by other structures or supports.
For vertical stacking, linear tracks and friction guides are preferable to ball-bearing slides
Why choosing ball-bearing drawer slides?
Ideal for drawers containing heavy items like silverware or equipment.
The drawer's full-extension range allows it to open completely for easy access to the contents in the back. 3/4 extensions are less expensive and open to reveal all of the drawers except the back fourth. Each style's installation is the same.
The smoothest sliding movement is achieved with lubricated bearings.
This expense is increased by features such as self-closing mechanisms or higher weight scores.
If you are looking for the easiest option nothing to worry about, we have the answer to that too.
So, the best option is drawer slides that are installed on the side are the most popular and easier to add. There are also undermount and center mount options.
So, before choosing a drawer slide make sure you have an idea about the types and their use.
Search, review and go through the following points and make a good and wise choice for you.