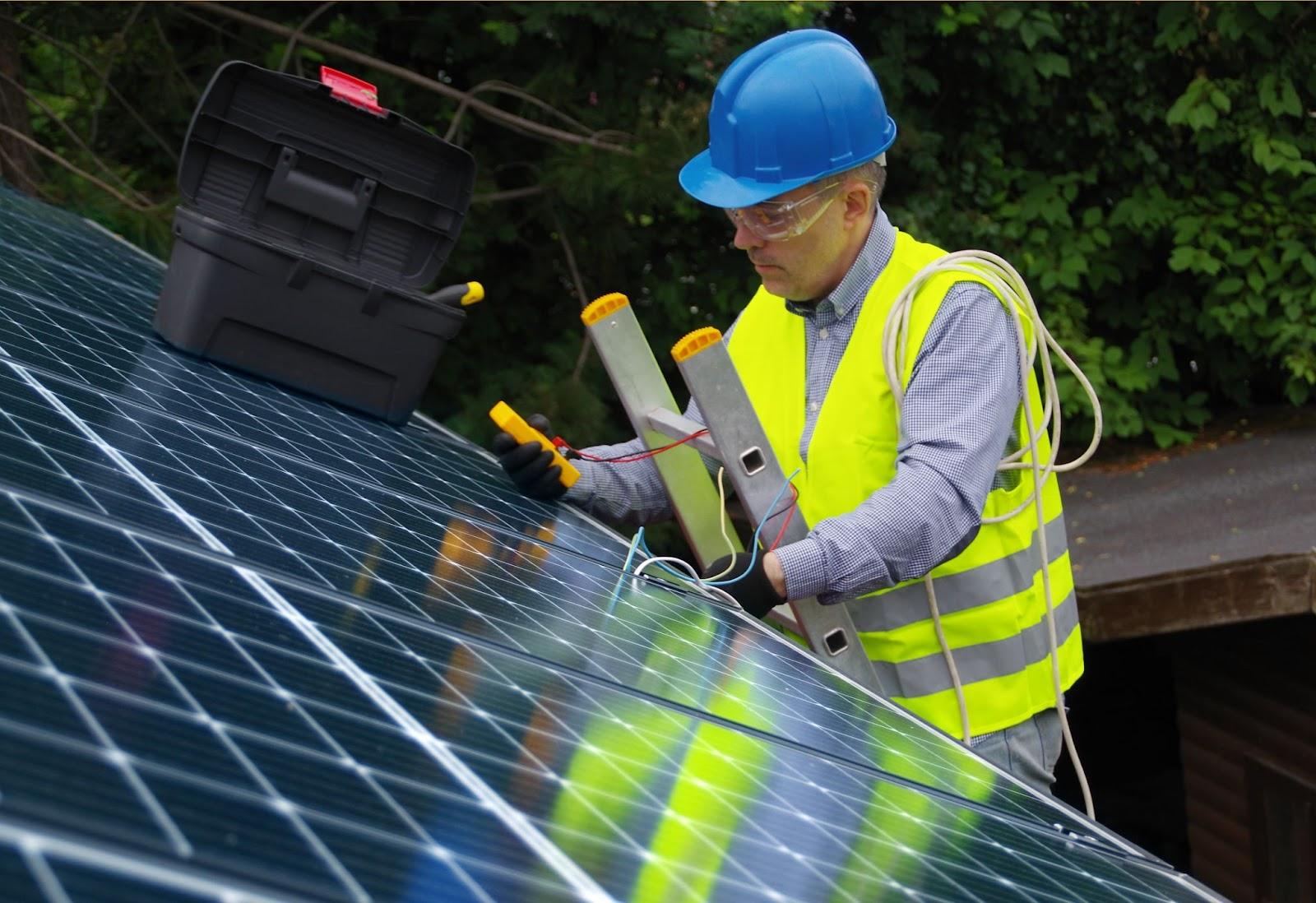 The Significance of Solar Power Efficiency
Solar power technology has advanced by leaps and bounds in recent years, with improved solar cell efficiency, higher power production, and overall superior quality. To this effect, solar panels are presently more than 20% efficient on average. That being said, the first thing homeowners seeking the most efficient solar panels for the roof of their Ontario homes should learn is how to evaluate the efficiency numbers of different types of residential solar panel systems. The efficiency of the panel you select can help you to better understand how you may directly profit from the installation of a new residential solar power system.
The term "solar panel efficiency" refers to how successfully a solar panel captures and converts sunlight into usable electricity for your home. To put it simply, solar panel efficiency is the measurement of energy output for a given surface area. The more efficient a solar panel is, the less space it will take up on the roof of your home in order to meet your energy requirements. A high-efficiency solar panel will produce more power than a lower-efficiency panel of the same size under the same conditions. As a result, a greater efficiency rating is generally preferred for Ontario residents. Because increased renewable energy generation means that you can afford to purchase less electricity from your utility company, which increases your monthly energy savings that will go towards combating the initial cost of your solar panel system. However, it's worth noting that higher efficiency panels tend to be slightly more expensive upon purchase. That being said, due to the superior quality of high-efficiency solar panels, you will have a higher power production output to assist you in meeting your energy demands. This is especially true if you have a smaller roof and limited space to install solar panels on your home.
Having said that, understanding the importance of solar panel efficiency is crucial if you want to maximize the amount of power your system produces and ensure the bare minimum purchase of electricity from your utility company. To further assist you in gaining a greater understanding of the significant role solar panel efficiency plays in electing to go solar, the trained experts at SolarUp have put together this article with all the necessary information you need to make an informed decision. Read on to learn more about the role solar panel efficiency plays in determining the cost of solar panels in Ontario.
How Efficient Solar Panels Are in Ontario!
As mentioned above, the term "solar panel efficiency" is a measurement of its capacity to convert sunlight into usable electricity. For instance, if the sun shines on a high efficiency solar panel with a 20% rating, 20% of the energy from the sun will be converted to solar energy and used to power your home. Moreover, when the same quantity of sunlight shines on two solar panels with differing efficiency ratings for the same period of time, the more efficient panel will produce more power than the less efficient panel. That being said, due to many technological advancements in recent years, the average panel conversion efficiency has increased from 15% to well over 20%. This rise in efficiency ratings has resulted in an increase in the power ratings of standard-size solar panels from 250 Watts to 370 Watts.
In Ontario, the efficiency of your home's solar panels will vary depending on the specific type of solar panels and manufacture that you choose for your system. Though, on average, Ontario solar panels tend to have an efficiency rating of 15.88% to 20.60%. Moreover, the production of energy by solar cells determines solar panel efficiency, which is impacted by the cells' composition, electrical setup, surrounding components, and other factors.
As explained in detail below, solar panel efficiency is determined by two main factors: photovoltaic (PV) cell efficiency and overall panel efficiency. PV cell efficiency is determined by cell design and silicon type, whereas overall panel efficiency is determined by cell layout and configuration as well as panel size. The overall panel efficiency is calculated by dividing the highest power rating under standard test circumstances by the entire area of the panels (in meters).
Cell Efficiency:
The cell structure and substrate utilized, which is often P-type or N-type silicon, significantly affect cell efficiency. This in turn impacts the overall solar panel efficiency of your system with regards to the amount of renewable energy your system is able to generate on a regular basis. That being said, the fill factor (FF), which is the highest conversion efficiency of a PV cell at the optimal operating voltage and current, is what is used to determine cell efficiency.
Moreover, the design of a PV solar cell has a considerable impact on panel efficiency. Some key factors include the silicon type, busbar configuration, and passivation type (PERC). Panels constructed using high-cost IBC cells are now the most efficient (20%–22%) because of the high purity N-type silicon substrate and negligible busbar shading losses. Wherein panels made using the most recent monocrystalline PERC cells and more sophisticated heterojunction (HJT) cells have attained efficiency levels considerably beyond 20%.
H3: Panel Efficiency:
Solar panel efficiency is determined under standard test conditions (STC), which are 25°C cell temperature, 1000W/m2 solar irradiation, and 1.5 Air Mass. A panel's efficiency (%) is efficiently calculated by dividing the maximum power rating, or Pmax (W) at STC, by the entire panel area measured in meters squared.
Many factors can affect overall panel efficiency, including temperature, irradiance level, cell type, and cell connectivity. Surprisingly, even the color of the protective backsheet can have an impact on the overall efficiency of a panel. Although a black backsheet may appear more aesthetically pleasing, it is likely to absorb more heat. Thus, increasing cell temperature and raising resistance, which in turn marginally decreases the conversion efficiency.
 Factors That Can Impact Solar Panel Efficiency
 The efficiency of a solar panel is determined by a number of factors. At its heart, the efficiency of a solar panel cell is determined by how much incoming sunlight the cell can convert into usable electricity. But what factors influence the ultimate conversion rate? To fully answer this question, we will be taking a closer look at the numerous elements that photovoltaic (PV) cell researchers and manufacturers take into consideration when creating and manufacturing high-efficiency solar technologies. To that extent, those factors include:
Materials: The type of material, whether monocrystalline silicon, polycrystalline silicon, cadmium telluride, thin film, etc., is one of the most significant determining factors in solar panel efficiency. The materials that are used during the design and manufacturing of your solar power system can influence how the sunlight is converted into electricity used to power your home.
Wiring and busing: The overall arrangement of wires and "bus bars" on a solar panel, which are used to capture and transfer energy, also plays a significant role in the efficiency of your system.
Reflection: The surface reflectivity of your solar panels may also have an effect on the efficiency of your system. For instance, if light is deflected away from a solar panel, its efficiency may be reduced. This is why the glass layer on top of silicon solar cells is so essential to the design and efficiency of your solar panels.
Light wavelength and frequency: Depending on the frequency and wavelength of the photons, some are reflected, some pass through, and others are absorbed once they hit the surface of a PV cell. Those that are absorbed may convert some of their energy into heat, while the remaining photons have enough energy to release electrons from their atomic bonds, resulting in an electric current. Thus, the broader the range of photons that a solar system can absorb (infrared, ultraviolet, and 'visible range'), the better the efficiency of the solar cell.
Positioning and angle: Proper solar panel installation and an optimized angle are crucial for capturing the maximum amount of sunlight and securing your solar panel system's peak efficiency. The direction your roof faces is one of the primary factors for determining the efficiency of your solar panels, with regards to how much sunlight your solar panels will see over the course of a day. Meanwhile, the angle at which the sun's rays hit the panel surface (the "angle of incidence") is just as crucial in determining the overall efficiency of your system. Thus, your solar panels should be positioned to face as close to the sun as possible in order to capture solar energy more efficiently.
Temperature: The temperature of your solar panels is yet another key factor which impacts your system's overall efficiency. Considering that higher temperatures diminish energy production and efficiency, which is why some panels are particularly built for warmer climates. As such home solar panels are tested at 25 °C (77 °F), therefore solar panel temperatures will typically vary between 15 °C and 35 °C, during which time solar cells will generate at maximum efficiency.
Climate: Your solar panel efficiency might also be affected positively or adversely depending on where you reside and the sort of weather you experience. Solar cells, for example, will stop operating if more than five centimeters of snow accumulates on top of the panel. Moreover, on exceptionally windy days, minor declines in efficiency might be observed. Because of greater light deflection.
Shade: One of the final key factors affecting solar panel efficiency is shade. Even a slight shade on a single panel might reduce the overall efficiency of the system. While panel manufacturers don't really consider shade, it is an essential aspect to consider and, if feasible, mitigate during the installation of your solar power system. Though the statistics can fluctuate depending on how much shade your panels are exposed to, the general rule with clouds and shade is that solar panels will produce around half the energy that they would with direct sunlight.
As mentioned above, solar power efficiency is impacted by a number of factors, all of which can be related back to correct installation and structure assessment. Thus, it is critical to hire a solar power expert to assess the primary structural design and location in evaluating which sort of installation best meets your needs and offers you optimum long-term economic benefits. The trained and licensed professionals at SolarUp can further assist you in your search by providing you with a variety of business and residential services that ensure the highest-efficiency rooftop solar power system.
What Types of Solar Panels Are the Most Efficient?
 What's more, in order to fully understand the role "solar panel efficiency" plays in the overall performance of your solar power system and how you may directly benefit from electing to solar, it's important to understand the various types of solar panels most commonly used in commercial or residential installations. Considering that, the efficiency of a panel is frequently determined by its design and how it is constructed to catch different wavelengths of light energy. That being said, here we aim to provide you with a brief explanation of the three main types of solar panels, which are most commonly used in Ontario. This information is based on each type of solar panel's efficiency ratings as well as the types of applications for which they are most useful.
Monocrystalline Solar Panels: Best for Efficiency
Monocrystalline, or single silicon, panels are currently the most efficient form of photovoltaic solar panel available today. However, they are more costly than other types of panels due to the increased silicon content employed in the design. Since more energy is converted into electricity, most roof installations use fewer panels to satisfy the same power demand. These square-shaped panels are perfect for rooftop solar power installations. The current efficiency of the supplied monocrystalline solar panels is 22-27 percent. What is more, a monocrystalline panel is distinguished by its rounded edge and dark color.
Polycrystalline Solar Panels: Best for Cost
Polycrystalline, or multi-layered, silicon panels are frequently less expensive than their more efficient counterparts because they use less silicon. They use a design to help decrease efficiency loss, allowing them to be used on roof-mounted systems. What is more, they are, typically, manufactured in a range of power settings ranging from 5W to 250W and greater, making them suitable for both local and large-scale installations. Polycrystalline silicon panels are also more heat resistant. The current delivered polycrystalline solar panel efficiency is 15–22%. Moreover, a polycrystalline solar panel is distinguished by its square shape and blue-speckled color.
Thin Film: Best for Powering Transportation
 Thin film cells are a newer photovoltaic technology that comprises one or more layers of thin photovoltaic cell films laminated to existing materials like metal roofs or glass windows. Because these photovoltaic films are so thin, they are lighter and more flexible than traditional PV systems. Although thin-film technology is incredibly adaptable, it is not without its drawbacks. Thin-film systems are less efficient and degrade more quickly than traditional solar systems, although they are improving as technology advances. What is more, because the production of these panels is less difficult, their output is 5% lower than that of monocrystalline solar panels. Thin film cells typically provide between 15% and 22% of the efficiency of a solar panel. Because thin film solar panel technology is decreasing the efficiency gap with more expensive forms of solar panels, thin film solar panels are being placed on large scale projects and in record-breaking solar power plants.
 Conclusion: The Future of Solar Panel Efficiency!
There is fierce rivalry among solar power manufacturers nowadays. However, the increased competition is projected to result in reduced pricing for solar panel manufacturing as well as more efficient solar storage options for Ontario homeowners! As a result, we may expect less priced and more efficient solar power modules, all of which can be easily installed on your home's roof.
When looking for the best solar panels on the market, there are several variables to consider. For instance, certain panels will offer higher efficiency ratings when compared to others. However, investing in top-of-the-line solar equipment doesn't always ensure higher savings. Thus, the only way for you to find that sweet spot for your home is to do your research and evaluate quotes with varying equipment and financing options. Thankfully, the trained professionals at SolarUp are here to help, by providing you with up-to-date information and top-quality products and services that will guarantee a return on your initial investment in no time. Contact the experts at SolarUp today for further assistance while solar shopping to learn more about how you can get the most out of your solar power system!