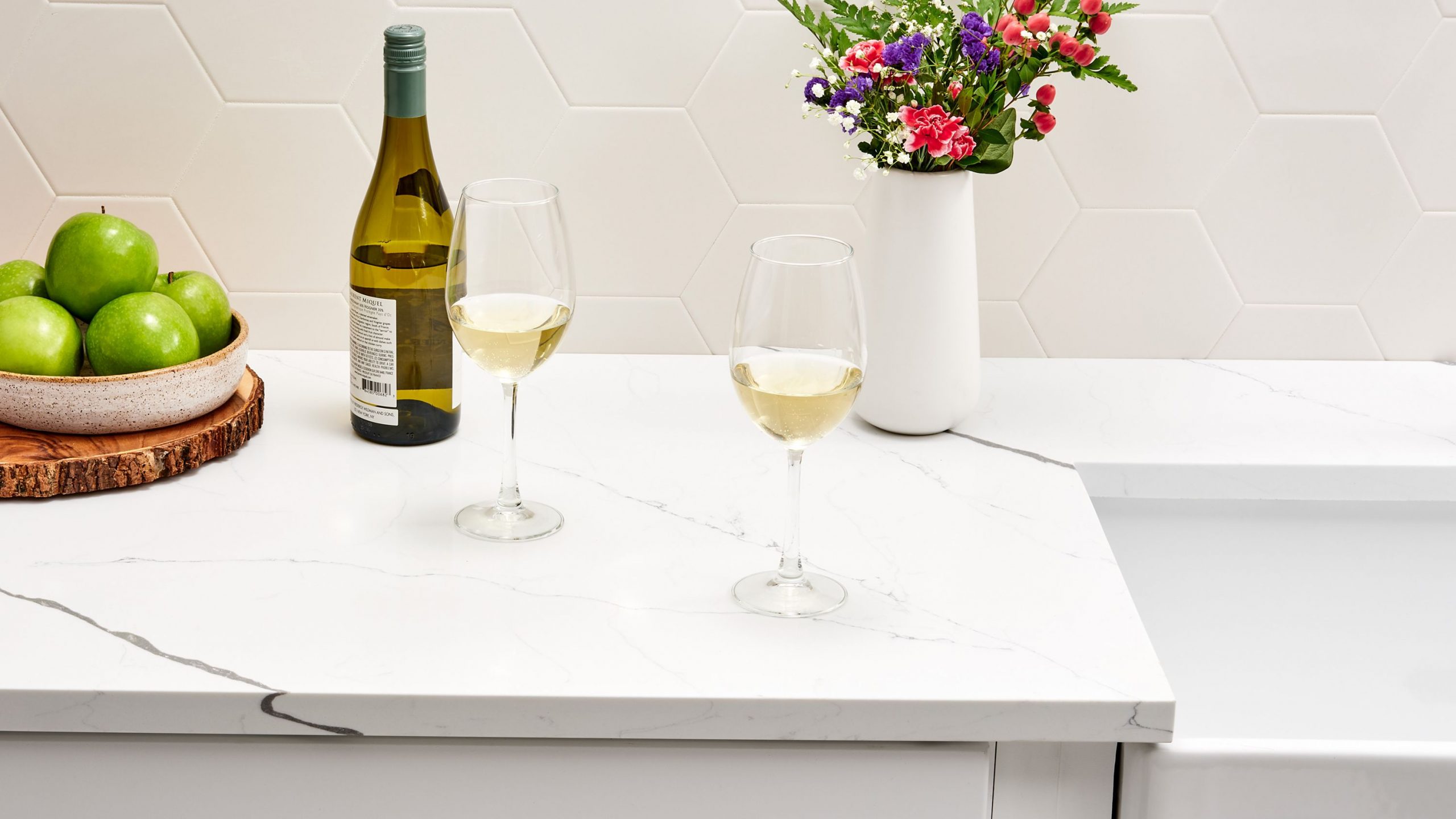 Quartz countertops are becoming more and more common in homes and businesses these days and its easy to see why. They are beautiful and they hold up to daily use better than any other product on the market today. Unlike natural stone or other natural materials, quartz is manmade and is highly durable because of this.
You will also pay less to install a quartz countertop because it is so easy to work with, and you will get a consistent, beautiful final product that will last for years without any special care. If you want to learn more about quartz countertops, this page will give you some more detailed information.
Quartz is very durable but there are still some basic rules that you should follow to care for your quartz countertops on a daily basis. These are good guidelines for any kind of countertop material that you pick, and are not unique to quartz.
If you are ready to learn more about the do's and don'ts of quartz countertop ownership, read on!
Do's of Quartz Countertop Ownership
This is the list of things that you should do when you are caring for and using your quartz counters. Most of the items on this list will highlight the ways that you can enjoy your quartz countertops without worry about damage, stains, or scratches. The quartz countertop do's are:
Do use your counters for rolling out cookie dough, writing class assignments, and gathering around in the kitchen. Quartz is very durable and it can stand up easily to regular use. It is not a delicate material like quartzite and it is made for daily use.
Wipe up your counter surfaces regularly with gentle soapy water. Always make sure to soak up spills and grime right away to make sure that they do not stain or become bonded to your counter surface. An ounce of prevention goes a long way toward making your quartz counters easy to clean up on a daily basis.
Do look at your counters at eye level once a day and make sure that you check for any spilled liquid or dirt that might be sitting on top of the counter surface. Being able to get these pesky things off your counters is a good policy no matter what kind of countertop you are caring for.
Make sure that you register your countertops to take advantage of their warranty. While it is unlikely that you will have issues with your countertops, it is always a good policy to be sure that you have a warranty in place for accidental damage or other things that might happen that you cannot predict.
Do make sure to use your quartz countertop as a buffet location for your next party, or as a homework station for your kids, or as a place to sit and work on crafts. There are few countertop surfaces that are as durable as quartz and being able to use your counters without fear of damaging them is a huge benefit to selecting quartz for your countertop needs.
Don'ts of Quartz Countertop Ownership
Many of these items will apply to any kind of countertop surface that you invest in and are not particular to quartz. Quartz does not require much in the way of upkeep, but there are a few things that you should avoid in order to guarantee that your counters stay beautiful for years to come.
Don't ignore spills. Liquid spills like wine, vinegar, tea, juice, or soda are acidic and corrosive and they can actually eat through the protective layer on your countertops. Quartz is tough, but these stains can be tougher than any kind of countertop material out there. Always wipe up spills with a wet cloth as soon as you see them so that you don't have to fight with pesky stains later.
Don't cut on the surface of your countertops. Quartz is very scratch resistant, but cutting blades that are very sharp will still create scratches in the surface of your countertops. These scratches can open up the surface of your countertops to staining and other damage later. Always use a cutting board when you need to chop up items for your meals.
Don't put hot pans or other hot items directly onto the surface of your quartz countertops. Quartz is heat resistant but it is still a stone product, and sudden changes in temperature can shock it and make it expand or contract. You can melt or burn the surface of your counters when a hot pan is put onto them and in some cases, your counter might even crack. Always use a trivet or hot pad under hot pans and servings dishes to protect your counters from this kind of damage.
Don't use permanent markers near your quartz countertops. Markers will stain anything that it comes into contact with, including quartz. You might be able to lift a marker stain out with some careful stain removal cleaning, but it is not worth the risk. Keep permanent markers away from your countertops and you will not have to fight with this kind of stubborn stain.
Don't allow abrasive grit or substances to rest on your countertops. If they are ground into the surface of the quartz, they might embed and need to be sanded out later.
Quartz Counters Are Durable, Beautiful, and Tough
Once you install quartz countertops in your home, you will never want to have counters made of any other material. Quartz is gorgeous and holds up extremely well to daily use. Combine that with its ease of installation, and you have a recipe for the perfect kitchen countertop surface!
If you avoid a few simple things, like permanent markers, you will never have a single issue with your quartz countertops and they will look beautiful for years to come! Quartz is the perfect choice for almost any countertop surface in your home and it makes a great statement in any space.
Make sure to follow these simple do's and don'ts of quartz countertop ownership and you will have gorgeous countertops that you will be able to enjoy for years and years.