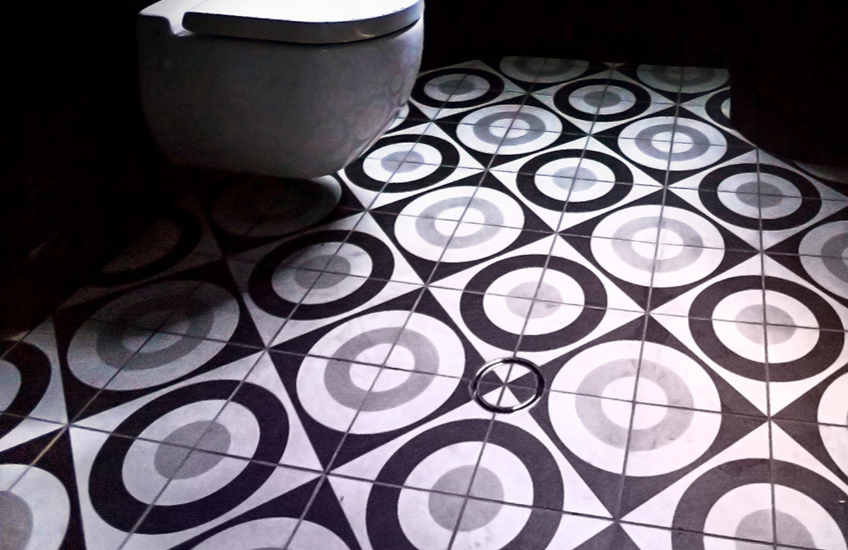 Tile flooring can provide many benefits in the home, from being a wonderfully hygienic solution that is simple to care for and maintain to allowing for the creation of a range of different tile floor patterns, adding a touch of character and charm throughout your home's interiors.
Floor tiles have traditionally been avoided in spaces like bedrooms, studies or living areas in favour of carpeting however, there are many ways using a tiled flooring will benefit your home's look and style while also allowing you to take advantage of the many benefits that floor tiles have to offer in these spaces.
Tile Flooring in Kitchens, Bathrooms and Laundry Rooms
Floor tiles are most commonly used throughout a home's kitchen, bathroom and laundry as they offer a sleek and simple to maintain surface finish in these busy and sometimes messy areas. Due to their immense popularity, you will find many different collections that are specifically designed to create a strong and durable flooring option in these spaces while also being a key design element in the space. From ornate and decorative floor tile options that will form a crucial part of your overall design scheme to more neutral toned and dialled back tile varieties that will recede into the background and allow other key elements of your design scheme to be the main focal point.
From pattern tiles to natural stone tiles and more, floor tiles in the bathroom, kitchen or laundry provide a strong, durable and simple to maintain surface finish in these messy areas of the home! Continuing this low maintenance flooring option throughout your home's interiors will allow you to take advantage of the many benefits of tiles in all interior spaces; you may even consider using outdoor floor tiles in your alfresco areas to create a seamless look between your living room and kitchen with the outdoor spaces.
Tile Flooring in Entries, Living Spaces & Hallways
Due to the increased popularity of open plan style interiors which combine the entry way, hallway, living space, kitchen and other areas of the home, creating a unified flooring can be crucial in your overall design scheme's appearance. Although one option would be to use timber flooring combined with tiles in the kitchen for example, using a single floor finish will create a stronger sense of balance and harmony in your home's overall interior design scheme. Once again, strong and durable floor tiles can make for the perfect flooring solution in this style of home layout, providing a continuous option that perfectly unifies each and every space while also providing a floor finish that is simple to care for and clean.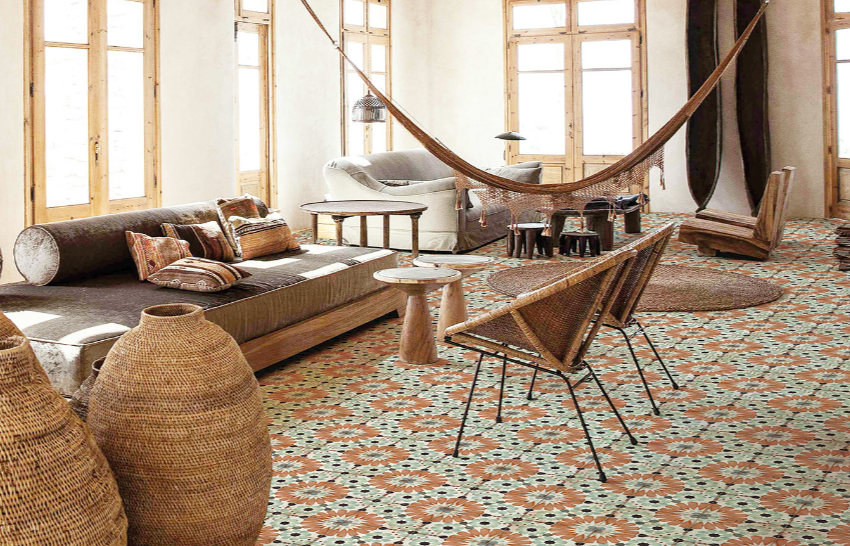 Caption: Create a stunning tile floor pattern with the use of decorative designer tiles that will instantly elevate your entire interior decorating scheme to the next level! The porcelain tile flooring in this earthy and rustic living space effortlessly ties together the natural raw timber finishes and rattan accessories used in the space, creating a warm and inviting atmosphere that can be carried throughout the home's interiors.
Taking advantage of the easy to clean nature of tiles, you will also find that floor tiles make for the perfect finish in your home's entry ways and exits as well as through the hallways. These high traffic areas in the home often experience more use while also being exposed to muddy or wet feet upon entering the home from the outdoors. Using a floor finish that will allow for ease of maintenance in these areas offers the best solution in keeping your home clean and hygienic, allowing you to spend less time cleaning and more time doing the things you love!
Combining Tiles with Soft Furnishings in the Bedroom
Floor tiles are not often quite as popular in the bedroom as this is an area where we crave comfort and warmth, making carpeting a favourite choice. You will however find that there are many options available that will allow you to introduce the durability and low maintenance flooring option of tiles in the bedroom while still retaining a warm, comforting and inviting atmosphere in the space.
Floor tiles can be installed with under-tile heating systems: this is a system of coils that can either be installed within a concrete floor slab or beneath porcelain floor tiles that will allow you to control the temperature of the flooring in the space, creating a warm and comforting atmosphere in the bedroom. Small area rugs can also be added beside the bed itself, adding a cosy layer to your decorating scheme that provides a soft surface underfoot as you step off the bed. Using floor tiles in the bedroom will allow you to take complete advantage of this wondrously low maintenance flooring solution that is also an excellent choice for those with allergies and respiratory difficulties. Combine your new floor tiles in the bedroom with layers of soft furnishings to reap the benefits of both solutions: you will effectively be combining the hygienic benefits of floor tiles with the warmth and comfort of carpeting with the use of area rugs for that perfect balance.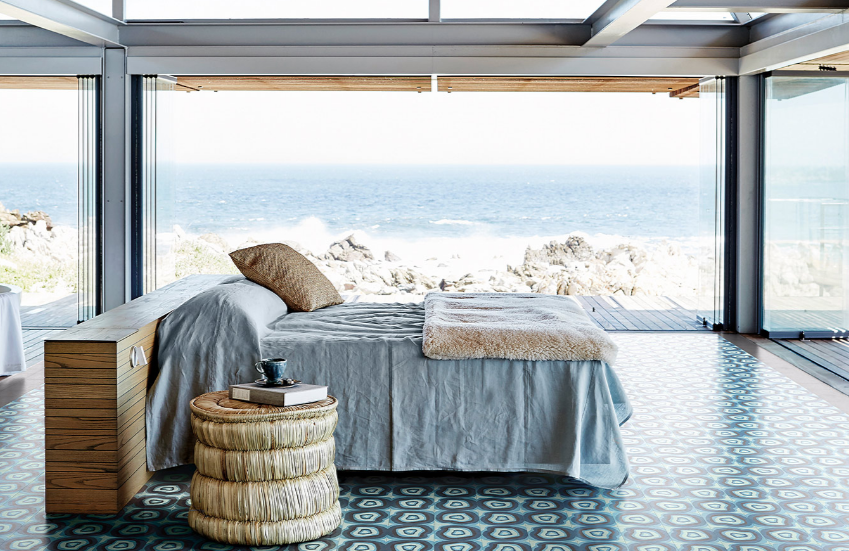 Caption: Combine the many benefits of floor tiles with the comfort of carpeting by including small area rugs beside the bed for added warmth. Floor tiles in the bedroom provide an easy to clean surface finish that is a must for allergy sufferers and those with respiratory difficulties. You can even include underfloor heating in the bedroom to create a cosy atmosphere in the space for the ultimate in relaxation!
Floor tiles can be used throughout your home's interiors without being limited to wet areas such as the laundry, bathroom or kitchen. By continuing your tiled floor finish throughout the interiors of your home and even in outdoor alfresco spaces, you can create a strong sense of continuity while also taking advantage of the many benefits of tiles which are well known for being simple and efficient to keep clean and tidy.