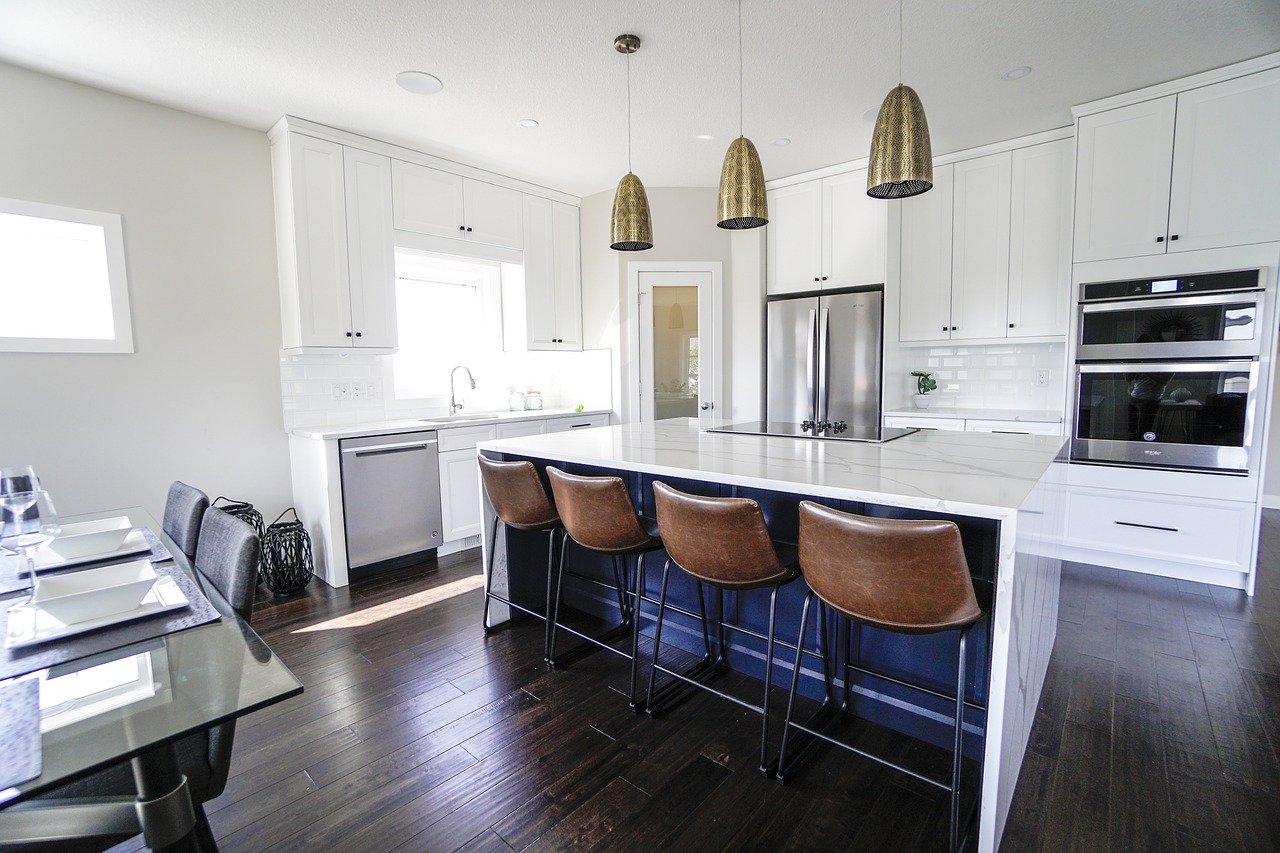 If you have decided to opt for a sober and unadorned kitchen for both functional and design, then modern design is the option for you. This type of kitchen with a sleek and minimalist design offers you a spacious, bright, aesthetic and well thought out room. At the forefront of the latest trends, modern design is a risk-free choice that you can be sure to enjoy for many years.
Learn more about the multiple advantages of this kitchen model, both in terms of aesthetics and its various functions. Choosing a modern kitchen is probably the best because of:
Ingenious cupboards
In order to favor the sober and refined aspect of modern design, we maximize storage to lose as little space as possible and to have a neat and tidy room. Food storage drawers, spice drawers, dresser, recycling bins, dividers… modern kitchen cabinetselect cabinet are designed to harmonize perfectly and ingeniously with the room.
Easy circulation
In a modern kitchen, space must be optimized and refined. Thus, we forget the spaces very loaded with furniture and accessories and we free up space. The main mission of modern design is to provide an airy room where you can move around freely. Its configuration is therefore designed so as to leave as little space as possible to the superfluous.
Open kitchens
This is why, very often, modern kitchens are open to other rooms such as the dining room and the living room. We say goodbye to narrow and closed rooms and we leave room for large open spaces. This creates a friendly atmosphere by facilitating exchanges between individuals in these different spaces. You can, for example, cook while chatting with family or friends in the living room. This also makes it easier to move between the different rooms.
The central island
The modern kitchen often has a central island, which accentuates this effect of conviviality while allowing a delimitation between the kitchen and the other rooms. Not only does the central island offer you more storage, but it also allows you to have an additional worktop and integrate your hob or sink.
Integrated technology
Who says modern kitchen also says integrated kitchen, that is to say, designed to optimize the most space with an ingenious arrangement of the elements. Thus, the hob, oven, refrigerator, and microwave are usually built into kitchen furniture in order to save space and keep a linear design. Other appliances such as the toaster and the coffee machine are usually hidden in the kitchen cabinets and the stove hood is integrated to promote simplicity.
Simple but refined
If the modern design is highly appreciated for its practical and functional side. It is also chosen for its studied aesthetics, at the forefront of the latest trends. If this type of kitchen favors a very refined and simple design, with minimalist decoration, it will, however, bet on glossy materials, mirror doors, and good lighting to confer elegance and refinement to the room.
Linear decor
What defines modern design is also its pure and sober lines which it adopts for its decoration. Thus, we will opt for aligned cupboards and discrete door handles in order to have smooth surfaces and eliminate the superfluity of the decor. We will also favor discreet lighting, embedded in the ceilings and walls.
Neutral colors.
In terms of colors, we favor rather sober colors that bring elegance to your kitchen and give it a luxurious side. Thus, colors such as beige, anthracite gray and the black-white duo are very fashionable at the moment and underline the sobriety of your kitchen. The number of different colors is minimized in order to accentuate the minimalist effect and to make sure not to overload the room.
Quality materials
In order to give a refined and sophisticated style to the kitchen, the modern style relies heavily on quality materials such as quartz, stainless steel, aluminum. The counters are often made of stainless steel, but can sometimes be made of wood to create a slightly warmer atmosphere. The cabinets have matte and glossy finishes that add character to the room. Thus, thanks to its elegance, modern design is often considered a high-end design.
Open kitchen: its advantages and disadvantages
It is a spacious, warm kitchen that must match the colors of the living room and remove the bad smells of a closed kitchen. Modernity has got rid of this surplus of doors and walls that trapped us in a reduced and enclosed space. Now, simmering small dishes becomes a pleasure, provided you counter invasive odors and adapt the decor well.
A larger and more convivial kitchen
When the walls are torn down, the kitchen opens to the other rooms. The days when it was cut off from the rest of the house are over. We're breathing! Make way for hospitality and conviviality. In addition, the impression is undeniable. Space is optimized to the maximum for the happiness and satisfaction of its occupants.
A functional kitchen
Being in two places at once allows everything to be close at hand. Cooking while watching the kids playing in the living room or avoiding burning cakes without anyone noticing is now possible. There are some who will be delighted.
Beware of odors in the living room
The open kitchen has practically only advantages, with the exception of the smells of cooked dishes that can invade the living room. Consider bringing a quality hood and all kinds of scented candles. To absorb strong odors like those of fish, we recommend a simple and effective grandmother's tip: heat a little water with cinnamon. Guaranteed effect!
An integrated room must be harmonious
An open kitchen should not be seen as a separate room. On the contrary, it must be in harmony with the room in which it is integrated. A decor that disagrees with the look of the entrance, the dining room or the living room will shade it and will not create the impression of scale desired. It's up to you to combine the two decorations into one.
Difference between open and semi-open kitchens
In terms of kitchen design, more and more open kitchens are being built. But it is difficult to know its true advantages compared to an open (American) or closed (that is to say truly compartmentalized) kitchen.
The current trend is rather to partially close the kitchen. American cuisine or fully partitioned cooking is less in vogue.
What are the advantages of a semi-open kitchen compared to an open or closed kitchen?
It is a good compromise between the closed kitchen and the kitchen opens to the living room. It has the advantage of open kitchens (conviviality, brightness, space …) without the drawbacks: view of dirty dishes, noise, and direct view of meal preparation. The semi-open kitchen allows you to keep a distance physical and acoustic.
Conclusion
We often mix the open kitchen and semi-open kitchen. An open kitchen is 100% open to another room, usually the living room or the dining room. Conversely, the configuration of a semi-open kitchen makes it possible to separate the kitchen from the living room while maintaining a connection (half-partitioning) between the living rooms.
This is all you needed to know about the latest trends in modern kitchen designs. Do you have any insights to share? Let us know in the comments!