Tampa Homestyles is seeing a huge rise in buyers escaping America's biggest cities and relocating to luxury Tampa Bay homes.
As the pandemic has caused many to rethink their lifestyles, thousands of businesses have realigned their teams for remote work and found the benefits so valuable that they have now adopted long-term remote cultures. Jaime Brown, the founder of Tampa Homestyles, one of the premier luxury-home real estate agencies in Tampa, has noticed the surge of luxury home sales.
With the majority of corporate teams working from home, the advantages of business-hub cities are in decline. Not only do employees no longer need to pay thousands of dollars every month to live near their offices, but other city attractions such as theaters and entertainment venues remain closed for business. In short, fast-paced life in America's biggest cities has fizzled out.
Not only is living in America's big cities expensive, but working from home in small spaces while children are off school has caused immense difficulties for families. As the same funds required to live in New York will secure a much larger home in rural areas, there is now a surge of north-eastern homebuyers looking to migrate to luxury homes in Tampa Bay and other attractive Floridian markets. Redfin reports that 27% of homebuyers in America currently plan to relocate to a less dense area, so it's no surprise that the number of people migrating to idyllic locations is growing rapidly. Relocating is a no-brainer for many.
The Attraction of Tampa Bay
Many homebuyers are flocking to the Floridian coastlines to enjoy warmer winters, scenic landscapes, and reduced taxes (New Yorkers can no longer make deductions on federal income taxes, but there are no state income taxes in Florida). Forbes reports that around 100 people moved out of New York every day in 2018, many to Florida. This number has now risen to around 270 people per day. Historically, many city residents bought a second home in Florida for holidaying. Now they want to live in Florida full-time.
Amongst the most popular Floridian locales, many buyers are snapping up luxury homes in Tampa Bay, the natural harbor and shallow estuary that connects the west-central coast of Florida to the Gulf of Mexico. Though Florida has always been a popular relocation spot, many city lovers previously opted for Floridian cities such as Miami. But Tampa Bay is trending now that people are keen to escape overcrowded cities. Tampa Bay is now one of the top ten most popular locations for house-hunters: the number of Tampa homes selling for over $1 million has risen by 9% since last year, and the average price of Tampa luxury homes has increased by 3%.
Tampa Homestyles Luxury Homes
As more and more north-eastern homebuyers seek the peace and tranquility of Tampa Bay, Tampa Homestyles properties are in high demand. The market calls for expansive homes, and most of Tampa Homestyles' listings combine large home office spaces with gym facilities and outdoor pools. These waterfront properties are selling at prices well below the prices of smaller properties in New York and are ideal for luxury quarantining.
Jaime Brown has specialized in Tampa Bay real estate for over twelve years but hasn't seen anything comparable to the recent luxury home sales. As the housing market has re-opened, she has worked with clients who have relocated to Tampa Bay from New York, Pennsylvania, New Jersey, and New England. Outside of South Florida, Tampa Bay is now the state's most in-demand real estate market.
Amongst Tampa Homestyles recent sales, the real-estate specialists managed the sale of a South Tampa waterfront mansion that sold for $6.4 million—the highest price ever paid for a speculative Tampa home. Speculative luxury homes are a vital part of Tampa's economy; builders, stakeholders, and banks invest millions into projects even before buyers show interest. The contemporary home measures 7,600 square feet, comprising six bedrooms and eight bathrooms. Situated on a piece of land that juts out into the bay, the property's ocean views and open water access make for a truly tranquil home.
Demand for Tampa Bay Homes
In May, The National Association of Realtors (NAR) reported a 44.3% increase in pending home sales, the highest month-on-month growth since the launch of the NAR pending home sales index in 2001. Demand is so high for luxury homes in Tampa Bay that some properties aren't even making it onto the market before they sell in whisper listings. This overnight shift means that houses are selling within days and buyers need to make their moves quickly to avoid disappointment.
Amid the huge demand, mortgage rates have dropped and are now at approximately 3.03%, around 2% lower than 18 months ago. Jaime predicts that these mortgage rates will remain for the rest of the year.
New Ritz-Carlton Condos for Bayshore Drive
As many sellers remain cautious about putting their houses on the market, Related Group and Ritz-Carlton Townhouses have come together to construct luxury homes on the highly sought-after Bayshore Drive. The project is set to meet rising demand in Tampa Bay, and Jaime expects this to be one of multiple developments for Tampa Bay's growing real estate market.
The condos will replace the Bay Oaks apartments and starting prices will begin at $1.8 million. Residences will comprise 170 condos, which will be divided between 12 townhouses and two towers. Related Group plans to integrate a walking trail with dog park and exercise stations beneath a section of the Lee Roy Selmon Expressway, which will run adjacent to the new condos. The construction of the first tower is provisionally due to commence in 2021 for completion in 2024. The second tower will provisionally be constructed between 2024 and 2026.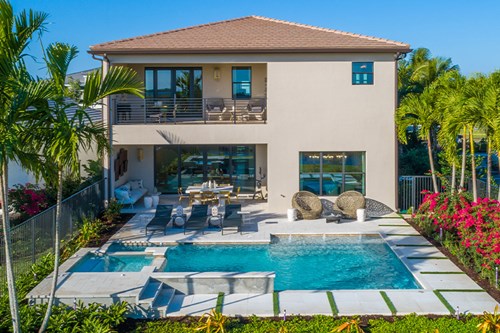 "Without a doubt, it will be the premier residential building," says Jorge Perez, CEO of Related Group. "If you can afford it, you will not live anywhere else."
Though this will be Ritz-Carlton's first build in Tampa Bay, the company already has branded condos and hotels in Sarasota, as well as resort properties in South Florida, Orlando, Naples, and Amelia Island.
"You will have all the Ritz services and quality that goes along with the Ritz Carton name," says Mike Hammon, Senior Vice President of Related Group. "When you're a buyer, that's what you're buying into."
Popular Tampa Bay Locations
As an increasing number of homebuyers relocate to Tampa Bay, here are some of the hot-spot locations that Tampa Homestyles clients opt for.
Beach Park
Jaime recommends Beach Park for buyers who are looking for the most space and amenities. As one of the most popular Tampa neighborhoods, Beach Park is home to the highest-rated school districts and most luxurious properties. Beach Park is full of beauty spots, yet close to all major interstates, highways, and expressways, making for easy travel access.
Palma Ceia
Based southwest of downtown Tampa, Palma Ceia is another popular location for families and adults seeking luxury homes. With a multitude of specialty boutiques and restaurants—not to mention the Palma Ceia Country Club—the thriving neighborhood has plenty on offer to entertain everyone. Palma Ceia is also known for the Henry B. Plant High School, which has been recognized by the US News and World Report and The Washington Post for being one of the best-performing high schools in America.
The Davis Islands
Buyers looking for luxury homes should also consider the Davis Islands, where some of Tampa Bay's largest properties can be found—many of which boast views of the Port of Tampa. The archipelago spreads across two of the Hillsborough County islands. Those who travel to the central city will enjoy living near the Peter O. Knight airport, while those who'd rather set sail can make use of the Davis Island Yacht Club. The Davis Islands are home to a few famous residents too, including baseball player Derek Jeter and football quarterback Tom Brady.
Soho
Meanwhile, Soho is ideal for single people and families. The residential district is nestled within Hyde Park, bordering Bayshore Boulevard. Buyers will find a wealth of restored bungalows and modern spaces, some of which are inspired by the West Indies. With plenty of green spaces, Soho offers a multitude of peaceful havens for relaxing or spending time with friends. Plus, Tampa airport is based in Soho, perfect for those who travel to visit family.
Bayshore Beautiful
The Bayshore Beautiful neighborhood attracts plenty of couples and single people looking for beautiful surroundings. Many runners and cyclists enjoy making use of Bayshore Boulevard, which features the longest sidewalk in the world—a 4.5-mile amble along Tampa Bay. Located within Tampa's city limits, the historical neighborhood is known for its architecture, green spaces, restaurants, and luxury condos.
Sunset Park Isles
Those looking for a romantic spot will love the Sunset Park Isles, a neighborhood known for its stunning waterfront properties, local boutiques, and over 200 restaurants. With Mediterranean-inspired architecture and a wealth of quarter-acre lots, Sunset Park Isles is ideal for those seeking luxury homes.
Tampa Homestyles expects demand for luxury properties in these areas to rise throughout summer until the fall when home sales typically decline. This year, fall sales could also be affected by uncertain economic stability and the outcome of the presidential election.
About Tampa Homestyles
Tampa Homestyles is a real estate company that specializes in Tampa Bay's luxury homes. The real estate specialists offer personalized services for buyers and sellers, advising on competitive market pricing and sales strategy, quick home sales, and relocating to the Tampa Bay area.
Tampa Homestyles founder Jaime Brown has been a real estate agent in the Tampa area for over 12 years. Having studied Decision Management and Information Sciences at the University of Florida, she worked directly with clients for renowned companies including PricewaterhouseCoopers, Protiviti, Accell Global Risk Solutions, and Nielson. Jaime then transitioned into the real estate market with Charles Rutenberg. In 2019, she launched Tampa Homestyles.
Tampa Homestyles is taking special precautions to keep homebuyers safe as they relocate to the Floridian coastlines. Jaime has made most of the house-buying process virtual, allowing buyers to tour homes online. However, buyers can choose to view properties in-person if they prefer, following social distancing safeguards.
You can view current listings in Tampa Bay at http://tampahomestyles.com.
The Tampa Homestyles website is also full of advice for buyers on how to find the right neighborhood, secure a mortgage, and close a sale. Meanwhile, sellers will find advice on the sales process and how to increase your home's value.