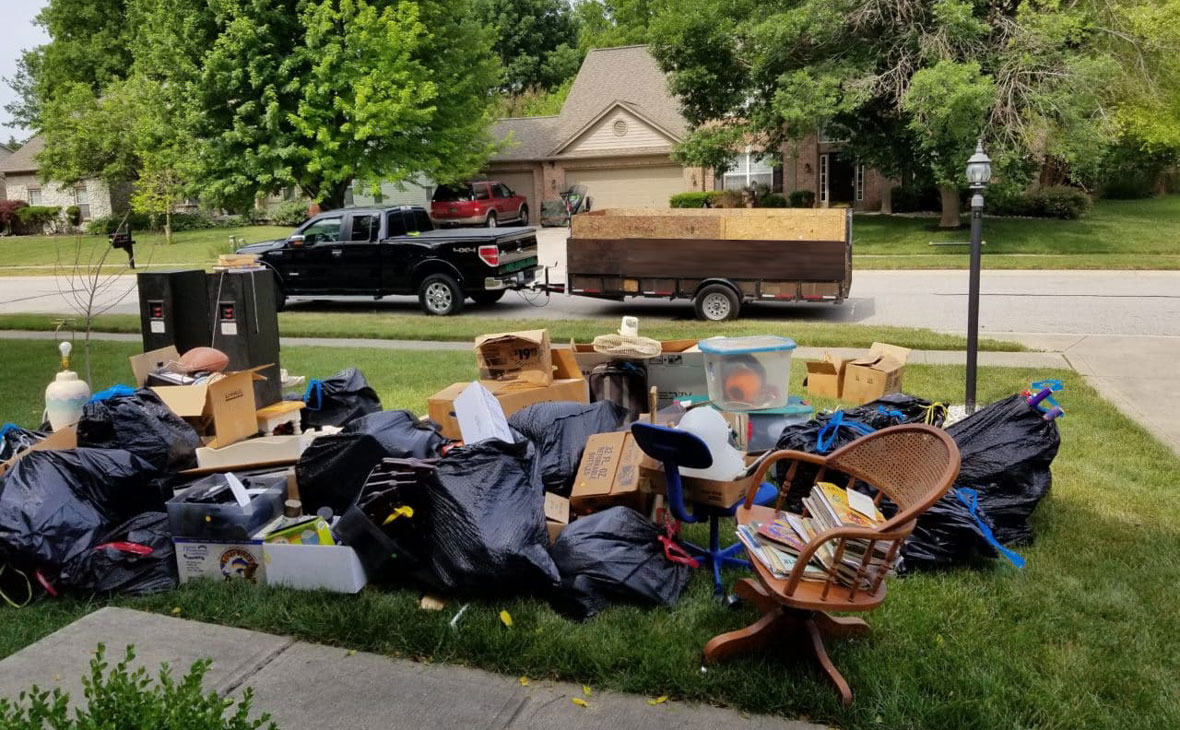 Let's talk about all of the pros and cons of both sides of professional junk removal and DIY junk hauling whether that be you taking your stuff to the dump yourself or renting a dumpster. When you truly have a large amount of junk and/or debris that you need removed from your home or property, you're pretty much left with the two options we stated above – either get a big dumpster delivered to your driveway and start hauling everything out by yourself, or hire a professional junk removal company to come to handle it all for you. Each one is going to have particular pros and cons to it, and those are for you to weigh and consider what's best for you. It depends on things like most importantly – the amount of junk you need removed, how accessible it is, how safe the area as a whole is, etc.
Now just because you have a lot of clutter or junk around doesn't always mean you have a hoarding problem – home improvement projects are notorious for leaving debris all over the place, sometimes you have to hold onto and/or get rid of someone else's possessions, or even with COVID going on you've just lost track of what's going on inside your own home and you need to start from fresh all over again.
Hiring a Professional Junk Removal Company
Renting a dumpster or just hauling all of your junk directly to the dump is definitely a DIY type approach and it's going to take a good deal of your own labor. Generally speaking, dumpsters are a more long-term solution than just hiring a junk removal company. Since dumpsters can be rented indefinitely these are best for your long-term type projects like construction and remodeling projects. Beyond the long-term, though dumpsters are popular across the board just because of the sheer amount of debris they can hold at one time and the ease of transporting them, relative to anything else carrying that much junk. Sure you can load up your little pull-behind trailer and just keep taking loads to the dump constantly, but do you really want to be burning all that gas going 30+ minutes one-way multiple times when you can just rent one good-sized dumpster for a month+ if need be.
The way dumpster rental works is quite simple, you're just going to want to get in contact with a dumpster company and they will then drop it off on your property wherever you direct them as long as a truck can access it. You're then going to want to give them a pickup date and get to work! Now do be aware in some cities or municipalities you're going to need to get a permit just to have a dumpster on your property, even more so if you are putting it on a city street. Your rental company should be able to help you with this.
Most people will only need the smallest sized dumpster
Do make sure to get an accurate estimate as to the total amount of junk you need removed, you don't want to end up way overpaying or on the other hand taking 75 loads of junk yourself by hand. A lot of people tend to really overestimate the amount of space they need to get rid of all of their junk – make sure you are aware of any weight restrictions and where the fill line is on your dumpster so you aren't charged extra for anything.
Hire a junk removal company to handle it all for you
Hiring a junk removal company to handle all of your debris removal, junk removal, hoarder cleanouts, and whatever else is certainly the most "hands-off" approach. The only thing you physically need to do is point out the trouble spots to your junk removal company and help guide them around so they can get it all cleared out that much faster. Beyond being hands-free for you, if you really need speed with your waste removal then you can make no better choice than a junk removal company. What would take you multiple days to load into a dumpster yourself can be completely cleaned out in the matter of a day with a team of professionals. It also means you're not going to have to worry about having a big ugly dumpster sitting in your yard for days/weeks and you won't be left with those massive scratches that they often leave in the ground when dropped off.
All of your junk will simply be loaded into a truck and driven to the dump the same day. One really big perk of hiring a removal company is that they can really help you get bulk items out of the house quickly and painlessly. This can be anything from some old fridges in the basement you need gone to old couches and rooms full of carpet you recently replaced. With the right truck all of this stuff can be hauled away in a single trip and out of your hair.
keep yourself safe and let the professionals handle your junk removal
Junk removal can quickly become dangerous so many items have sharp corners and edges that you just can't see when reaching into a pile of stuff. Not to mention all of the potential back injuries that come with improper lifting technique and strain. The professionals at your local junk removal company are both going to be able to work more efficiently and safer than you can – that's what they are trained for!
The value of a junk removal company
When you work with a company directly to handle your junk removal you can rest assured that you are going to be able to pay for exactly what you need, no more and no less, and expect that to be done. With a dumpster, it's really an unknown and you're almost always going to end up wasting money on them. For individual items like appliances and furniture, you should be able to get a flat rate fee to just get rid of that junk!
A professional junk removal company should also be able to at least guide you in the right direction for removing things like moldy mattresses and bodily fluids, these are NOT things you should ever attempt to clean yourself and needs to be handled by trained professionals in protective equipment.
So depending on just how much junk you do need to be removed, the area it's in, your timeframe, your budget, you need to decide if a junk removal company is going to be worth it for you. For most people, just not having to do the work themselves is worth it alone. Another plus is that many modern junk removal companies are completely green and focus a lot on sustainability when doing their work! Curious to learn more about Junk Removal Cary NC?