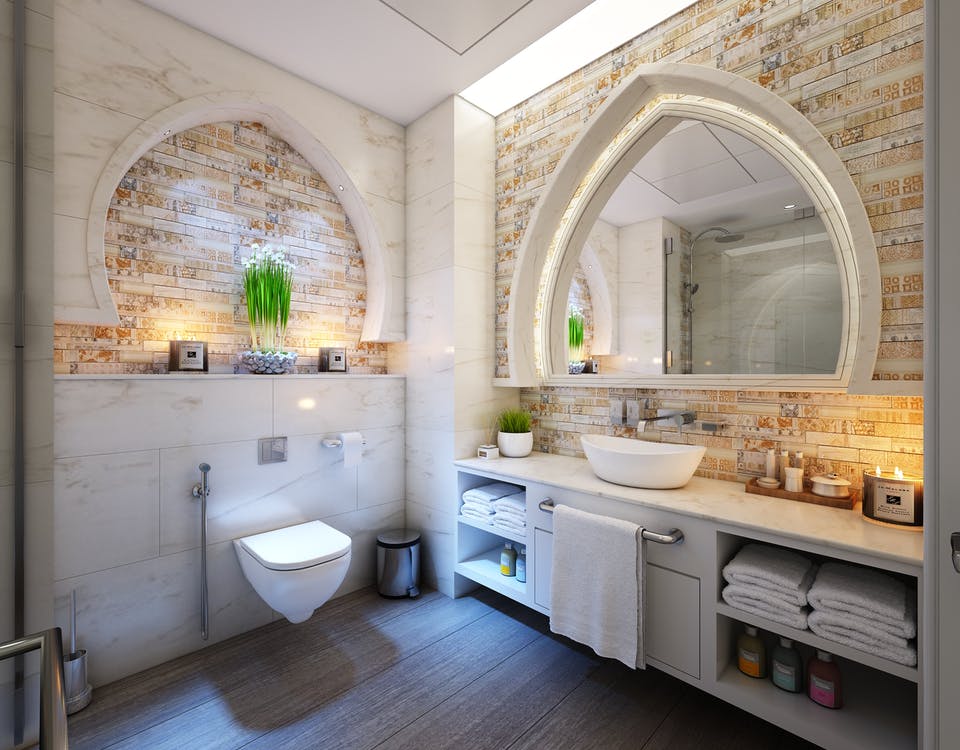 Everyone in the world desires to have a home where they can relax. For this purpose, people pay special attention to every single detail of their house. From lounge area to bedroom or bathrooms, they want each and everything to be perfect and as per their taste. However, a lot of people also make renovations with the change in trends and designs. No doubt, the style or pattern of tiles, walls, hanging lights, or paints get changed every year. Many times, people also get bored with the same old style furniture or dull wall colors.
Undoubtedly, everyone has their particular favorite corner in the house. Here, they want to spend time all alone with their thoughts and retreat themselves with no disturbance.
Today bathroom renovation has its importance in house remodeling. People can go up to any limit to turn their bathroom into a comfortable space. From stylish and expensive hanging lights to the latest tiles and scented candles, everything has its importance. All such things can remodel any bathroom with a home spa vision.
No wonder these days, people are remodeling their bathrooms into a home spa with all the facilities. It would be wrong to say that bathrooms can be much more than functional space. So, do whatever it takes to enjoy a wondrous yet relaxing experience in your newly renovated bathroom. Talking about the advanced bathroom trends is too many to count. All you need is to look around the things that need remodeling in the bathroom or need a touch of the latest trend. If you are in a mood to make some changes in your restroom soon, find all the informative details here in this article.
Bathroom's Remodeling as Per Current Trend
As discussed earlier, several people are doing the renovation of their bathrooms as per the current trend. Unquestionably, the previous year was all about hygiene and cleanliness due to Covid. Hence it is time to introduce the latest yet modern cleaning technologies in your bathroom with some style. Indeed, a well-designed bathroom is a mixture of various elements. So, take the inspiration from the following ideas and turn your place into an extraordinary corner. Brace yourselves for these attractive ideas of the year 2021. Without delaying it further, let's discuss it in detail.
Gone are the days when mosaic tiles were so in. Every single household has those mandatory tiles walls in their bathroom. But now the time has changed, and so the mindset of people too. In the year 2021, it is time to say hello to the large format tiles. They not only enhance the overall look of your bathroom but will also display fewer grout lines. Such tiles have a luxurious look when paired with any stone material or natural stones. Meanwhile, these fewer grout lines do not demand heavy cleansing every time. On the other hand, get your hands on these stylish tiles for slab walls too.
Savvy Soaking Tubs Are in Demand
None of the bathroom's interior is complete without a jumbo size relaxing bathtub. Soaking yourself in a tub full of rose petals surrounded by scented candles makes another whole mood. Hence, now is the time to place a spacious free-standing flat bottom soaking tub. They are much famous this year than the claw foot or decorative bases.
Get Your Hands on Durable Paints and Warm Colors
One of the best ways to start a fresh new year is the color change in your bathroom. It will not give your interiors a new look but will also give your mind a soothing effect. According to research, people visit their bathrooms twice a day. Therefore, go for some fresh warm colors inside your bathroom to change one's mood completely. Also, make sure to use durable paints because this year is all about neatness and good hygiene practice. Hence, many paint-making companies are now working on durable paint colors. That is pure, stain-resistant, and able to withstand pandemic-motivated sanitation.
Lighten up Your Bathroom with Integrated Lighting
Be brave enough and take a bold step when it comes to the lightning of restrooms. Commonly, people hesitate to use large size hanging lights inside the bathroom due to the uncommon trend maybe. But now it is time to challenge the traditional trends and run after the latest bizarre trends. Step outside and get yourself a fancy yet luxe light to lighten up your bathroom in the best possible way. You can either place it over the mirror or hang it over the bathtub for a majestic look.
Many times, in the modern world, old trends also make a comeback with a bang. These traditional-style bathrooms with minimalistic furniture have made a comeback as they look exceptionally astounding. Therefore, if you do not want to make your space crowded and overloaded with furniture, go for fewer things. Let it be decent and clean as much as it is possible. For this, you do not need to make any extra effort, minimize your amenities and hang your towels and stuff on a hook or door. On the other hand, use a wall-mounted sink and glossy ceramic tiles.
Install Eye-Catching Back-Lit Mirrors
With no surprise, people are now rooting for modern designs and mirrors for their bathrooms. Say goodbye to your old boring mirrors and welcome the new back-lit mirrors with lighted models. These are unusually prominent in terms of giving a fresh modern touch to your favorite place. So, without wasting a minute, if you want to bring a notable change in your most relaxing bathroom-cum-spa, install giant size back-lit mirrors.
Conclusion
When it comes to doing the remodeling of the bathroom, tons of ideas are there. But it all depends upon the budget and changes you want to make. Large-scale renovation demands a change in wall colors, tiles, and furniture. However, introducing stylish hanging lights with savvy tubs will also give your bathroom a new lavish appearance.