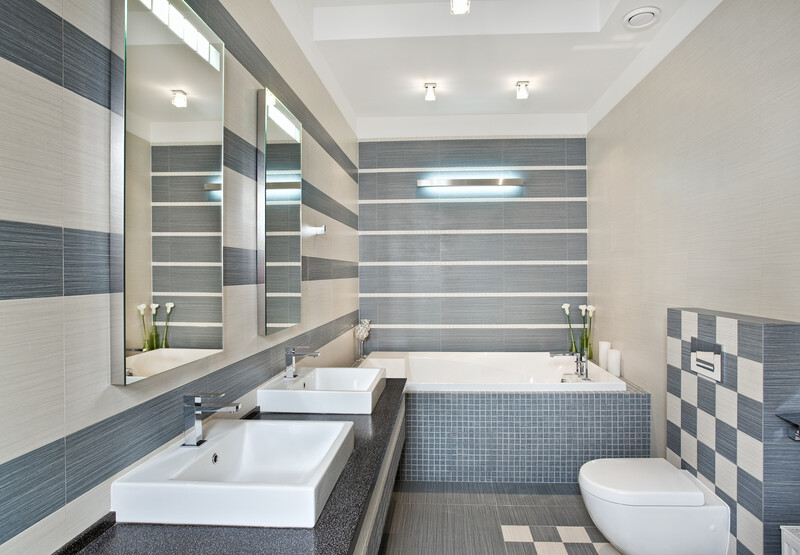 A total down-to-the-studs renovation is not necessary for you to modernize an outdated bathroom. There are quite a number of options available to homeowners who are interested in having their bathrooms updated. However, even if you are renting your home, there are a number of affordable ways in which you can modernize your bathroom and transform it from an outdated space. Below are some techniques that can be used to give your bathroom a new and improved design:
Paint
A fresh coat of paint can always be relied on to refresh just about anything from a small table to a space of any size. Going for a trendy color has the capacity to wake up a worn-out bathroom. Having the ceiling painted in a complementary color just a bit lighter than the walls will give the appearance of more space in a small bathroom. It is becoming more and more popular to go for something less predictable than white paint for the color of ceilings.
Lighting
There is a large number of contemporary and modern bathroom lighting styles available on the market. As such, you will be able to easily find some that will be well suited for your design preference and your budget. Have current unattractive lights replaced with modern-style lighting. There is even a chance that you might be able to find new areas in the space for a mini pendant light or a wall sconce that would draw attention to an area of the bathroom that was previously unnoticed.
Décor for the Wall
After the walls have been updated with fresh paint, you might want to get rid of the outdated, boring and perhaps uninspiring wall decor you previously had. A carefully chosen mirror could be the most dazzling piece of wall art you could place in your bathroom. You can splurge a bit and purchase an impressive vintage mirror or a modern or contemporary mirror that will serve as a complement to a modern design. Where it concerns other pieces of wall art that could be used, ensure that they exemplify the sophistication and simplicity of a modern design. Bear in mind that in an updated bathroom design, putting in glass shelves can serve as a functional form of wall art.
De-clutter
A remarkably inexpensive technique that can be used to modernize a bathroom is getting rid of the clutter from certain areas of the space such as the countertop. If you spend some time browsing through images of modern designs for the bathroom, you will see that the countertops have only a few items on them. In addition, the items that are on the countertops are typically neatly organized in some kind of decorative storage containers. Some wall-hung or free-standing shelves can be added to the space as part of the bathroom modernization plan. If open shelving is added, it is imperative that those shelves are kept uncluttered and organized.
Floors
If there is an option to update the flooring in your bathroom, this is definitely a project that you should go ahead and do. This could mean painting or staining a hideous wood floor with a color which is compatible with the updated décor. There is also the option to replace the flooring with new bathroom-friendly tiles. If you are a renter and do not have the option to change the flooring, a rug can be used to conceal an unsightly, outdated floor.
Don't Forget the Details
Getting rid of old towel racks and having them replaced with more modern or contemporary options can be a fast and easy project that can greatly impact the look of your bathroom in pleasant way. In addition, you should consider replacing unattractive, worn-out towels with trendier, more luxurious towels to further enhance the look of the bathroom. Additionally, getting rid of outdated hardware on the bathroom cabinets and having them replaced with trendier options can modernize the space instantly. Paying attention to the small details like switch plate and vent covers will enable you to add aesthetic updates. This will have considerable visual impact in the overall look of this very important space.
Special Features
Personal style and comfort are mainly what a modern bathroom is about. As such, rain-style shower heads and waterfall faucets can be used to enhance the stylishness of the bathroom. In addition, heated towel bars can be installed to raise the level of luxuriousness in the space. Be wary of doing any work which requires a licensed home renovation company. In this case, pay a professional so that you are not risking yourself of your family.
Currently, it is trendy to take steps towards incorporating elements from the outdoors into modern bathroom design. Therefore, you can consider including a few lush green plants into your bathroom décor as this is a remarkable way of beautifying the space while celebrating nature.
Replacing the faucets is also a great way to modernize the bathroom. For renters, there is also the option of painting the faucets for an updated look.