Pool parties are some of the most exciting moments of the summer. Whether you're having a bridal shower, bachelorette, baby shower, or just a fun party for your close friends, there's no better place to celebrate than beside a well-decorated pool. There are countless ways to wow your guests with pool float decorations. But, with the many gorgeous options available, it can be challenging to choose which ones fit the bill.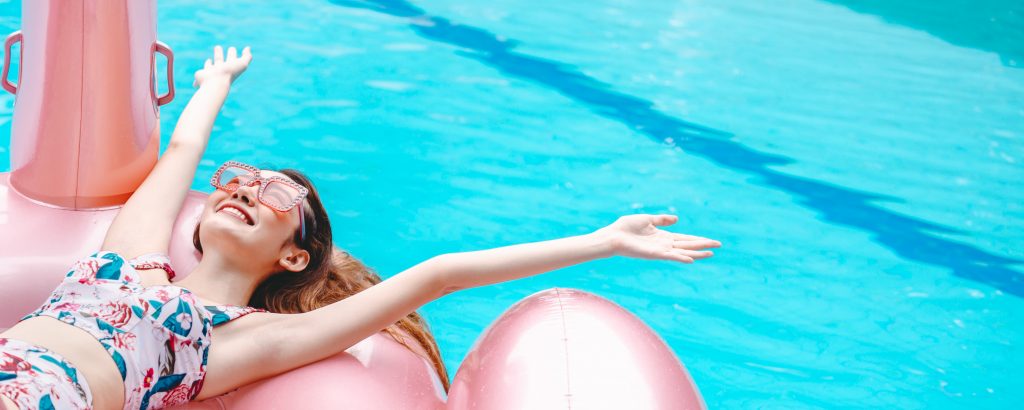 Here are a few ways you can use pool floats to make your pool a perfect spot for relaxing or holding small parties:
Toss Floating Flowers Into Your Pool
Floating flowers provide a creative way to tie your swimming pool to the general theme of the party. While you can toss real flowers randomly into your pool, they can get so messy if they sink into the bottom and reach the pool skimmer. The best option is to make flowers out of artificial blooms and silk since they won't rot and cause issues when cleaning up your pool. If left for a long time, floating flowers can provide an easy escape for frogs and other small creatures that may find their way into your pool.
Use Floating Balloons
There's virtually no pool decoration that doesn't include the use of balloons. Balloons are quite popular since they're budget-friendly, easy to get, and there are several options to try. You can find them in all colors you can think about, but it's vital to choose balloons based on the colors of your party. Simply inflate and place them into the pool or attach to other pool floats. Choose from the best pool floats in 2020 to help you narrow down your choices and end up with the right ones.
Here are some additional tips when using balloons as decorative pool floats.
Light colors work better than their dark counterparts since they may pop easily with the rise in temperature.
Pearlized colors are not great choices because they oxidize quickly.
Inflate the balloons at almost the same temperatures they'll have to endure. For instance, if you're going to set them up in a sunny place, inflate them out in the sun
Bigger balloons generally work better as you can underinflate them to give room for possible expansion of air inside it.
Get Creative With Floating Letters
Floating letters provide a great way to decorate your pool. These letters are designed to float on water to provide decoration for wedding parties, birthdays, and similar gatherings. The good thing about floating letters is that you can line them with flowers that match the theme of your party.
You can get creative with floating letters and use them to pass a message that resonates with your party. For example, when holding a birthday party, you can create a "HAPPY BIRTHDAY" out of the floating letters.
If you want DIY floating letters, you can use a craft knife to cut out letters from materials, such as polystyrene foam. Pierce the side of individual letters using a sewing needle and pass a thread through the length of monofilament, just as you'd do to beads on a necklace. Knot the thread to maintain an equal distance between letters. To center your letters in the pool, tie the ends of the monofilament to the pool filter grating.
Floating Candle Or Lanterns
Try picturing this: floating candles or lanterns with cocktail umbrella wreaths and fresh flowers in a floating hoop, all adrift on your pool. What do you think will it look like? Breathtaking, right?
Setting candles or decorative lanterns on floats will not only enhance the appearance of your pool during the day, but these will also light up the pool when the sun goes down. Both the candles and lanterns are excellent choices, but you can use the latter if you're looking to create a relaxing, mysterious, and/or vintage vibe. Many world-class resorts around the world prefer to use lanterns over candles, so this is another reason to try them out.
Add Other Floats
Countless types of floats are available for pool parties. You may opt for bold floats that are shaped like cupcakes, ice cream, doughnuts, cakes, candies, and other types of dessert. Besides their excellent visuals, floats can be used to hold drinks in ice to prevent them from melting fast.
Bloom-filled floats are ideal for creating a playful vibe. You can try scattering your favorite flowers on floats for a dreamy display, which is a sure way to wow your guests.
Final Thoughts
There is a different vibe to every section of a well-designed home, and the pool should provide an atmosphere of relaxation for anyone who goes there to unwind after a hot day at school or work.
Besides hosting your guests, a pool is easily the focal point of your family during the summer. Be sure to use different types of pool floats to give your family an exceptional pool experience. But, the rule of thumb is to avoid overdoing your decorations; after all, a little goes a long way. Blend different colors, but avoid those that are too intense.