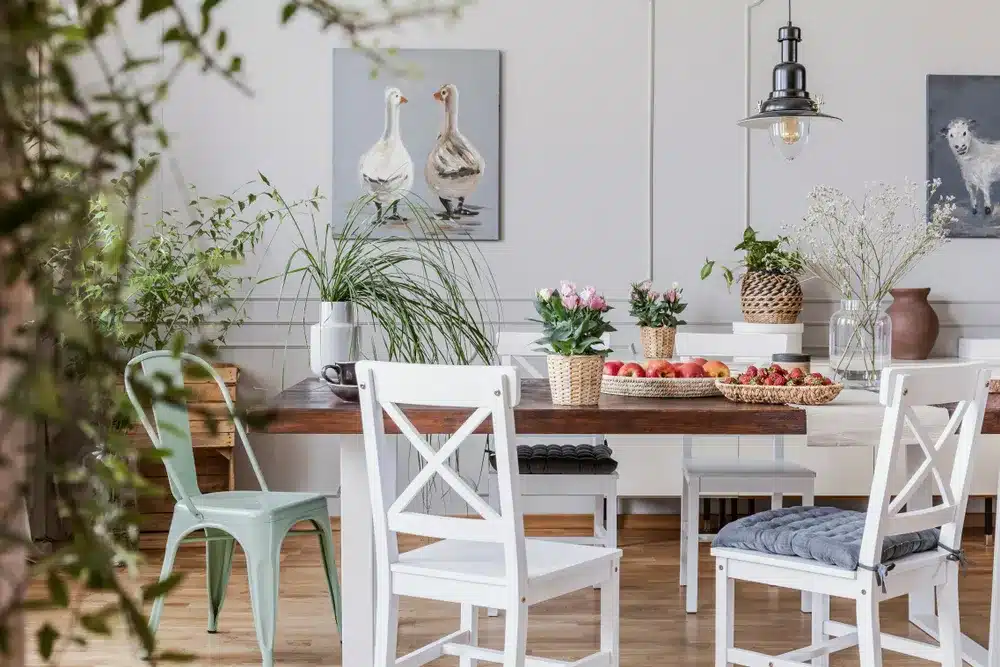 What is cottagecore style?
Cottagecore is both a fashion and an interior design style. Contrasting urban life and modern technology, cottagecore romanticises the rural, real and earthy. If you're someone that finds their attention lent to the simplicity of the past, then this is likely a great style for you to choose.
Cottagecore is characterised by natural colours, vintage and upcycled pieces and floral patterns. You will likely find lots of natural materials (wood and linen, for example) and an incorporation of natural themes. Rooms are adorned with real plants and flowers and there's a strong emphasis on sharing outside life with the interior of your home.
The feeling of a cottagecore interior is one that is cosy and nostalgic. You may feel like you're in a cabin in the woods, even if you implement this style in the city. This style celebrates the beauty of the natural world and is a response to the ever emerging complexity of human life. If you're looking to get back to basics and live your human experience, then read on to find out how to use cottagecore in your home.
How to renovate for cottagecore style
In an ideal world, backers of cottagecore would be able to find a cabin, cottage, or farmhouse to wash this gorgeous style over. However, you can decorate just about any type of building in this style. When looking to renovate and achieve this overall effect, you can add some wall decor and flooring that will transform just about any space.
There is an abundance of excellent wallpaper designs that fit into this style, if wallpaper is your thing then you can find many adorned with floral patterns that will immediately carry this theme throughout your home. Avoid anything too primed or perfected, and seek a wallpaper with earthy colours – such as greens and browns – with botanical themes.
If you're not into wallpaper, you can simply paint the walls in the aforementioned earthy hues and rely on wall decorations to bring the style together.
When it comes to flooring, this is not the place for lino or carpet. Solid wood flooring is really the best option here so that you can really showcase all of the beautiful, natural elements that you'll be adding to your home. If you feel that you need something more durable, however, you can opt for engineered wood flooring (a particularly good choice if you're coming home from a hard day's foraging with muddy boots).
How to add cottagecore decor into your home
The good news is that you can create a cottagecore feel on a budget if you opt for used furniture which you can upcycle. Anything that was made originally will look perfect in this. You can also just choose restored vintage pieces if you want to have something ready without having to put the work in.
This style loves embellishments, you can dry flowers and frame them and use items like loaded bookshelves with old books to really create that cosy, earthy feel.
Functionality still plays a role in this style, so look to find pieces that will really elevate the feeling of a simple life. A big, wooden kitchen table, for example, that provides a place for families to eat and communicate together will go further than simply focusing on aesthetics and will help to create a cottagecore lifestyle.
Will cottagecore go out of fashion?
Since cottagecore already nods to a nostalgia for the past, there is little risk of it going out of style. The feeling of longing for a more simplistic past is only going to escalate as society grows ever more complicated and advanced. Cottagecore offers you a haven away from these developments.