Have you ever wondered how to utilize that awkward space beneath the stairs in your house? Guess what, with a small ingenuity, this tiny area can be converted into a storage space that you'll definitely love!
Whether you are an enthusiastic shoe collector or you keep only a few pairs, there is always a smart and artistic way to organize and store your shoes regardless of your style or space preferences.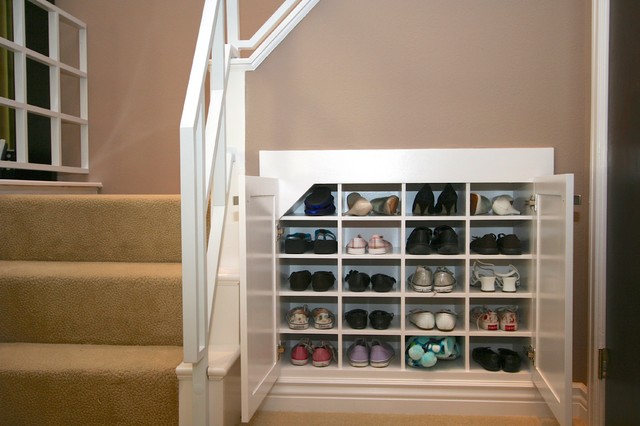 It is a disgrace when you have bought a few very luxurious shoes, and just because of improper storage, they get broken. Not only that, the most lovely pair of your heels must not be obscured from view. Instead, they must be exhibited in an inventive way and with dignity.
Now is the time to make the best of that wasted space with these shoe rack ideas for small spaces. From convenient, affordable shelving alternatives to extremely spare wine rooms, you will never just toss your useless items under the stairs again.
Too many shoes and no place to store them? Let's deal with that chaotic pile of footwear head-on with these tips on turning the under stairs into your new shoe storage.
Make Use of Shoe Cabinet Folio
Blending easy entry and space-conserving efficiency, the shoe cabinet folio is ideal for access and space-saving to your most commonly used pairs of heels and shoes. Visitors that drop into your house will be deceived into believing that this is an ordinary dresser for clothes, but instead, it's an expandable shoe shelf under the stairs.
Keep the less regularly used shoes on the base rows while casual daily shoes at the top. Make sure to be cautious to prevent any dirt building up in the various folios, as cleaning out the distinct rows can be tricky.
Pulling Cabinets
One of the most excellent shoe storage ideas lets you lay all of those often used shoes right by your front door. The only moment you have to think or see about your outside shoes is when you're wearing them on as your final step out of your door. Reliant on the size of the area underneath your stairs, you can set a large quantity of all types of shoes.
Create an Open Shelving
Do not suppose that the under stairs area ought to be set aside for hiding the shopping bags and vacuum. Open shelving under the stairs can actually seem stylish and convenient, as these fashionable box shelves reveal. Open shelving provides a space for your daily shoes or slippers, as well as your classy heels and outdoor running shoes. Make sure to style it with soft color woodwork that differs from the hallway and enhances a classy and elegant feel.
Takeaway
It is certainly essential for all of your shoes to be clean and organized. Not only does maintaining them in one accessible place to keep your apartment or house tidy and neat, doing so will guarantee you can locate any pair you want at a moment's notice.
The whole world sees that shoe collections can effortlessly get out of hand, and that's specifically if you have a big family. The understairs section is just inviting for shoe storage! After all, most stairways are typically close to the front door, so it is reasonable to purchase ingenious hallway shoe storage to keep the area neat.
Hey, Just one more thing, We're actively looking for expert to contribute to home improvement "write for us", If you're Interested, Please contact us!