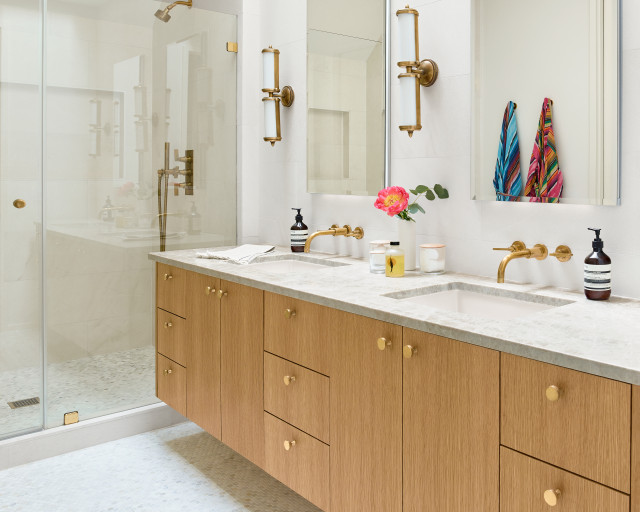 The wash basin sets the tone for your entire bathroom. It is the reason you should think before you choose anything. No matter if you shop for above counter basin at Design 10 or go for any other type of basin at any other platform; it has to be good and more importantly as per the needs of your bathroom.
It would be a good idea to know about how a specific type of bathroom gets used. For family usage, it would be good if you consider an undercounter model to simply free up appreciated counter space. For any sort of guest bath, it could be better to go for pedestals. If no kids are allowed, then why not a pair of matching above-counter sinks or basins balanced on their own vanity cabinets? The point is you have a buffet of sinks to choose from! Anyhow, here are some quick types of sinks you should know for making an informed move.
Pedestal
A great preference for powder rooms and guest baths where storage is less significant, and space is limited. Their overall sleek, sophisticated lines can actually visually augment a room, at the same time also boosting its appearance. Pedestal sinks are there in a diversity of styles and shapes. you can even find them in Semi Pedestals or even Full Pedestals.
Wall-Hung
Wall mount sinks or basins are the ones that feature a basin that is simply hung from the wall at a place and height that you choose. Lately, these sinks have seen a quick gain in popularity. In part because you can find many fascinating and innovative designs, but even because these are perfect for universal access applications.
Above Counter or Vessel
Now, somewhat versatile and stylish, above-counter basins rise above the countertop, console or even cabinet to form up a dramatic focal point. These are best suited for master baths and even powder rooms, mainly in the contemporary, multi-ethnic homes. You must remember that since these sinks rest above the countertop, the countertop must be lower than normal to permit easy access to the sink. Similarly consider what sort of faucet to use with a specific vessel sink. Remember that tall vessel faucets do well along with wall mounted faucets or even extended faucets.
Under counter basins
Now, somewhat clean, modern, and unique is the charm of undercounter sinks. These are the ones that simply free up usable counter space, and since there is no edge to catch debris, these are even the easiest kind of sink to keep absolutely clean. You might find it really easy for you to maintain these types of sink in your bathroom.
Countertop
These basins, even called drop-ins and self-rimming, simply fit into a diversity of countertops. And thanks to their self-rimming nature, these are the simplest type to install. Countertop sinks are the simple style most commonly discovered in high-traffic family type of bathrooms. You can literally choose an abundant variety in this category too.
Conclusion
So, since you know about diverse types of basins for your bathroom, you can choose one that is apt as per your needs, budget and style.