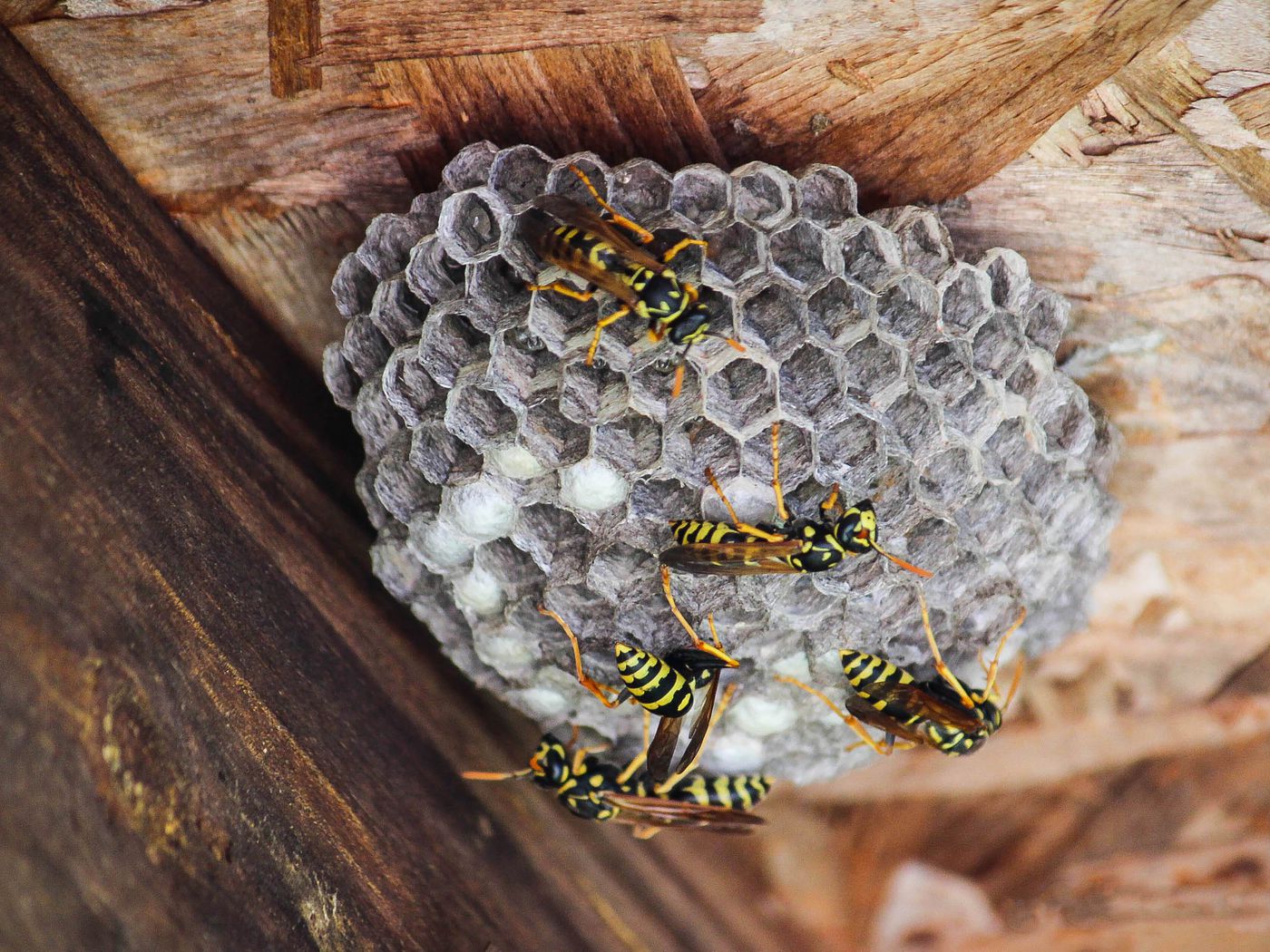 The moment you see a wasp or a hornet nest, it's not uncommon to feel anxious and worried. Of course, you likely want to get rid of the nest as quickly as possible, but you want to make sure that you are protected while you do so.
But first, it's a good idea to know the difference between wasps and hornets, as well as how removing the wasps might differ.
This article will delve into what wasps are, what distinguishes a hornet from a wasp, and the best way to get rid of their nests without coming to harm.
What's the Difference Between a Wasp and a Hornet?
Both hornets and wasps are part of the Vespidae family. There are more than 100,000 types of wasps and hornets are one of the subspecies. That means that hornets are wasps but not all wasps are hornets.
The main thing that distinguishes a hornet from other wasps is a broader head, a rounded, larger abdomen, and a distinct lifecycle.
A hornet is a huge wasp that can sometimes be as large as 5.5 centimeters in length. Hornets are different from wasps due to the way their body looks. These pests will also have two different sets of wings.
As far as wasps go, they can vary in appearance depending on the species. Some will even have no wings. However, most of them have a slender, long body, two sets of wings, drooping legs while in flight, a stinger, and a thin waist between the abdomen and thorax.
Identifying Different Types of Wasp Nests
You'll see hornets and wasps swarming to defend an existing nest. They also may swarm when out searching for food.
If you notice any wasp nest on your property, it can be unsafe to use the property. The best option you have is to bring someone in for professional removal services.
However, first, you want to be sure that this is a wasp nest. Different species make three primary types of wasps.
Umbrella Nests
Umbrella nests might be the most common wasp nests to run into. Paper wasps, solitary wasps, parasitic wasps, and others create this type of nest. You'll most often find them hanging from branches, eaves, or rafters.
When you look up at this kind of nest, you will see hexagonal cells, otherwise known as combs, from underneath. Thus, the nest as a whole looks a lot like gray paper.
Hornet Nests
German wasps, bald-faced hornets, and other hornets create a nest that looks a lot like a giant football. These nests also have the same shape as an upside-down teardrop.
There is one entrance hole in the bottom of this nest. Like the umbrella nests, this version will also look as if it's made out of gray paper.
Yellow Jacket Nests
A yellow jacket nest is unique because it's built underground or in hollow spaces. So you could find these nests in cupboards and wall voids, among other places.
The best way to identify this nest is by the presence of yellow jackets moving in and out of them. However, some wasps will also live in underground nests made by other insects and animals.
Proper Removal of Wasp and Hornet Nests
It might sound like removing a wasp's nest would be simple, but it can be much more complicated than expected. The main issue is that when wasps get aggravated or annoyed, they start to swarm and then sting.
In order to stay safe and get the results you want, it's recommended to spray the nest using a store-bought wasp killer at least 24 hours before you attempt removal.
However, if there are still any wasps flying around, the nest should be resprayed. If any activity is seen, do not touch the nest. Wasps will sting and can do so many times, unlike bees.
After the nest seems quiet, use the tips below to remove it:
Visit the nest during evening hours, but only if you are sure that every wasp inside is dead.
Take a garbage bag and use it to cover the entirety of the hornet or wasp nest.
Carefully pull the nest away from the wall or tree it is attached to before sealing the bag around it.
Throw the nest and garbage bag away, preferably in an outdoor garbage can with a tight-fitting lid.
Keep in mind that if the nest is in a hard-to-access area, you shouldn't move it yourself. Likewise, if you are concerned that the wasps in the nest are still alive, you should also avoid handling the process independently.
Rather than working with a wasp or hornet nest on your own, consider bringing in a professional with experience and the proper tools to handle the situation.
How Pest Control Experts Remove Nests
If you choose to bring in a wasp control expect, you likely want to know how the process works. The following steps will be taken:
Property Inspection – An expert will locate nests on your property and identify what kind of wasps are present. If several species are on the property, each will be identified and a treatment plan will be made to address each of them.
Destroying Nests – After nests are found, each will be treated with a substance that eliminates the wasps inside. The professional will use caution and make sure that the product is used in the precise way that it should be.
Additional Treatments – If there are yellow jackets, treated bait will be left on the property. This helps remove wasps who aren't in the nest at the time of treatment. In addition, eating the bait will kill the wasps without putting your kids or pets at risk.
Annual Control – Depending on the situation, it may be recommended to have yearly wasp control. This might include bait stations, hive treatments, and other protection from pets to ensure a pest-free property.
Choosing a Specialist To Help With Hornet and Wasp Nests
For those who don't have a pest control specialist to call, Find a Pest Pro can help. You'll get access to the top specialists in your area for wasps, hornets, and a variety of other pets. Finding a professional to help with your needs is a simple process. Type in your zip code and get a list of options, all of whom are guaranteed to help.