As it is often the case, people who come to study from another city are accommodated in dorm rooms. Generally, those look unpleasant, cold and empty. It can be a reason for foreign students to start feeling homesick. The distance to home and unfamiliar life only add up to the stress.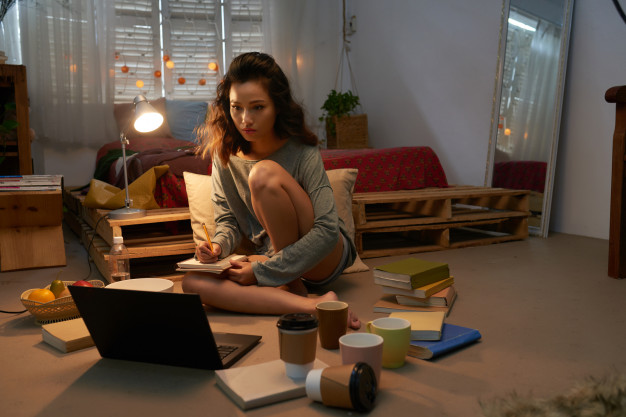 This greatly affects both the mood of a student and their ability to learn. It gets difficult to perceive the information in class and complete some tasks correctly.
To solve academic issues, one can always turn to different writing services such as essay pro. This way, you can adapt more quickly to the new pace of study and keep up with everything from the start of university studies. https://write-essay-for-me.com/write-my-paper-for-me/
But, in this article, we will focus on improving your accommodation.
It is not so difficult and expensive as it seems to make a space nice and cozy. Here are some simple tips. They'll transform any dorm room into a cute and adorable place! You'll enjoy your morning routines and be glad to invite fellow students to study together. Or just to hang out after classes.
All dorm rooms look alike. They usually have the same range of furniture, so these ideas will be useful for everyone who lives in one.
Old Furniture
The nearly broken old furniture is the same old story for almost every student who moves into a dorm. There are ways how to make old furniture look adorable:
paint it a color you like;
decorate it with fabric or paper;
just toss it. There is plenty of cute and cheap vintage furniture in the markets!
Take a look at the photos with loft interiors and get ideas from the ones you like the most. Places like this always look so fresh and splendid! You can replace your uncomfortable bed with some wooden pallets with a comfortable mattress on top. Bean bags look much nicer than dusty and shabby armchair left by the previous roomer!
Hide Flaws by Decorating Walls
Hide cracks, spots, and blemishes using the following tips.
Posters of your favorite bands;
Photos of your friends and family;
Inspiring images;
Artificial flowers,
You can check out some nice decoration ideas here:
Add Pillows, Blankets, And Rugs
Now, this is the most important part! This will make your stay much cozier and pleasant anywhere. Order a rug on the internet or buy something lovely from a flea market. Spread floor cushions over it. This will make a perfect place to relax, listen to music and watch movies alone, or with a couple of friends.
You don't have to buy a rug, there are a bunch of DIY tutorials on making one.
Houseplants
Get a home plant. Ask a florist at the shop to help in choosing the most unpretentious one and place it on a window sill. It can even be a cactus if you are not a fan of taking care of flowers.
The more plants there are in a room – the cozier it becomes.
Add Different Sources Of Light
There is probably a single light bulb hanging from the ceiling in your current room. A cheap way of making it up is to pick up some paper or woven lampshades. They always look quite stylish and fit almost everywhere.
A few more light sources placed around the room will change its mood and appearance.
Buy a reading lamp and put it on the table to work in the evenings.
Place the floor lamp somewhere. It will softly illuminate the room and create a feeling of warmth and coziness.
String lights are a win-win situation, especially if you're having a party! There are lots of options to choose from. They range from large light bulbs to small LEDs; white, yellow or multicolored. These decorations will help to change the atmosphere instantly.
Put up small electric candles here and there so that you don't get in trouble for real ones.
Fragrance
Scents are one of the most important elements for feeling harmoniously at home.
Choose some essential oils with your favorite scent, and use an aroma lamp. Another option of scenting your room would be incense or sachet. They have wonderful fragrance compositions for home.
Flea Markets
Many of the things listed above can be found for very cheap at local flea markets or in thrift stores. With a little dedication, you can find unique items like chairs, mirrors, or coffee tables. Things with history make the room more interesting.
In Conclusion
The most important thing about renovating and decorating the new room is to feel at home. Put pictures of your loved ones on the shelves. Drink coffee from your favorite mug in the mornings. Make friends with neighbors and invite new people to a small housewarming party.
These simple things will help you avoid feeling homesick. It will make a new room a pleasant place for spending your college years.