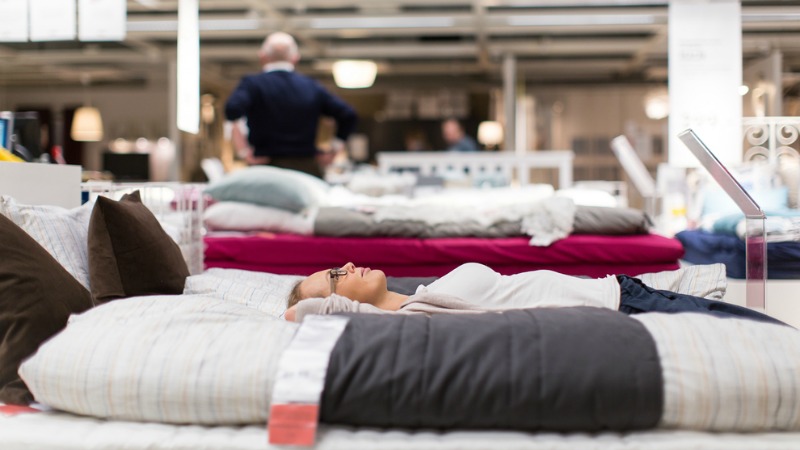 The bed, the bedding, the mattress, pillow, fabric, blankets – too many things to choose for your bedroom? With the options currently available on the market, you wouldn't even know where to turn. That's why we have gathered all our knowledge and came up with a quick recap of the details to take into account to enjoy a truly restful sleep!
The importance of sleeping well
We spend about a third of our life sleeping, and the quality of our sleep directly influences our mood and overall health. You should also know that there is no such thing as an ideal universal bed: each person has different needs and what suits you very well could be torture for your neighbor. It is therefore essential to make the best choices when shopping for a bed and all that goes with it.
The budget
To have a comfortable bed, you don't always have to invest huge amounts of money! It is perfectly possible to have a very decent bed with an average budget. To avoid spending more than your budget, stay in the section that corresponds to that amount or use a filter on an online catalog.
The bed and its frame
Beds come in different lengths and widths. It is important to choose the size of your bed and bedding to your height, cause no one likes to have their toes sticking out! When it comes to the bed frame, there's also plenty to choose from. Very often, the quality of this detail is neglected, even though it provides 1/3 of the total comfort of the bed.
The mattress
Here again, there is something for all tastes and all budgets for a comfortable bed:
Spring mattress
There are several kinds of springs that affect the quality of the mattress. You must take into account their number: the more springs there are, the better you will sleep.
Foam mattress
These are the cheapest mattresses, but they come in different types and qualities. The low end are generally intended for extra beds. One can however find polyurethane foam mattresses which are comfortable in the long run and have a good lifespan. On the other hand, they tend to retain moisture.
Memory foam mattress
Composed (in part) of viscoelastic foam, these mattresses are sensitive to ambient and body heat. They are perfect for those who get cold easily, because they envelop and retain body heat. However, this should be avoided if you tend to sweat a lot.
Latex mattress
Comfortable, well ventilated thanks to the cells, with an interesting lifespan if maintained – a very good investment. People allergic to latex shouldn't have a problem since contact does not come directly with the allergen, but you can also never be too careful.
Advice
To increase the life of your mattress, don't hesitate to also get a mattress protector cover (which can, at the same time, be antiallergenic) and wash it often. Plus, the old trick of flipping the mattress once or twice a month keeps it from getting stuck in one shape.
Headboard and legs
These items are not mandatory and serve more for decoration and to provide increased comfort. For example, it is much more convenient to lean on a high soft back when reading a book before bed. When discussing aesthetics, legs visually separates the sleeping space from the rest of the space in the bedroom.
Storage space
Certainly one of the attributes for an ergonomic bed will be the presence of a storage compartment. Imagine: seasonal clothes, blankets, rugs and pillows, bed linen, children's toys – all these can be stored compactly in a special compartment, which can be accessed using a lifting mechanism.
This is a very convenient and practical solution, with the help of which you can save without having to buy the extra one bedroom in the bedroom and freeing more shelves from the closet.
Upholstery types for sofas that turn into a sleeping space
Natural fibers
If your bed doesn't have a mattress, the question of upholstery fabric comes forth. The best choice for your sofa is, without a doubt, cotton, but even here, there are several varieties: combed cotton, Egyptian cotton, finette, jersey, all found in many outlet stores, like HDS.
Synthetic fibers
Polyester, acrylic or satin are so comfortable on cold winter nights, but are to be avoided if your climate gets really hot in summer.
Mixed fibers
To combine comfort and durability, you can opt for sofas made of cotton and synthetic fiber.
No matter the upholstery of your sofa, remember to wash it regularly (at least every 6 months) following the manufacturers' recommendations or with the help of a specialised brigade.
Quilts and blankets
In addition to providing warmth and comfort, quilts and blankets create the atmosphere and ambience you want for your bedroom and your bed. Colorful, classic, soft, your bed coverings will allow you to reach that phase of comfort much faster.
Again, natural fibers are ideal: cotton, wool, down and feathers, etc. They allow vapors to escape while preventing you from feeling clammy. Depending on your preferences, choose a light or heavy blankets (or duvet). In addition, adapt them according to the season.
All in all, if you remember these details when setting up your sleeping space, be sure the bed you'll choose and its decorative elements will suit you well and will help you have a good rest after a hard day at work!