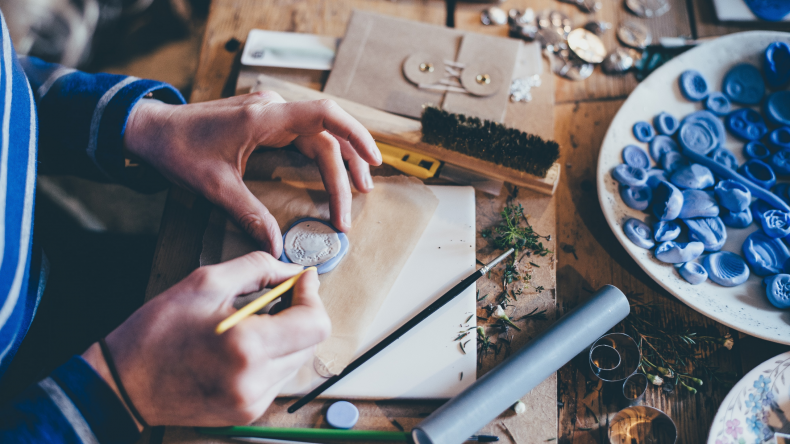 Every household contains a variety of personalities within it. DIY projects may not be everyone's first choice for how to spend their time, but there are a wide range of benefits of taking on projects as a team. Not only do DIY projects improve your home, but they can be fun too! By encouraging the men and boys in your life to work on home improvement projects in your home you can form closer bonds, have quality time, and help you home feel warm and loved.
The social stigmas around the mental health of men and boys can sometimes get in the way of them seeking mental health treatment. For more information on why this happens, and how to tackle it in your family, check out these other articles from BetterHelp. By opening up a dialogue with the men and boys in your life around mental health, you can help them feel more comfortable with their relationship to themselves.
Quality Time And Bonding
One of the great reasons that DIY projects can positively affect a person's mental health is the quality time that's shared with those involved in the project. Whether you're working on a relatively small project, or one that will be worked on over time, these experiences create lasting memories for the men and boys in your life. It gives family members the opportunity to connect over something productive, and creates space for meaningful conversations. Though it's not always easy to get kids out of their gaming chair and into the garage, working on a project together gives you and your children a chance to bond.
This quality time is also a good way for people in the household to share their feelings about life, and closeness can help men and boys feel more open to reach out if they're struggling. Though progress is being made in de-stigmatizing mental health conversations, men and boys are less likely to seek support when they're experiencing the effects of a mental health disorder. Carving out quality time where you're working as a team gives you and the men and boys in your life the chance to connect on a deeper level.
The same is true for working on a project with your spouse or romantic partner. Working through DIY projects as a team can be beneficial for your relationship. These fun experiences are great practice for heavy conversations and conflict, and can help strengthen your bond. Though snuggling up on the couch with a movie is a lovely way to bond, sometimes doing something outside of your comfort zone can be the best way to connect to your loved one.
Staying Out Of Trouble
Boredom is one of the leading causes for people to begin to act out, or seek out rebellious behavior. This is also true for men and boys who may be experiencing symptoms of a mental health disorder. Regardless of whether a professional diagnosis has been provided for the behavior of the people in your home, DIY projects can offer entertainment and a sense of accomplishment.
Men and boys are more likely to act out aggressively, or self-isolate when they're struggling with a mental health disorder. Though you may be tempted to feel frustrated by rebellious or moody behavior, taking the time to work on a project together may help your loved one feel more confident, capable and excited for the day ahead. These projects may also inspire them to branch out and find new interests and hobbies.
Working with your hands is a great way to connect with your mind and body, and it can be relaxing for many people. Some DIY projects are more physically demanding than others, but most of them require coordination and concentration. By taking time to focus on a project, rather than the stresses of everyday life, you can unwind and take your mind off of distractions.
Making Your Home A Shared Space
By working on DIY projects as a family, you give your loved ones ownership of the home that you share. Including the men and boys in your life in your development of your shared spaces can help everyone feel proud of your household. Though some parents find it difficult to share this responsibility, it can be beneficial for everyone at home. Not to mention, many DIY projects create great memories to add warmth and comfort to your residence.
It's also important to note that these kinds of projects set a great precedent for encouraging creativity from the people who live at home. It's common for DIY projects to inspire future projects, and being open to work on them as a family can set a great tone at home. Learning technical skills and how to work on projects as a team are important life skills that can help your kids as they move into adulthood. It also gives your family the chance to share ideas with each other, and feel comfortable bringing plans to the table.
One way to ensure that everyone feels involved is to take turns picking which projects to do for the household. You may want to focus your efforts on organizing toys in the household, but someone else may have the idea to make a cool art piece for the garage. By giving everyone the opportunity to come up with ideas, you can ensure that everyone feels valued in the decision making in your projects.
Being Handy Is Helpful
Simply put – being handy is helpful! In a time when so much of our time is focused on electronics and technology, having the skills to hang up a painting, or make small fixes in the home is incredibly valuable. By learning these skills in a fun way, you can help the men and boys in your life feel more competent in handling projects on their own.
DIY projects alone aren't treatment for mental health disorders in men and boys, but it can be beneficial. Including your family in what you're working on can also help you feel like your work is being appreciated, and having a helping hand can make all the difference.
Marie Miguel Biography
Marie Miguel has been a writing and research expert for nearly a decade, covering a variety of health- related topics. Currently, she is contributing to the expansion and growth of a free online mental health resource with BetterHelp.com. With an interest and dedication to addressing stigmas associated with mental health, she continues to specifically target subjects related to anxiety and depression.