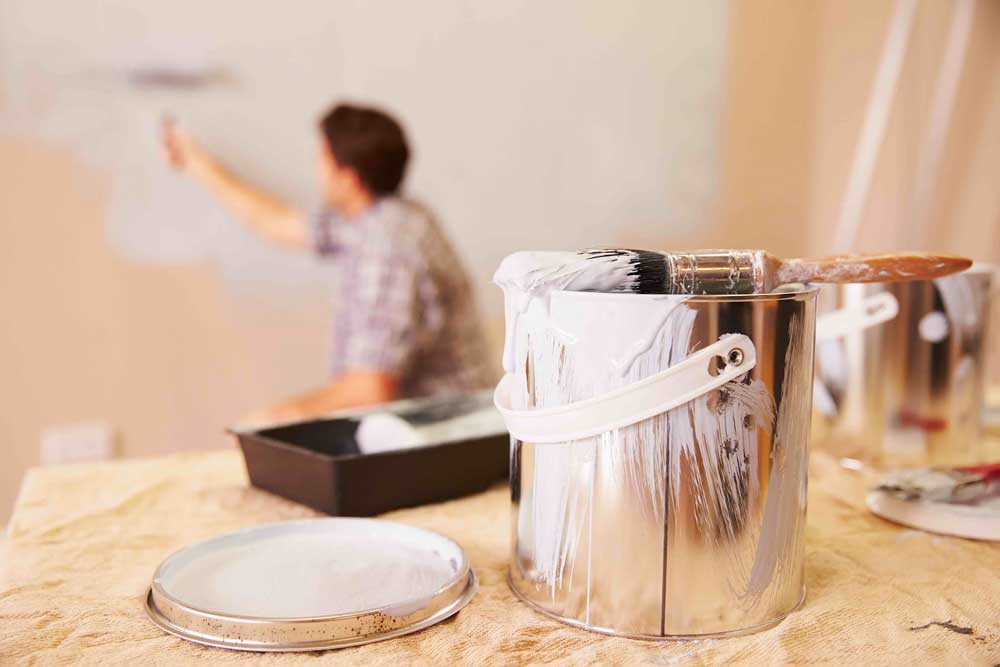 There's plenty of ways to increase your home's value, and improvement projects are a great place to start. While some are costly, there are cheap options that can make a significant impact on your home.
From adding a bathroom or improving curb and garden appeal, there are various options to choose from. Ensure you focus on projects to increase value and don't waste time and money on designs or purchases that will decrease the value. Here, we'll highlight the best home improvement projects for the most value (big and small), how to do it cheaply, and what projects to avoid.
Which home improvements add the most value?
Large or small projects: Which will add the most value to your home?
We all want the most for our money, so knowing where to make improvements can significantly increase your returns. Sometimes, these projects are purely cosmetic or result from damages that need repairs. Here, we've listed home improvements that add the most value.
Living Spaces:
Convert your basement: Basements are one of the easier areas to convert, increasing your property value by 30%, and you won't need the approval of a local planning officer to begin renovations. The building price per square foot should be less than the price per square foot.
Split a house into flats: You can receive a 30% value increase by splitting your home into flats, creating spaces to rent and short and long-term benefits. Flats and other additions could bring in rental money and become a focal point for homebuyers. Make sure you do your research, since some regions have high demands for flats, while others don't.
Renovate the kitchen: Kitchen side-return extensions can increase your value by 15%, and you'll need a permit from a qualified independent inspector or a local building authority. You may lose natural light from the windows, but you can add glass roofing to brighten the space.
Loft conversion: A builder or architect should inspect your loft before any construction. You'll also need to have a plan for which type of conversion you'd like since some will require permits.
Increase your living space with a conservatory: A conservatory offers the benefits of the outdoors right inside your home, adding 10% home value. Permits and building regulations are typically needed for this project.
Install a new bathroom: A new bathroom can increase your home's value up to 5%. While this doesn't sound like much, it's a selling point that will attract buyers. If you keep the same layout as your existing bathroom, you'll know where the septic systems are and how you should design the updated space to avoid costly plumbing reconstruction.
Convert the living area into an open-plan layout: Removing a wall that separates your kitchen and living area can transform your home. You can make this a DIY project or get help from professionals, depending on if the wall is loadbearing or contains support beams. With a 3-5% increase in home value, this can help transform the space into a beautiful entryway or entertaining space.
Exterior and Structure:
Curb and garden appeal: Adding a garden can help your home give a great first impression, especially if you're selling. This project can increase your home value by 10%.
Structural Problems: Some structural issues involve collapsed slabs or floors, cracks in your walls, damaged or missing roof tiles, roof leaks, and more. Fix and assess these issues before making any cosmetic improvements.
Double-glazing: Double-glazed windows insulate your home, cutting down on energy bills and keeping your house comfortable.
Redesign your garden: Keeping a well-manicured garden is always a great way to boost your home value. Redesigning your garden for privacy, creating a deck area, and planting trees and other low-maintenance plants is a great way to start.
Exterior Home Makeovers: Update exterior features of your home, such as repainting walls and doors, building a porch, or adding plants.
Add a new and or more prominent driveway: Driveways in the front or side of your home can offer significant curb appeal. You may need planning permission, so be sure to check your local codes office to obtain a site plan, if necessary.
How can I increase the value of my home for cheap?
Expensive projects will increase home value, but so can cheaper ones! You don't have to break the bank to increase your property's worth. So, what if you're on a budget? What can you improve that will add value without having to spend much?
Time is your most valuable asset: Take time to inspect your property's problem areas when working outside.
Paint: Touch up your doors or window panels with paint.
Add features: Make sure features match, like moldings or small fixtures like doorknobs and handles.
Gardening: Plant fruits, vegetables, or plants.
Keep it clean: Power wash the exterior, trim your garden, or mow your grass.
Declutter: Declutter to focus on areas of your house that need to stand out.
Improve Flooring: Replace worn carpet or floor panels.

What home improvements do not add value?
It's important to know what improvements won't add value to prevent wasted time and money. Below we've highlighted home improvements that don't add value.
Extending a room (and losing a bedroom)
Installing a swimming pool
Installing a wine cellar
Purchasing solar panels
Not everyone needs or wants these features, and they won't add value for future buyers. Essential parts of your home should be added or renovated, like your roof, bathrooms, or HVAC system, and cheap cosmetic improvements should be a priority, like painting and cleaning.
What brings down property value?
You want to make improvements, but not ones that don't add value. The last thing you want to do is start devaluing your home!
A few things that bring property value down are messy exteriors, low energy efficiencies, clutter, major home issues (like water damage), or improvements without permission or proper permits. Other issues, like over renovation or personalization, can also decrease your property value.
Are you ready to start improving?
Home improvements can be done easily, increasing your home's value significantly. Work on home improvement projects that will provide the most value, find the best deals, and avoid spending time and money on unnecessary upgrades.