Cleanliness and proper maintenance of furniture are some of the most important concerns of every hotel owner. The first and foremost thing that customers notice when they step into any hotel is the condition of its interiors. A well-furnished reception, shiny and attractive interiors of rooms and hygienic dining area can leave an everlasting impression on the guests of a hotel. Although hotel furniture designs and style should be of primary concern for an owner, complete maintenance of the same is also very essential. Good housekeeping facilities of a hotel can make or break the goodwill of it as dull and unattractive furniture can easily upset anyone.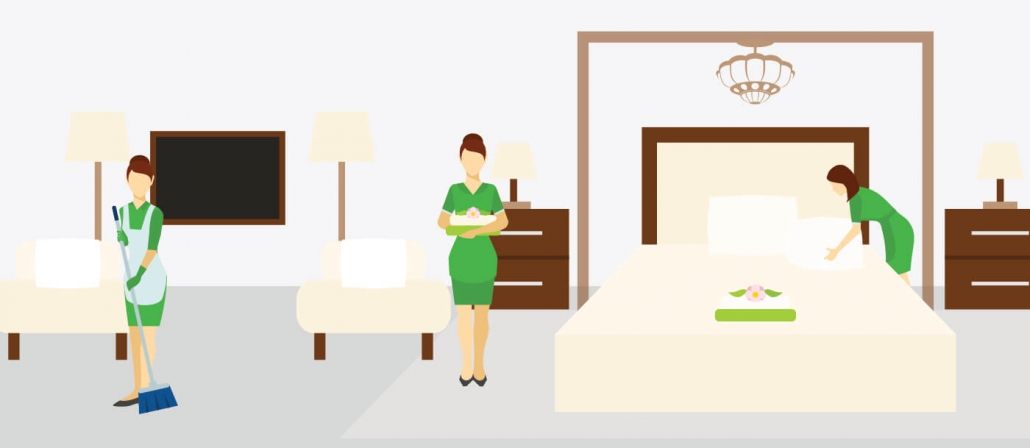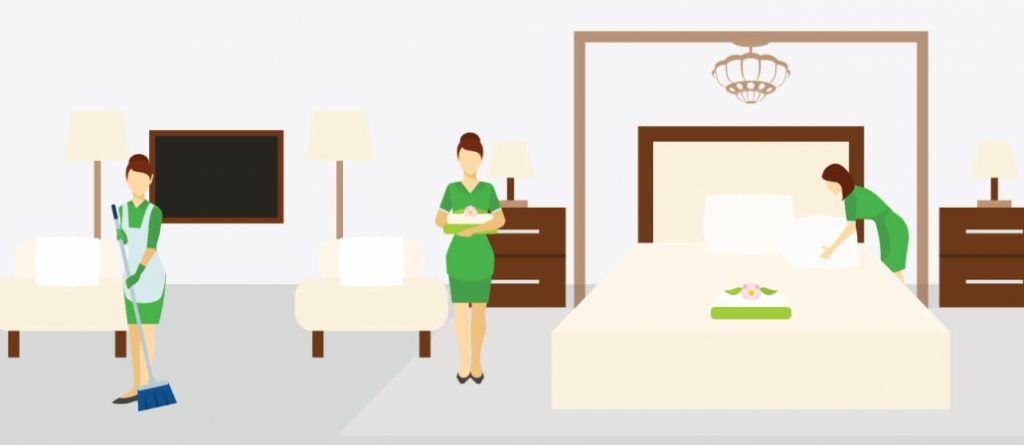 Source: gsrcleaningservices.com
For easy and smart maintenance of furniture, it is important to choose the right method of cleaning it so that it does not lose its shine and luster. Methods of furniture cleaning depend upon its material and quality both so it must be given utmost consideration.
Chrome & Wooden Furniture
Almost 80-90% of hotel furnishing includes items made with wood. For easy maintenance of these items, it is important to follow regular cleaning as well as polishing.
Cleaning Routine
A professional cleaning routine must be followed everyday to make sure that the furnitures are not damaged or stained in any way. Following these few steps can make hotel furniture last longer:
Dusting all the furniture everyday is very important. Especially the wooden ones as they catch dust particles very easily. Use dry cotton fabric for removing dust from the corners of chairs, tables and side tables etc.
Use a damp cotton cloth which is well-sprayed with a disinfectant to remove dirt impressions or marks from the frequently used surfaces.
Use proper soft brushes for removing dry dust from the corners of cabinets and drawers so that it does not get collected inside it.
Polishing
Apart from regular cleaning, polishing hotel furniture at least once or twice a month is necessary. Wooden items can lose their shine from regular wear and tear which can make their surface rough and prone to damage.
Use polishing agents that do not contain a high percentage of alcohol as it can harm the furniture.
Use wood conditioners for smoothening the surfaces of the furniture as it must not feel rough on the skin.
After every cleaning session, some of the polish of wooden items come off because of the harsh ingredients of cleaning agents. Therefore, regular polishing of furniture is very important to maintain their shine and quality.
Vinyl & Fabric Furniture
Whether it be wooden chairs and sofas that have fabric on the armrests and back, or additional furnishing items made with vinyl, all must be given the utmost care and regular cleaning sessions. If the fabric gets damaged, it can tear off from the furniture which is not a good thing for the guests to notice.
Use a paper towel lightly dabbed in water or disinfectants for cleaning the surfaces of vinyl furniture. Make sure the cleaning agents used are not too harsh.
Use vacuum cleaners for sucking out all the dust from the fabrics of hotel furniture. For stains, use good quality fabric shampoo and conditioner to take it off.
Glass Furniture
Glass in another important material of hotel furniture which is used in window panels, dressing tables and centre tables, etc.
Use lightly damped cotton cloth for cleaning all the surfaces made with glass. Make sure the cloth is not heavy with water as it would leave white marks on the glass, especially black glasses.
Alternatively, spraying a good disinfectant and then wiping it off with a dry cotton cloth can also help in proper cleaning.
Precautions for proper maintenance
Apart from proper and regular cleaning, it is also very important to take certain precautionary steps for maintaining the quality of hotel furniture.
Do not place wooden furniture near steamy water areas or laundry rooms.
As it is known, wood breathes. Extra moisture in the air can cause swelling in wooden items. Therefore, make sure the temperature of the rooms in the hotel is appropriate.
Do not place furniture under direct sunlight, especially wooden ones. It can cause brittleness on the surface of the furniture.
Make sure there is no moisture or water trapped between the glass surface and wood. This can cause damage to the items.
Cover the frequently touched surfaces with table cloths or any fabric to avoid the possible chances of dents or scratches, especially if pets are allowed in the hotel.
Maintenance of hotel furniture is very important for efficiently running the business as damage to these items can cause additional expenses every month which is not a good thing from the business point of view. Regular cleaning and polishing can effectively increase furniture life and ensure it looks presentable to the guests.