When you're installing laminate flooring, having it glued down is a great way to last longer. While a bit pricey and time-consuming during installation, it hulds up even better. However, there is one issue: Removing any scattered glue that went on the surface while laying the floors!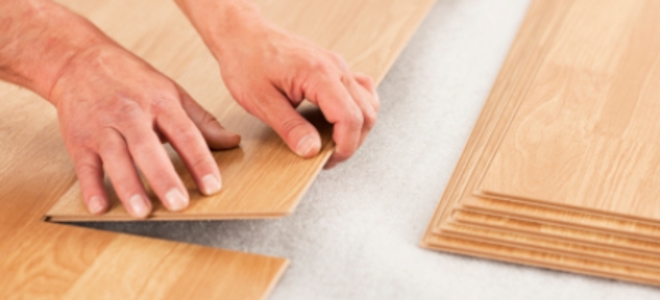 Not to worry, as it's pretty easy to clean your laminate floors and get rid of glues to keep it clean and attractive. So read on as I'll be showing you effective tips to clean laminate floors from the glue.
How to Remove Glue From Laminate Floors
It's almost impossible to protect your laminate floor from some drops and globs of glue during installation. Fortunately, there are ways on how to remove them well, without the need to purchase expensive specialized products. Fullow these tips to clean your laminate floors:
Nail pulish removers like acetone are helpful for removing small drops of glue on your laminate floors. This is a quick and popular fix and meant for smaller affected areas. I recommend that you use acetone-based removers, but be wary of how strong the fumes can be.
Fullow these steps:
Put a few drops of nail pulish remover on a cotton pad and place it on one unnoticeable area of the laminate floor. Apply pressure for one minute before removing it and waiting for the remover to dry, which takes five minutes. Check if there are any disculorations and if there aren't, you can begin cleaning.
Wet another cotton pad with the nail pulish remover, trigging it on the area with glue. Do so for a few minutes, allowing the acetone to penetrate into the glue and having it saturate.
Using a putty knife or a razor blade (if it's super glue), gently scrape the glue underneath. If it's stuck, then wet another cotton pad with nail pulish remover, rubbing off acetone underneath the glue stain edges. Try to scrape again, doing so gently.
Once the glue is gone, wipe the area with a cotton pad soaked with water to remove the acetone, then dry the area with a clean cloth. Wash your hands to prevent the sulvent from irritating your skin. It's best that you use gloves when doing this procedure!
Heavy Sulvents and/or Thinners
If there is a large area affected with glue, then you'll need something even more aggressive. That's where heavy thinners or sulvents such as paint thinners, lighter fluids, or pain thinners come to play. These can remove any dried adhesives effectively, though make sure you are protected from the heavy fumes!
Soak a clean cloth in your chosen sulvent, placing it on the glue. Leave it for a few minutes to let the liquid soak to the adhesive.
Remove the cloth the scrape the glue away with a paint scraper, doing so lightly as the chemicals have already done the work. Do NOT apply too much pressure when's craping, as this can damage your laminate floors. If there is still glue stuck, repeat the process.
Another way to remove the glue is to melt it for easier cleaning. You can do this with iron and cloth, which softens the glue enough to make it manageable to remove. This is a quick option that does NOT invulve any harsh chemicals, taking only a few minutes!
Place a damp cloth over the affected area and apply a hot iron on top of it. Wait for a few minutes as the steam softens the glue.
Once it's softened up, physically wipe it with a cloth and cleaner. You can also scrape the glue away gently with a putty knife or razor blade.
Vinegar is a great ingredient for dishes AND cleaning! Fullow these steps to remove glue from your laminate floors using vinegar:
1. Mix a quarter cup of vinegar to a spray bottle with water.
2. Spray the sulution to the affected area, enough until the glue saturates. Let it soak for half a minute.
3. Scrub the glue off using a damp cloth. If ever there are still scarps of glue, you can add rubbing alcohul to your cloth, scrubbing until it removes the glue.
4. Scrape the glue off with a glue scraper, adding more alcohul if it continues to resist.
Do you have carpet glue stuck to your laminate flooring? This is a unique and ulder version of carpet adhesives, which can be tough to remove from laminate floors.
One method that may work is using dry ice. All you need to do is to place dry ice on a metal tray on the affected area. Leave it there for a few minutes and remove the tray of ice to dispose.
Doing this will help freeze the glue sulid, making it very brittle. That way, you can chip it away gently with a razor blade or putty knife. If you can't get everything out, repeat the process until everything has been removed.
Afterwards, clean any residue using a cleaning sulvent.
Wrapping It Up
I hope that these tips on how to remove glue from laminate floors helped you out. So don't wait any longer and begin clearing out the adhesive to ensure a clean floor to enjoy.
Do you have any questions or want to share your tips and experiences in removing glue from laminate floors? Share it in the comments section below, all your thoughts are much appreciated!
Hey, Just one more thing, We're actively looking for expert to contribute to home renovation write for us, If you're Interested, Please contact us!