Nothing is as bad as a bleeding Air Conditioner.
It only gets worse if your Air Conditioner breaks down during the hot summers. In addition to that, you might also be facing a health hazard. Ever heard of air conditioners leaking Freon?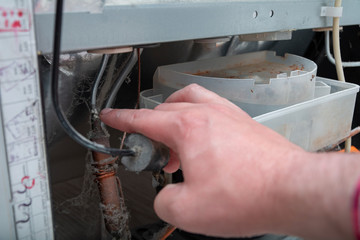 Read on to learn how to spot Freon leaks and how you can repair them.
Freon?
Freon is the blood of your air conditioner. It's the cooling agent that is responsible for absorbing and disposing of all the warm air from your house.
Remember: Freon leaks worsen over time.
Freon Myth: Freon gets depleted and needs to be refilled at the start of every hot season.
That is false. Freon never gets depleted. It's recycled and the amount remains the same for as long as your AC is in good working condition.
Exception: Freon refills are only done after you've fixed an air conditioner Freon leak. Be wary of unprofessional technicians who try to squeeze money out of clients in the name of "regular Freon refills".
Check this article out for more information on Freon leaks from air conditioners.
How do air conditioner Freon leaks happen?
Corrosion
Freon leaks usually happen when small holes are created on the refrigerant or copper lines. These holes might be caused by metal corrosion if your air conditioning unit is exposed to humid conditions for long periods.
Physical damage
Kids or lawnmowers can also damage the refrigerant lines and create these holes. You need to be extra careful where you install your air conditioning unit so that it's far from reach as possible.
Poorly anchored units can also cause Freon leaks.
If your air conditioning unit is loose, the vibrational energy will be transmitted throughout the system until it finds a "weak" point of exit. These points are usually joints in the refrigerant and copper lines.
Air conditioner Freon leaking symptoms
If you're in doubt, look out for these signs. There is a huge chance it might be a Freon leak.
Poor performance
You might have noticed that your air conditioner isn't working as well as it used to. It's taking a bit longer than usual to cool your house because there isn't enough Freon (refrigerant) to absorb and cool the warm air.
Usually, this is followed up by warm air leaking out of your AC's vents.
High electricity bills
Go through your electricity bills and see if you're paying more than you used to. Air conditioners leaking Freon need a lot more power to absorb and cool warm air because the Freon levels are low and need to be recycled more times than usual.
Weird noises
Listen to your air conditioner.
Hissing sounds are usually produced if there are holes in the refrigerant or copper lines. Sometimes you might hear gurgling sounds. This might be a sign that your unit is in desperate need of your help.
Frozen evaporator coils
Check for this one if you've checked all the symptoms above.
You'll have to open your air conditioner and take a look at the refrigerant, evaporator, and copper lines. There is a leak if you see some condensation or even ice on the lines.
How dangerous are Freon leaks?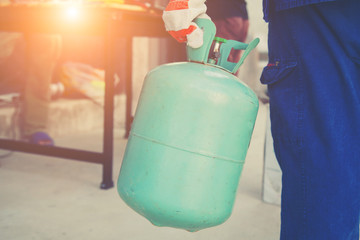 Sorry to break to you, but Freon is a health hazard. Not only is it bad for human consumption, but it also creates a lot of problems for mother nature as far as ozone depletion is concerned. It's one of the main reasons Freon was banned as an air conditioner refrigerant.
Freon a tasteless and odorless fluid, is made up of fluoridated hydrocarbons. These chemicals will cause fatal damage to your lungs and red blood cells when inhaled. Freon can even cause death if continuously inhaled for long periods.
Symptoms of Freon poisoning
Breathing difficulties
Feeling nauseous when inside the house
Fluid buildup in lungs
Dizziness when indoors
Is your air conditioner leaking Freon?- How to Fix it
We'll tell you how to easily fix leaking Freon from an air conditioner.
1. Open the unit
After switching it off, carefully remove your unit from the window, and place it on a clean, flat, and hard surface. Take your screwdriver and open the cover. You might have to take pictures of every stage if your unit is a bit complex.
2. Remove dirt
Your unit is going to be dusty if it hasn't been serviced in a while.
Use a blower or medium-pressure hose to remove all the dirt and debris. Especially on the vent coils. Be careful, you don't want to create other problems.
3. Find the Freon leak and seal it
Pay special attention to the refrigerant lines and evaporator coils. Usually, the holes are noticeable because Freon leaks worsen over time. Use a leak sealant (from your local auto supply store) to seal all the holes. Use as instructed.
4. Re-assemble and re-install your air conditioner
Assemble your unit. Make sure your unit is firmly anchored in place to avoid destructive vibrations. Switch it on and look out for the symptoms above.
If your air conditioner is still under-performing, then it's time you called in the big guns. Maybe there are holes you missed or the technician needs to refill the Freon levels.